Ohio State knocks MSU out of B1G Tournament, becomes first 13-seeded side to advance to semifinals
CHICAGO– March Madness was in full effect Friday afternoon as Ohio State became the first 13-seeded team to advance to the semifinals of the Big Ten tournament. Michigan State fell victim to the Buckeyes' incredible run, losing 68-58 and they sent the Spartans back home empty-handed. 
"We came here to win a championship," said MSU forward Joey Hauser. "It felt like a let down today."
Fatigue can be an issue for teams in conference tournaments, especially when you get further into the tournament, but that appeared to have no effect on the Buckeyes who played their third game in as many days. OSU was also without its leading scorer, freshman Brice Sensabaugh, who was sidelined after picking up an injury in the game against Iowa on Thursday.
Despite playing without Sensabaugh, the other three freshmen for OSU were the standouts in this game.
"With [Brice] Sensabaugh out, I thought they played better," said MSU head coach Tom Izzo. "Where fatigue is overrated, excitement and energy is underrated."
OSU guard Bruce Thornton led the game with 21 points– his fourth 20-point game of the season 
Roddy Gayle Jr. hit a clutch three-pointer for OSU in its win over Iowa and carried that confidence over into Friday where he scored a career-high 15 points. Gayle Jr. was a perfect 3-3 from deep as the Buckeyes finished the game shooting 10-19 from beyond the arc.
OSU center Felix Okpara made his presence known at both ends of the floor, finishing the game with eight points and eight rebounds and was strong at defending the rim with a career-high five blocks.
The first six minutes of the game was the start the Spartans were looking for as Hauser and senior guard Tyson Walker propelled MSU to an early 11-10 lead. A 10-2 run from the Buckeyes lifted them firmly in front of MSU and they never trailed the rest of the game.
MSU came into the tournament with six days of rest– the most out of any team. The Spartans played like a team that had been off for six days in the first half and found themselves trailing 33-24 at the half.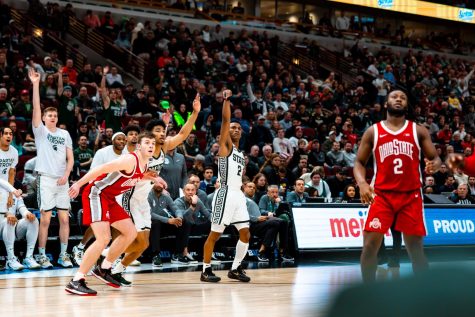 MSU struggled to score from deep in the first half, shooting 1-9 from three-point range despite coming into the tournament as the third best three-point shooting team in the nation. OSU continued to take away MSU's looks from deep, holding the Spartans to 3-16. 
The Spartans are 6-10 this season when they attempt less than 20 threes in a game.
MSU was able to pull within two with 16:35 left in the second half but OSU head coach Chris Holtmann used a timeout to suck the life out of a charged MSU crowd. The Buckeyes came out of that timeout with a 10-2 run of their own to hold off the Spartans.
MSU found itself down by as much as 13 midway through the second half when the Spartans tried to make another push. A couple free throws from Hauser and a three-pointer from guard AJ Hoggard got MSU within six, but Holtmann put good use to a timeout to halt the Spartans' momentum.
A Gayle Jr. three-pointer with 3:13 remaining put the Buckeyes up by 11 points and sealed a 68-58 victory.
The Buckeyes move on to play No. 1 seed Purdue on Saturday at noon CT while the Spartans  will have to wait until Selection Sunday to know when they will play next.