Spartans bring smiles back to campus with 80-65 win over Indiana
EAST LANSING – Michigan State men's basketball earned a crucial win against No. 17 Indiana Tuesday night, a day after students at MSU returned to classes since last week's mass shooting. Senior guard Tyson Walker led the game with 23 points as the Spartans left the Breslin Center with an 80-65 win over the Hoosiers.
"I said [to the team] if you want to make people feel better, if you want to give them a hug, this is the way to give them a hug," head coach Tom Izzo said. "I hope all 15,000 people enjoyed the hug." 
It was an emotional return to the Breslin Center for the Michigan State community. 
The players, along with fans and students, honored the lives of the three MSU students that were senselessly killed and five others that were injured with a moment of silence before tip-off. MSU and Indiana's players wore shirts that read "Spartan Strong" as they were warming up. 
Although it was a late Tuesday night game, the Breslin Center was crowded until the game ended around midnight. 
"I wish I could've run up to the top row and thanked the people that were there," Izzo said. "I said to myself 'I hope we can come through for you'." 
Shortly after the moment of silence honoring the victims of the shooting that occurred on February 13 in East Lansing. This place is united. pic.twitter.com/Gt2UArr8eC

— Gianluca Melloni (@mellonluca) February 22, 2023
It wasn't the best of starts for Michigan State right after the first whistle. Indiana led 12-5 by the sixth minute of the first half and was led by Jalen Hood-Schifino, who made his first three baskets in a row. 
Hood-Schifino ended the night with 16 points, second behind his teammate Trayce Jackson-Davis with 19. In Indiana's last game against Illinois, Jackson-Davis recorded 26 points and 12 rebounds. 
Both of Indiana's best scorers had a strong start to the game, something that the MSU coaching staff expected. 
"We threw a lot of different things at Trayce [Jackson-Davis]," Izzo said. "He's a phenomenal player. They have two or three really good players but this kid learned how to dribble and pass. That's the part of his game he improved the most." 
The tide turned for Michigan State after Walker hit back-to-back threes with 3:51 left to level the score at 24-24. Walker ended the game with five three-pointers on seven attempts and it felt as if every shot from deep found its way into the basket.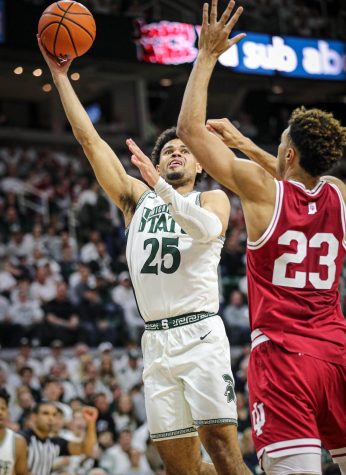 A second-chance layup by freshman Jaxon Kohler near the end of the half put the Spartans ahead 32-29 and his teammates surrounded him with a wave of chest bumps and cheers. A late three-pointer by Walker saw the Spartans enter the break with a 35-29 lead. 
"It felt good to come here and have the students' support," senior Malik Hall said. "Just being here was not only good for us but everybody around." 
In the second half, the Spartans led by as much as 13 points as junior guard AJ Hoggard and senior forward Joey Hauser saw more shots go in. Hoggard finished right behind Walker in scoring with 22 points and went 7-8 from the free-throw line. 
Hoggard would prove to be the closer in the game as he notched the final free throws to secure an 80-65 win against one of the conference's best teams in Indiana. 
"There was no luck and we earned the win," Izzo said. "[Indiana] is a very good team that I think is going to win a lot of games." 
After the final buzzer, MSU football coach Mel Tucker greeted an emotional Izzo in the hallway to the locker room as he congratulated him and his team for their efforts. 
MSU moves back to seventh place in the Big Ten standings with the win.
The Spartans will begin a two-game road trip to Iowa starting Saturday, Feb. 25, and Nebraska before returning home for the final regular season game against Ohio State.