Middendorf's four goals lift MSU to rout of Wisconsin
EAST LANSING – Erik Middendorf laughed in disbelief. As the senior forward took his place at the podium following a 5-0 win over Wisconsin, staffers announced that his four-goal performance was one that had not been done by any Spartan since 1998. He didn't have any words and all he could do was chuckle over what he had done. 
Middendorf went into Friday's game against Wisconsin needing a confidence boost. After leading the Spartans in goals a season ago, he had only one assist in eight games under the new coaching staff. However, head coach Adam Nightingale urged him to stay the course.
"I had a couple meetings with [Nightingale], and he's been nothing but positive with me," Middendorf said. "It's easy to get frustrated when you score 12 last year, and then, coming into this season, you're waiting to get your first and it's been eight games…I think with the coaching staff we have now helping me out and supporting me, it was easy to keep my game and wait for it."
He needed a breakthrough and he got it.
While Michigan State struggled to find a rhythm early, getting bogged down with offensive turnovers, the team eventually managed to set up shop in the Badger zone.
That's when the Spartans, namely Middendorf, got to work.
With 8:02 left in the first period, Middendorf backhanded a rebound past Wisconsin goalkeeper Jared Moe to get his first of the year. Fifteen seconds later, he struck again, tipping a centering pass that Moe never saw coming.
… and his second of the season just 15 seconds later! Spartans lead 2-0 pic.twitter.com/LzZ9JuR6BR

— Michigan State Hockey (@MSU_Hockey) November 4, 2022
While the rest of the period didn't include any goals, Michigan State's offense dominated the frame, putting 20 shots on net and rarely coughing up the puck. 
At the end of the period, MSU junior forward Zach Dubinsky received a five-minute major penalty and game misconduct for face-masking Wisconsin's Charlie Stramel. He was ejected and will be ineligible to play in Saturday's game against the Badgers.
Playing a man down to start the second, the penalty kill unit took the ice. MSU's lineup had been excellent all season and had to be great again. It was. Wisconsin didn't get its first quality looks until late in the penalty, but goalie Dylan St. Cyr stood tall, culminating with a highlight-reel save moving across the crease that sent the Munnsters into a frenzy.
"The crowd energy was awesome," St. Cyr said. "Getting the crowd engaged always fuels the fire for our team…our penalty killing has been awesome as of late, and we've got to keep going with that."
The building only got louder when Michigan State got a power play of its own. Receiving a feed from Nash Nienhuis, Middendorf one-timed a rocket from the faceoff circle past Moe on his blocker side, giving him the hat trick. 
And that's the natural 🎩 for Middendorf! He scores on the PP and its a 3-0 Spartan lead. pic.twitter.com/Jpgm59W0VC

— Michigan State Hockey (@MSU_Hockey) November 5, 2022
 "I thought the [penalty kill] did a really good job," Nightingale said. "For the guys to buckle in and get the job done, it was really good." 
The penalty unit would come up big again. The Spartans neutralized Badger power plays twice, bringing them to a whopping 21 straight penalties without allowing a goal.
The defense would turn into offense for MSU. Just as Kelly got out of the penalty box Jagger Joshua hit him in stride, creating a 2-on-1 rush that ended with a beautiful backhand into the net. 4-0 Spartans.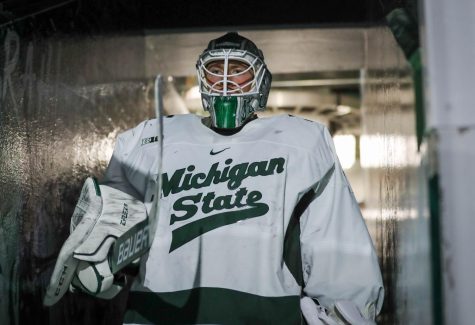 For good measure, early in the third, Middendorf bounced a puck off a laid-out Badger defenseman and over the top of Moe for his fourth of the night. 
While the MSU offense dominated all night, much of the credit for the win belongs to St. Cyr. The graduate senior had his best game in the green and white as he stopped  44 shots, a season-high and the second-most of his career. 
The shutout also marks St. Cyr's first with Michigan State and the 11th of his career, tying him for third among all active goalies. 
"He's a guy that came to us with a legit college resume," Nightingale said. "One of the things we talked about when Dylan was looking at coming was a kid from Michigan coming to make an impact on a big-time program."
Perhaps most important to Nightingale, however, is the impact St. Cyr's play has on the rest of the team.
"He's a guy that does it the right way," Nightingale said. "So I think he's got a ton of confidence from years of doing it the right way. We're glad he's on our team, and it's rubbing off on other guys."