Friday's game between MSU and Northwestern postponed
EVANSTON, Ill— Michigan State's scheduled Friday afternoon game against Northwestern has been postponed due to inclement weather. The game was initially set to start at 4:30 EST.
The Spartans will make up the game tomorrow as part of a doubleheader. First Pitch is set for 12 p.m. and the series is set to conclude on Sunday at 3 p.m.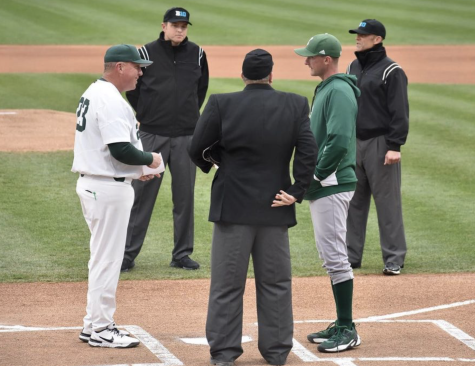 For MSU, this weekend's upcoming series is a pivotal one. The Spartans will go into tomorrow's game on a two-game win streak (knocking off Oakland and Eastern Michigan). Prior to its two-game win streak, MSU had lost five games in a row, including a three-game sweep at the hands of Michigan.
MSU is currently 15-19 on the season and 2-7 in Big Ten play. They have, however, struggled one the road this season, currently sporting a 5-9 mark.
Northwestern has had a mediocre first half of conference play, currently 4-5 on the season. Overall, the Wildcats are 16-16 on the season, but 9-1 at home. They have two conference wins over Indiana and Penn State, but were recently swept by Illinois in a three-game series from April 16-18.