Michigan State F Peter Nwoke enters transfer portal, former DL coach Ron Burton hired by Miami (OH)
EAST LANSING, Mich— Michigan State freshman walk-on forward Peter Nwoke has entered the transfer portal. He is the first Spartan to enter the portal since the conclusion of the 2021-22 season.
Trusting God and the process. pic.twitter.com/sdyoYZAhej

— 𝒫𝑒𝓉𝑒𝓇 𝒩𝓌𝑜𝓀𝑒 (@petenwoke) March 28, 2022
Nwoke, who didn't appear in a game for MSU this year, initially joined the team in late April of 2021 after playing his high school ball at Orchard Lake St. Mary's. As a senior, he averaged 9.8 points, 9.5 rebounds and 3.4 blocks a game. Nwoke was also a key part of a St. Mary's team that won 47 straight games from 2019-21 and made the state quarterfinals in 2021.
He initially came to the U.S. from Lagos, Nigeria, in 2017 and established himself as one of the best basketball prospects in Michigan as well as an exceptional student with a 4.12 cumulative GPA. Nwoke chose to join MSU in 2021 despite having offers from Division I schools Oakland and Mississippi Valley State.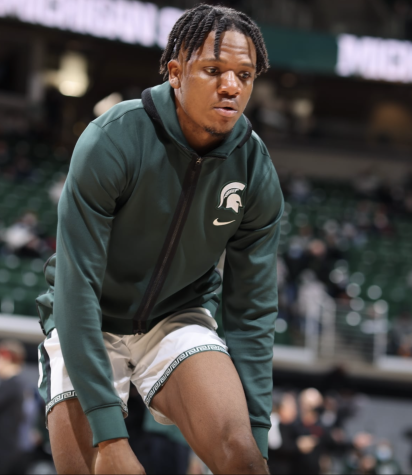 The 6-foot-8, 215-pound Nwoke will have four years of eligibility remaining.
In other news, former MSU defensive line coach Ron Burton was hired by Miami (OH) as its defensive line coach. He initially left MSU on Jan. 16, 2022 after serving on the defensive staff  as the Spartans' defensive line and defensive tackles coach since 2013.
MSU would subsequently hire former Georgia Tech defensive ends and outside linebackers coach Marco Coleman as its new defensive line coach and run game coordinator on Feb. 10. They would also hire former training specialist Brandon Jordan on Jan. 15 as a pass rush coach.