Spartan track and field has another record-setting weekend
The Michigan State track and field program had another busy weekend, as athletes represented the team at both the Silverston Invitational in Ann Arbor as well as the Alex Wilson Invitational in South Bend, Indiana.
The Alex Wilson Invite, hosted by Notre Dame, saw the men's distance medley relay team (composed of John Petruno, Noah Sage, Jalen Smith and Morgan Beadlescomb) break the school record with a 9:26.75 collective time. 
This time smashed the previous record, set by Petruno, Smith, Beadlescomb and Kendel Hammock last season, by just over 13 seconds. 
The Spartan men ultimately finished eighth in the event, which was a historically fast race. The top-seven teams all broke the previous collegiate record for the men's distance medley relay on an oversized track, which was set by Notre Dame with a 9:25.80 time in 2020.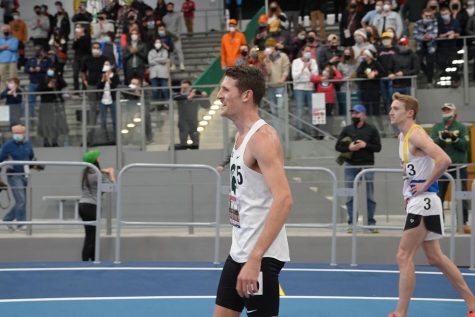 Four teams from this race now rank in the top-10 fastest NCAA men's indoor distance medley relay times ever (all conditions).
At Friday's meet in Ann Arbor, two MSU athletes finished first in their events, while six finished in second place and three finished in third. 
The Spartans were led by juniors Sophia Franklin, who placed first in women's pole vault with a 4.31m finish, and Erin McCallum, who jumped 5.45m to take the top spot in women's long jump. 
Three Spartans finished in the top four of the women's long jump, as sophomore Autumn Glover and freshman Day'Anna Marr joined McCallum, taking second and fourth, respectively. 
Franklin's first-place performance only adds to the numerous accolades she's received this season, as she was named Big Ten Women's Indoor Field Athlete of the Week on Feb. 9 after she broke her own indoor pole vault school record at the Meyo Invitational.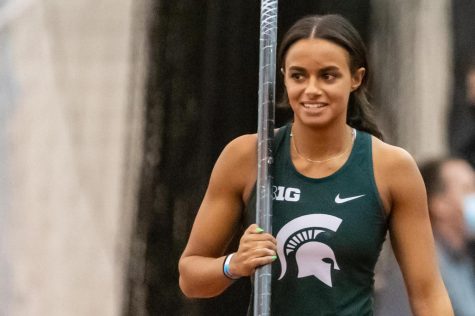 The day was also filled with PRs, as sophomore Amani Nuels took second in the women's 60m finals with a career-best 7.46 time. Kaitlyn Hynes, who was the unanimous Big Ten Women's Cross Country Freshman of the Year in the fall, ran a PR of 4:48.98 to finish second in the women's mile. Sophomore Abigail Lee also finished second in the women's 3000m with a PR time of 10:19.38.
On the men's side, redshirt sophomore Justin Ferraro ran a 4:18.44 PR time to take eighth in a fast mile race. Freshman Jalen Nelson and sophomore Tylor Leedom also tied for second in the men's high jump, each recording a 1.95m finish.
These two meets concluded the regular season for the Spartans, who now set their sights on the Big Ten Championships. The meet will take place at the SPIRE Institute in Geneva, Ohio, from Feb. 25-26.