McClarren: MSU needs to figure something out, and quick, before season is lost
EAST LANSING — The Michigan State Spartans had their losing streak extended to six as it fell to the No. 15 Ohio State Buckeyes at home, 3-2, on Saturday evening.
It was a night when it seemed like if one goal went in, then another would follow. Unfortunately, for the Spartan fans in attendance, that next goal would come with only 73 seconds remaining in regulation as MSU ran out of time before the equalizing goal could come. Here are a few takeaways from MSU's 3-2 home loss:
Where will the offense come from?
During the losing streak, Michigan State has failed to score three or more goals in all but one game. In that one game, a 6-3 loss against then No. 9 Minnesota, the Spartans had a 3-1 lead before surrendering five straight goals to the Gophers who put an exclamation point on a series sweep in East Lansing.
Saturday night, that trend continued.
The three-goal threshold has proved to be a problem for the Spartans in Big Ten play, hitting that mark in only four Big Ten games this season, which has contributed to the less than satisfactory 5-11-0 record in conference play. Overall, the Spartans are 7-1-0 when scoring three goals or more this season. They are only 4-12-0 when they score two goals or less.
So the question is: Where does the offense come from?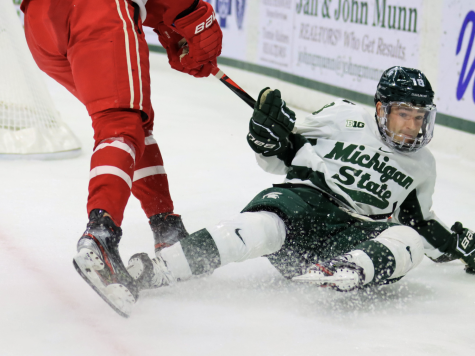 Michigan State has been without fifth-year forward Mitchell Lewandowski for the past seven games, and the Spartans were without transfer forward Griffin Loughran for this weekend's series. Both of those players have accounted for 10 of MSU's 56 goals this season (17% of all MSU goals).
However, the Spartans still had sophomore forward Jeremy Davidson and defenseman Erik Middendorf, who both sit at the top of the Spartans' leaderboard with nine goals each. Saturday night, the Spartans got goals from Middendorf and freshman Tanner Kelly. Kelly was also the lone goal scorer for Michigan State on Friday and now has three goals on the year.
Michigan State was offensively challenged last season but seemed to have those issues fixed at the beginning of this season. However, since the start of the new year, the Spartans are averaging 1.83 goals per game. Considering the fact that they have stellar goaltending to keep them in games, the lack of offense is a key contributor to the continuation of the six-game losing streak.
There is only so much Drew DeRidder can do
After a 35-save performance on Friday night, DeRidder once again got the nod to start on Saturday. DeRidder saved 27 shots, but the three that went by him on Saturday were avoidable. In fact, DeRidder kept the Spartans in the game both nights, but Ohio State was able to generate good scoring chances that ultimately resulted in DeRidder going face-to-face against a Buckeye forward more than a few times.
DeRidder was named to the Richter Award Watch List earlier this week and for good reason. The Fenton native has been arguably Michigan State's best player all season and has kept them in games night in and night out.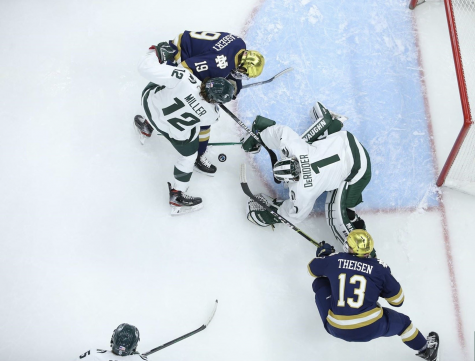 Now, it's fine that Michigan State has a star goaltender, and two of them at that with Pierce Charleson as a backup, but the players in front of them need to help out. The Spartans have been a good shot-blocking team and continued that on Saturday blocking 13 Ohio State shots. However, DeRidder's three blemishes on Saturday came off a tip, a broken play, and a sharp angle shot. All of which came with the defense out of the play.
Ohio State's Cam Thiesing opened the scoring off a tip in the slot that went past DeRidder's glove hand. Thiesing was able to body off the defender to get inside positioning that led to the Buckeyes breaking the ice first.
The final two goals were one's that the senior netminder had no chance at. Merkulov's first goal came off a centering feed from behind the net and fired it past DeRidder, while the second was a sharp-angle shot from below the dashes that bounced off of him and in. Both times Merkulov was wide open.
DeRidder faced 68 shots over the weekend and some high-quality ones at that. If Michigan State wants to climb out of the free-fall that they're in right now, it starts with limiting as many chances opposing teams can earn against them.
The first line should be here to stay
With the injuries to Lewandowski and Loughran, coach Danton Cole decided to put junior forward Jagger Joshua and freshman Tanner Kelly on a line with Josh Nodler. This weekend, that line was the most successful with and without the puck.
Joshua proved himself to be a valuable asset to the Spartans with his style of play over the weekend. He's never afraid to take the body, he gets into opposing team's heads, and he can provide a much-needed spark. Though Joshua did not get on the scoresheet Saturday night, he assisted on the Spartans' only goal on Friday and made sure that OSU knew when he was on the ice. He also contributed to the Spartans' success in killing off all three Ohio State penalties.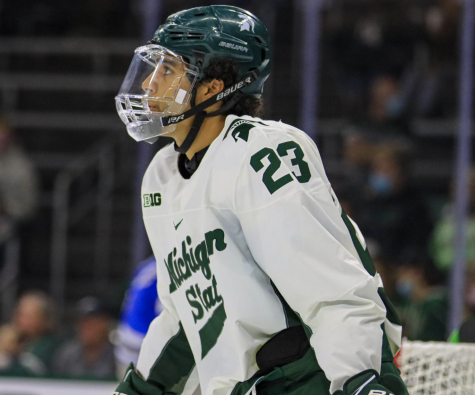 Kelly provided the offensive spark on both nights and used his stature to fill the role of Griffin Loughran. Loughran is usually sneaky and precise with his play and is not afraid to throw the body. Kelly filled that role on Saturday and kept the physical play throughout the game.
Nodler does not have a registered point during the Spartans' six-game slide, but he does provide MSU with a good faceoff specialist on that top line. Nodler won 13 of his 22 faceoffs Saturday night as the Spartans took the faceoff battle 36-34.
All three players provided the energy, physicality, and scoring that the Spartans needed to try and get a series split against a top team in the conference. However, the Spartans, as a whole, ran out of time and found themselves with no points in the conference standings to show for their efforts.
The Spartans are off next week and will be back in action against Minnesota on Feb. 4. They are currently sixth in the conference with 15 points, ahead of Penn State with 11.