G Max Christie receives Freshman of the Week honors for fourth time
Manit Patel, General Assignment Reporter
January 10, 2022
EAST LANSING, Mich—After a 21-point outburst against Nebraska on Jan. 5, Michigan State freshman guard Max Christie received the Co-Big Ten Freshman Player of the Week Award, sharing it with Ohio State guard Malaki Branham.
It is the fourth time this season that Christie has won the award and the first since the week of Dec. 20. His four award wins are the best mark among any freshmen in the conference. 
During the Spartans' 79-67 win over Nebraska, Christie led all scorers with 21 points on 7-for-9 shooting. He was also 3-for-4 from the 3-point arc and ripped down four rebounds.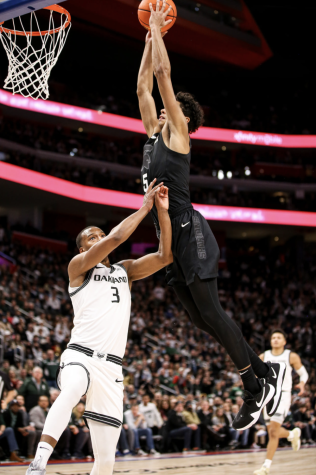 Christie, who struggled to begin the season offensively, has started to find his groove offensively. He is averaging 12.8 points per game over his past seven games; since the end of Michigan State's first semester on Dec. 17th, he is averaging 16.3 points and five rebounds per game. 
He has scored in double-figures in each of his past three games and in five of his past seven games. Christie has also shot at least 50% from 3-point range in his past three games against Oakland, Northwestern and Nebraska.
Overall, Christie is averaging 10.4 points per game and 3.6 rebounds while shooting 39.7% from the floor and 35% from beyond the arc. He is also the only player on the team averaging over 30 minutes a game.