Spartans welcome No. 4 Western Michigan, No. 18 Michigan Tech to Munn for GLI amid COVID concerns
EAST LANSING, Mich. – In case you missed them earlier this year, COVID cancellations are back.
The University of Michigan athletic department announced on Monday that its second game of the Great Lakes Invitational against Western Michigan has been cancelled because of "health and welfare protocols within the Wolverines' program."
The 2021 Great Lakes Invitational already underwent a few changes earlier this year prior to the Wolverines' announcement. While the GLI was cancelled in 2020, this year's iteration moved to a showcase hosted on the campuses of Michigan and Michigan State over the usual tournament in downtown Detroit.
Under the new format, the first games are scheduled for Wednesday where Michigan State will host Western Michigan and Michigan will host Michigan Tech. On Thursday, the road teams were supposed to switch places, but with the cancellation of Michigan vs. Western Michigan, the only game left on the schedule that day features the Spartans and Huskies at Munn Ice Arena.
This two-game slate will be the Spartans' (10-7-1, 5-5-0 Big Ten) first action since Dec.10-11 where they split a series with then-No. 8 Notre Dame. On Dec. 10, MSU went up 2-0 within the first two minutes, but they squandered the lead over the course of the game and lost 3-2.
The second game of the series was a classic goalie duel between Spartan netminder Drew DeRidder and Ryan Bischel. Neither goalie blinked in regulation, and the game went into overtime tied at 0-0. Fifth-year senior forward Mitchell Lewandowski then decided that 60 minutes was enough for him and scored the game-winning goal less than a minute into overtime to give the Spartans a 1-0 victory and a split with a top-ten team.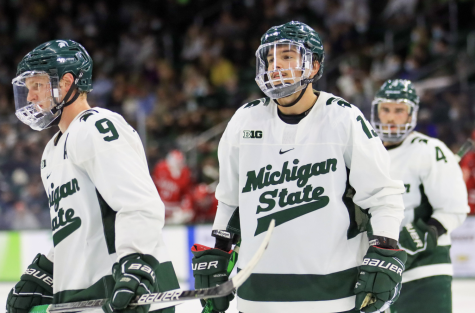 Western Michigan (13-5-0, 6-4-0 NCHC) has been dominant this season. Their recent seven-game winning streak was just snapped by No. 15 Omaha in a 1-0 loss on Dec. 11. They are led by some of the nation's leading point-getters in forwards Ethen Frank (17-7-24) and Drew Worrad (5-22-27). That offense has led them to impressive wins over powerhouses like Michigan, Minnesota-Duluth, and St. Cloud State. That resume puts the Broncos fourth in the latest USCHO.com rankings.
Michigan Tech (10-7-0, 7-5-0 CCHA) sits at No. 18 in those same rankings. The Huskies will be eager to face some stronger competition coming into the GLI after sweeping a 1-19-0 St. Thomas program in its first year at Division I. They haven't fared well against top-end competition with losses to Notre Dame and Minnesota-Duluth, but they'll look to change that this week.
Assuming that there won't be any COVID breakouts from either team (fingers crossed), game one against Western Michigan is set to begin Wednesday at 7 P.M. The puck will drop for game two against Michigan Tech on Thursday at 5 P.M.
Western Michigan is rolling this year. Are there any weaknesses that MSU can exploit?
Simply put, there aren't many holes in Western Michigan's roster on paper. The Broncos' offense is elite. They have multiple point-per-game scorers and a top-five power play in the country. They're the tallest and heaviest team in all of college hockey. All that has resulted in impressive wins against the likes of Michigan, St. Cloud State, and Minnesota-Duluth, perennial Frozen Four contenders.
These numbers don't bode well for a Michigan State team that allows the fourth-most shots on goal in the country.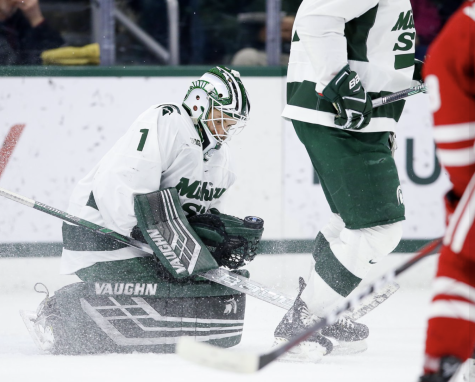 However, their goaltending is arguably the weakest aspect of their team. Junior Brandon Bussi has started every game for Western Michigan so far, and while he's been good enough to get the job done, his statistics aren't anything eye-opening. He allows 2.47 goals per game on a .914 save percentage. Again, decent, but don't expect any Richter Award nominations with those numbers.
Based solely on the data, goaltending is the Broncos' biggest weakness. Therefore, if Michigan State can maintain good puck possession, grind the puck down low, and get some good, high-percentage looks at Bussi, then MSU will put itself in a good position to upset.
That's much easier said than done, however. They'll need to lean on power forwards like Jagger Joshua and Griffin Loughran to establish a physical presence along the boards and win the 50/50 battles against a big-bodied Western Michigan team to keep that offense at bay.
How about Michigan Tech?
This matchup stacks up a lot better for the Spartans than Western Michigan.
Like Michigan State, the Huskies have been dominating bad teams. While they have a respectable ten wins, over half of those have come in sweeps against Wisconsin, Ferris State, and St. Thomas. Those three teams have a combined record of 12-45-1.
The Huskies make their living on special teams as both their power play (26.5%) and penalty kill (90.2%) both rank in the top five nationally. It'll be key for the Spartans then to stay out of the box when at all possible and keep the battle at even strength.
The big issue for Michigan Tech arises when they run into teams with good goaltending. So far this season, the Huskies have faced three different goalies in the top 20 in save percentage: Clarkson's Ethan Haider, Notre Dame's Ryan Bischel, and Minnesota State's Dryden McKay.
In five such games, they're 1-4 with a measly 1.4 goals per game.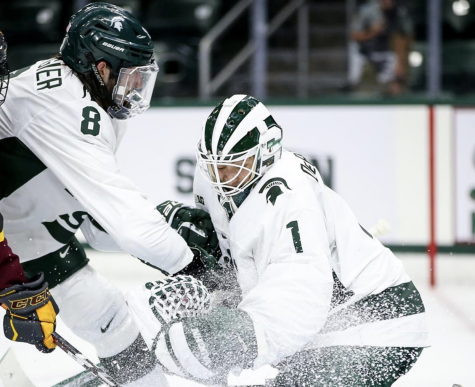 Drew DeRidder ranks fourth on that list. That's significantly higher than Haider, Bischel, and McKay.
Anybody who has watched Michigan State this year will tell you how great their goaltending has been. DeRidder is fresh off getting named the Big Ten First Star of the Week for his 30-save performance against Notre Dame on Dec. 11. Sophomore Pierce Charleson is capable of stealing games with huge performances. He's proven so multiple times.
The bottom line is this: Michigan Tech's offense hits a brick wall when they run into elite goaltending, and the Charleson-DeRidder tandem is as elite as they come.
Who can we expect to see in goal?
Since the Penn State series in early December, MSU head coach Danton Cole seems to have fallen back into the pattern of playing both Charleson and DeRidder once per series. While he hasn't publicly commented on the goalie situation going into GLI, it would stand to reason that Cole would start his more-experienced senior netminder (and reigning Big Ten First Star of the Week) against Western Michigan, which would leave Charleson to start against Michigan Tech.
If DeRidder were to pop off for another big game Wednesday, then I could see Cole riding the hot hand again by playing DeRidder back to back, but the former is more likely.