Three takeaways from MSU's 75-60 win over Illinois
Owen Oszust, Women's Basketball Beat Reporter
December 10, 2021
EAST LANSING, Mich — Michigan State finally earned their first Power Five win of the season, beating Illinois 75-60 in its conference opener. With four Spartans scoring in double digits, led by freshman forward Matilda Ekh with 20 points, MSU improved to 7-4 on the season.
Here were the main reasons the Spartans were able to knock off Illinois by 15 and earn a much-needed conference win:
1. MSU May Have Found an Alyza Winston Replacement (or two)
The Spartans need someone to replace Alyza Winston, who entered the transfer portal Thursday morning as a No. 2 go-to scorer when Nia Clouden is on the bench. 
From what it was displayed on Thursday evening, that consistent secondary scoring option might be freshman forward Matilda Ekh. Ekh had 20 points on six made 3-pointers, both career-highs, and looks like one of the best shooters, not only at Michigan State, but in the entire conference.
Head coach Suzy Merchant was constantly pointing to give it to Ekh in the corner and just about every time the Spartans did… she hit it. She catapulted an MSU offensive attack that shot 30% in the first half, including a ghastly 3-for-12 performance in the second quarter.
"Everyone on the court should know where Matilda is at," Merchant said.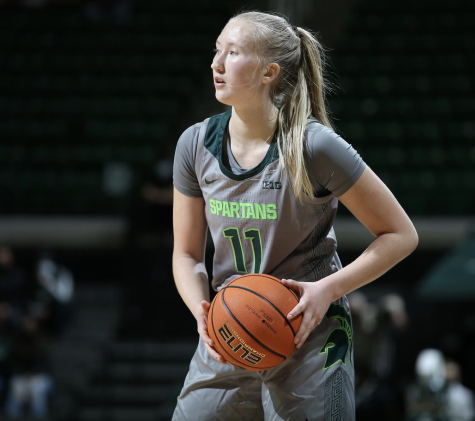 Another nominee for replacing Winston is freshman guard Deedee Hagemann, who earned the start in Winston's absence and played 34 minutes. Despite just shooting 3-for-10 from the floor, she chipped in with a team-high eight assists to go along with eight points. Hagemann's ability to effectively give Clouden a break on the ball and find her open teammates could give the Spartans an underrated distributor, something WInston excelled at. 
2. Good Things Happen When the Ball Doesn't Stick
Simply put, the Spartans needed to be better with consistent ball movement the entire game.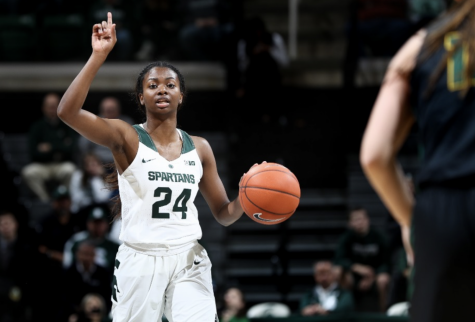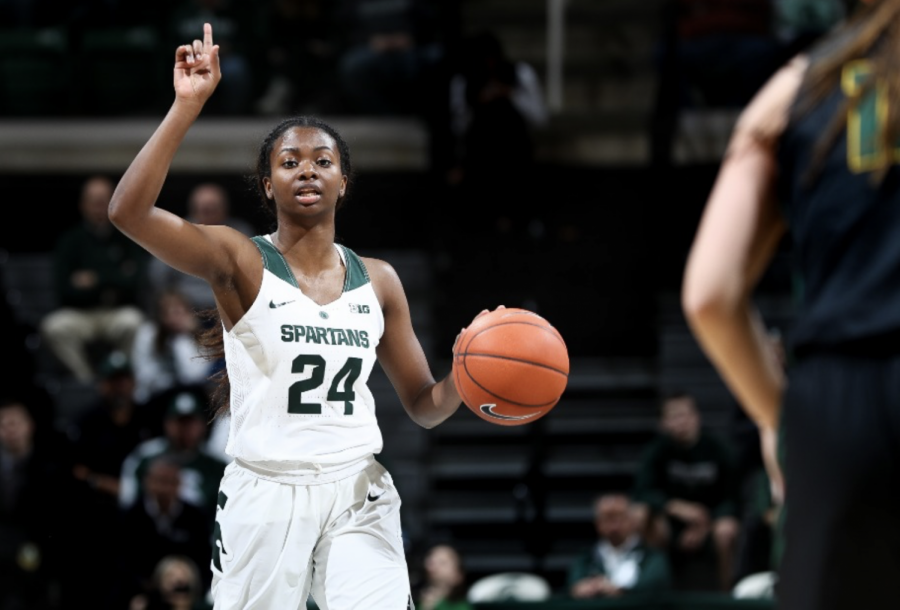 At first, MSU seemed to be moving the ball in stages throughout the first quarter, but seemed to lose their way a bit in the second. There was no consistency with movement in the MSU offense in the first half, and quite often, Michigan State had to settle for last-second contested fadeaway jumpers.
Merchant clearly stressed ball movement in her halftime speech because the Spartans started quite a bit better in the third quarter. Once they started feeding Ekh and the bigs in Taiyer Parks and Alisia Smith, the MSU offense got rolling. That trio contributed 43 of MSU's 75 total points, and the Spartans shot 18-for-27 (66.6%) from the floor in the second half after only shooting 9-for-30 (30%) in the first.
3. MSU Needs to be Better in Post and Low Block Defense
At one point, Illinois was shooting 71% from the floor and 50% from beyond the arc after the first quarter. It seemed like everything from the parking lot for Illinois was falling in the first quarter, which isn't entirely MSU's fault, but at times during that stretch, the paint defense from the Spartans' frontcourt wasn't contesting shots particularly well.
Going forward, especially with elite bigs such as Michigan center Naz Hillmon and Indiana forward Mackenzie Holmes looming, this trend needs to change. Subpar post defense especially came back to bite the Spartans in their past two losses to No. 24 Notre Dame and No. 9 Iowa.
The Spartans are set to get a small break and then will look to make it two wins in a row when they travel to the West Palm Invitational against Florida Gulf Coast, on Monday Dec. 20. Tipoff is set for 11 a.m.