FINAL: No. 12 Spartans conclude regular season on a high note in 30-27 victory over Penn State
EAST LANSING — A memorable regular season for No. 12 Michigan State was capped off by a 30-27 win over conference-foe Penn State on Saturday.
The victory signified a number of achievements, including possession of the Land Grant Trophy, a final triumph for the seniors in their last game at Spartan Stadium, a potential spot in a New Year's Six Bowl and a 10-win season.
The Spartans came out firing right away as they marched down the field on their first drive. The lengthy drive included a 40-yard pass from quarterback Payton Thorne to tight end Maliq Carr. 
Thorne finished the contest with 268 passing yards and two passing touchdowns.
It was star running back Kenneth Walker III who concluded the drive, punching it in for a 2-yard TD run to give MSU the early lead. Walker had 138 rushing yards and a TD in the Spartan victory.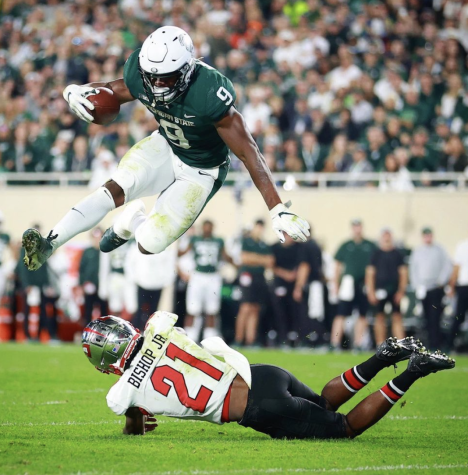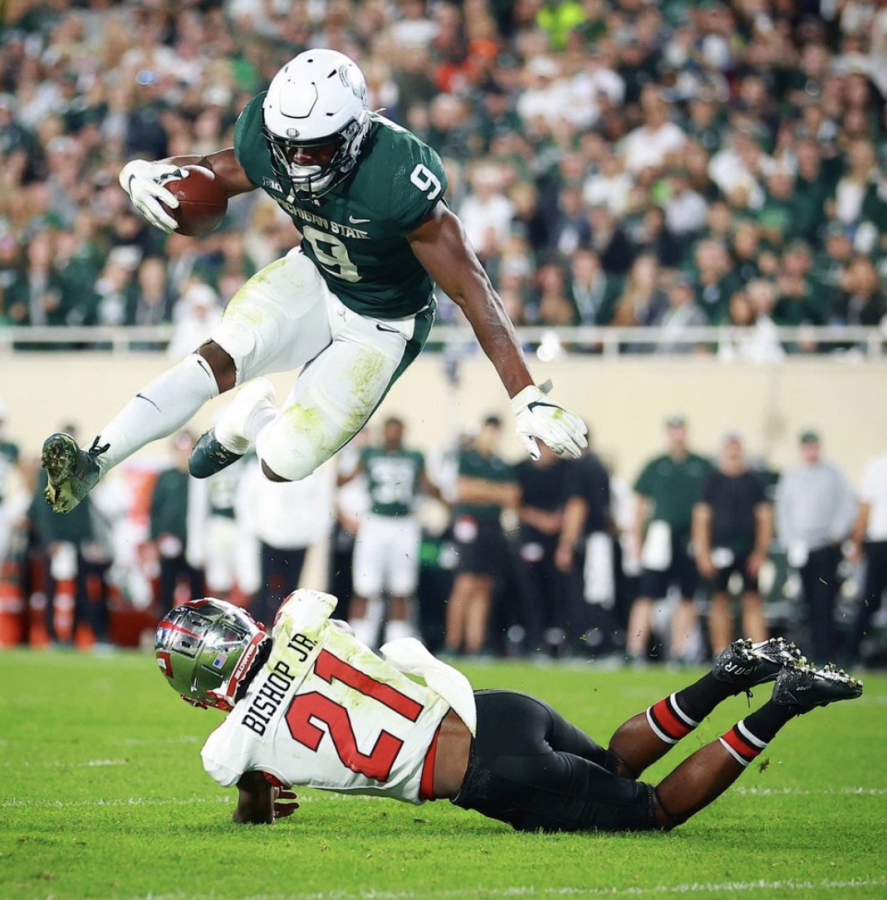 Immediately, the Spartans set the tone on defense as well when defensive end Drew Beesley deflected an attempted pass by Penn State quarterback Sean Clifford. MSU would go on to force a three-and-out on the Nittany Lion possession.
MSU picked up right where it left off on the offensive side of the football. After the Penn State punt team downed the ball at the Spartan 1-yard line, Walker bursted for a 35-yard rush that he then followed up with a 15-yard gain. 
On the third play of the drive, offensive coordinator Jay Johnson went to his much-coveted flea flicker, which resulted in a 14-yard reception by wide receiver Jayden Reed. Three plays later, Reed was found yet again for what was a 23-yard reception down to the Penn State 10-yard line. The drive ended with a 9-yard pass from Thorne to wide receiver Tre Mosley in the back of the end zone. 
MSU took an early 14-0 lead.
The Nittany Lions would refuse to back down, though. Just when it looked like MSU might have the Penn State offense stumped once again after a dual-sack by Beesley and defensive tackle Maverick Hansen on Clifford to force third-and-12, Clifford found his star wide receiver Jahan Dotson for an 18-yard completion. Dotson would capitalize on the play with a 27-yard TD reception.
On the second play of the Nittany Lions' next possession, Clifford connected with wide receiver Parker Washington for an 18-yard reception up the middle. At the start of the second quarter, though, MSU was able to stand its ground and force Penn State to punt.
The Penn State defense would hold the Spartans to a second-consecutive three-and-out. The Nittany Lions' defensive fuel carried right over into the offense, as Penn State scored in just three plays that included a 16-yard pass to Washington and a 30-yard TD reception by Dotson for his second score of the game.
Penn State tied the game at 14.
MSU declined to give up the momentum for long, though. On the next Spartan possession, with third down and 8 yards to go, Thorne found wide receiver Montorie Foster for a 19-yard completion that he snagged out of the air with one hand. 
Soon after, the Spartans were faced with fourth-and-6, but MSU would choose to go for it. The decision went in its favor, as Thorne connected with tight end Connor Heyward for a 19-yard gain. 
Heyward finished the game with 60 receiving yards.
Ultimately, the Spartans would be forced to settle for a field goal on the Penn State 22-yard line, but kicker Matt Coghlin found the uprights to put the Spartans up three.
Penn State would answer right away on offense with a 33-yard rush for Nittany Lion running back Keyvone Lee down the left sideline. MSU held firm, though, eventually limiting Penn State to a third-and-5 situation. 
Beesley would come up big for the Spartan defense yet again, sacking Clifford for a loss of 2 yards to force the fourth down. Penn State then missed the 27-yard field goal attempt that would have tied the game.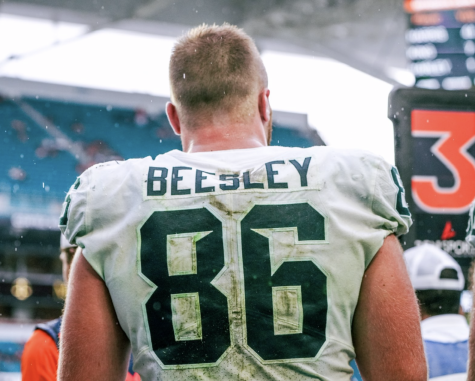 MSU led 17-14 at the half.
The Nittany Lions looked as if they were bound to march into scoring range to open up the second half, but the MSU defensive line would say otherwise.
On third-and-8, Spartan linebacker Cal Haladay and defensive end Jacub Panasiuk sacked Clifford for a loss of 8 yards, forcing fourth-and-long for Penn State.
The Spartans would have an opportunity to retaliate with poor field position, but on third down with 7 yards to go, Thorne threw a pick to Nittany Lion cornerback Daequan Hardy, who returned it to the house for a 17-yard Penn State TD. Fortunately for MSU, the Nittany Lions would miss the extra point, giving themselves just a three-point lead. 
The next drive would be MSU's longest drive of the season (15 plays).
It began with a 27-yard rush for Walker, entering Penn State territory right off the bat. After a false start against Foster that set the Spartans back to a third-and-14 situation, Thorne connected with Reed for an 11-yard reception, bringing up fourth down with 3 yards to go for MSU.
Thorne would keep the ball and rush for the first down. 
Four plays later, Reed brought in a crucial 21-yard reception. A pass interference call against Penn State would then down the Spartan offense at the Nittany Lions' 2-yard line. MSU would score on a QB keeper by Thorne.
Spartan kicker Evan Johnson missed the extra point, and MSU took a 23-20 lead with just over two minutes to go in the third quarter.
At the start of the fourth quarter, MSU's defense forced Penn State into a fourth-and-short situation. But once again, it would be Dotson with the big play, as the receiver converted the first down on a 15-yard reception.
Just four plays later, the Nittany Lions were faced with a fourth-and-short situation again. Penn State went for it, but Lee would be stuffed at the line of scrimmage, turning the ball over to MSU.
On third down with 6 yards to go, running back Harold Joiner joined in on the action on offense, gaining the Spartans a fresh set of downs on a 7-yard reception off a screen pass. The play was followed by an 11-yard rush for Walker. 
MSU would ultimately be forced to punt.
Penn State stayed on the ground with multiple rushes for Lee, but on his third-straight run, Haladay forced the running back to fumble, allowing the ball to be recovered by Beesley.
The Spartans utilized the momentum from the pivotal defensive play. Walker ignited the drive with an 8-yard gain, but the Spartans would soon be faced with third down and a single yard to go. It was then that Heyward came up big again with a 25-yard reception that put MSU at the Nittany Lions' 15-yard line.
MSU then found itself in a fourth-and-15 situation but decided to go for the TD as opposed to settling for the field goal. After a Spartan timeout, Thorne connected with Reed for a 20-yard TD completion that put MSU up by nine points. 
"That was all him [Reed]," Thorne said. "He made a great play. He got open, — as open as he could in that situation — and he went up and came down with it. It was a huge play, obviously, on fourth-and-15."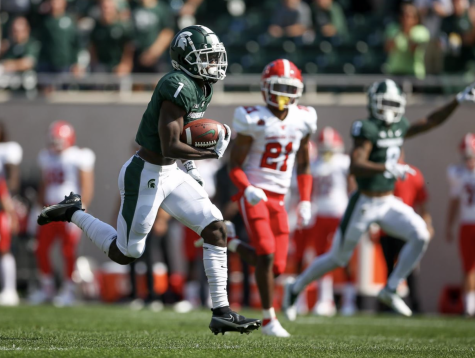 The extra point was good this time, and the Spartans led 30-20 with just over five minutes remaining in the game.
The success for MSU was still not over. On the Spartan kickoff, MSU linebacker Ma'a Gaoteote forced a fumble that was then recovered by cornerback Justin White.
It should have been the nail in the coffin, but on the Nittany Lions' next offensive drive, Clifford would find tight end Brenton Strange for a 25-yard gain on fourth-and-24. Penn State went on to march down the field and score a TD, cutting its deficit to just three points with less than a minute to go in the contest.
The Nittany Lions attempted the onside kick, but fittingly so, it was Reed who recovered the ball and secured the Spartans' 10th win.
Availability for a number of players was in question going into Saturday's game, but certain players played through injury and illness to send their seniors out "the right way."
"We knew that the guys that could play, we knew that they would play if they could," said MSU coach Mel Tucker. "We knew that we would get everything that they had. It's been a 'next-man-up' mentality for the last three or four weeks. Guys have really embraced that."
Details on MSU's bowl game are to be determined.