MSU guard Deedee Hagemann receives Big Ten Freshman of the Week honors
Allie Cohen, Women's Basketball Beat Reporter
November 15, 2021
EAST LANSING, Mich—After just one week of play for the Michigan State women's basketball team, Spartan guard DeeDee Hagemann was named as the Big Ten Freshman of the Week on Monday afternoon. 
The Detroit native caught the first Freshman of the Week honor of the 2021-2022 season after an impressive first week of action, where she scored in double figures in both games played. In her Spartan debut against Morehead State on Nov. 9th, Hagemann scored 10 points with five assists and five rebounds en route to the 93-31 win.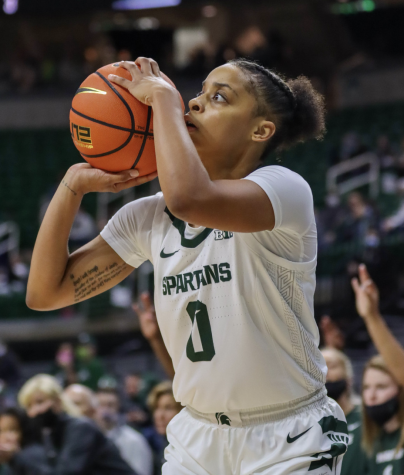 Against Niagara on Nov. 14, she improved from her first performance with 11 points, seven assists, four rebounds and three steals in the Spartans' 89-65 win over Niagara.
In the first two games, she averaged 10.5 points per game and 4.5 rebounds per game, while adding six assists. She is the first MSU player to be named Big Ten Freshman of the week since Nia Clouden on Dec, 31st, 2018. Overall, Michigan State has had players earn the weekly award nine times. 
The Spartans are set to return to action this Tuesday, Nov. 16 against Valparaiso at 7 p.m., before closing out their four game homestand against Bryant on Friday, Nov. 19 at 12 p.m. 
Hagemann, a five-star recruit who played basketball at Detroit Edison High School, chose MSU over Florida State, Kentucky, Louisville, Ole Miss and others.