Previewing No. 8 MSU's home contest with Maryland
EAST LANSING, Mich— The Michigan State Spartans will play host to the Maryland Terrapins at 4 p.m. on Saturday. MSU dropped to No. 7 in the College Football Playoff rankings after suffering their first loss of the season last week on the road against Purdue.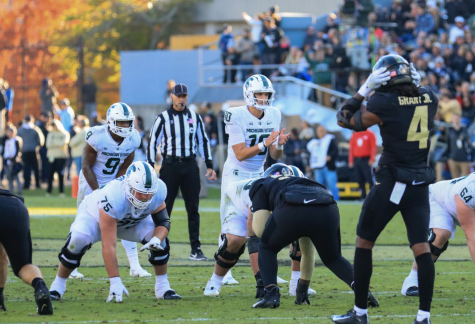 Maryland began the season by winning the first four games against West Virginia, Howard, Kent State and Illinois. Since that point, the Terps have gone 1-4 including an embarrassing 51-14 loss to Iowa at home and a 66-17 whooping to Ohio State on Oct. 9. Last week, Maryland lost to Penn State 31-14. Head coach Michael Locksley is in his third year as the head man at Maryland and has an overall record of 11-21 and a 6-20 conference record.
Junior quarterback Taulia Tagovailoa is near the top of the Big Ten in most passing statistics. He is first in yards (2,755), second in completion percentage (70.5), second in touchdowns (18), and second in yards per game (306.1). Tagovailoa completed 41 passes last week against the Nittany Lions. Those 41 completions were the second-most in a single game in program history.
Defensively, Maryland has struggled in some key areas. The Terrapins rank dead last in the Big Ten in interceptions on the season. The rushing defense has been exploited throughout the year; opponents have rushed for over 150 yards per game. To top it off, Maryland is one of only two teams in the conference that allows more than 30 points per game.
The Terrapins also allow 255 yards through the air, the second-worst mark in the Big Ten. They also yield over 408 yards of total offense a game, the third-worst mark in the conference
After being ranked third in the initial College Football Playoff ranking, Michigan State fell to an unranked Purdue team by a score of 40-29. The secondary was a major problem once again for the defense as they allowed Aidan O'Connell to throw for 536 yards and three touchdowns. It will not be any easier for the defensive backs this week as they are dealing with injuries and will be facing one of the better quarterbacks in the Big Ten.
Freshman cornerback Charles Brantley, as well as corner Ronald Williams and Marqui Lowery, have all been dealing with various ailments lately. Currently MSU is dead last in the FBS with 326.7 passing yards allowed a game.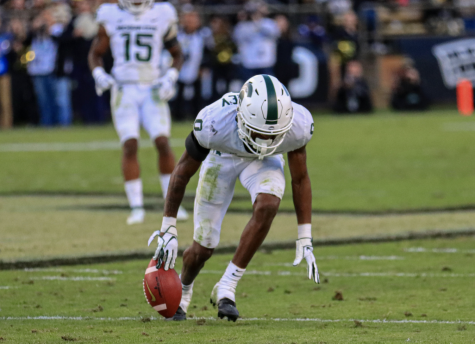 Junior running back Kenneth Walker III has had a historic season for the Spartans. Walker leads the nation in rushing yards per game with 147.8, total rushing yards with 1,330, yards after contact with 981 and rushes of over 20 yards with 16. The Terps have been prone to giving up yards on the ground this season and MSU will be looking to feed Walker after he had minimal touches in the second half of the game against Purdue.
Maryland yielded 326 rushing yards to Minnesota in its 34-16 loss on Oct. 23, Indiana ran for 204 yards against the Terrapins on Oct. 30.
Michigan State has been playing a "bend, don't break" style of defense all season and, for the most part, it has worked. However, last week luck ran out for the Spartans and failing to capitalize when the Boilermakers had tough conversions on third down happened to be the downfall.
On the game, Purdue was 11-for-18 on third down conversions.
Defensive coordinator Scottie Hazelton will have his work cut out for him when scheming to slow down Tagovailoa and the rest of the Terrapin offense.
If Michigan State wants to hold on to its Big Ten championship aspirations, the last three games are must-win games. Nothing comes easy in November as teams are fighting for their postseason lives and injuries become a factor. The Spartans will have to feed Walker and find a way to get off the field on defense when Maryland is facing third-and-long scenarios.
After Maryland, Michigan State will travel to Columbus to play No. 6 Ohio State before returning home to play No. 23 Penn State on senior night and the last game of the regular season. Even with the loss last week, MSU has an opportunity to make the Big Ten championship if it takes care of business against the Buckeyes and the Nittany Lions.