FINAL: MSU women's basketball handles Morehead State 93-31 in season opener
Marin Klein, Women's Basketball Beat Reporter
November 9, 2021
EAST LANSING — The Michigan State women's basketball team came out on top 93-31 against Morehead State University in its season opener Tuesday night at the Breslin Center.
This was the Spartans' first regular-season game after their exhibition game against Northwood on October 31, where they came out on top, 95-49. 
Morehead State came into this game after falling to Georgetown (Kentucky) 73-63. The Eagles  entered this season with a brand new head coach and extremely new team. Only three of Morehead States' players returned from the previous season. Coach Caylee Petree had success in recruiting and made sure to add some serious opponents to their 2021-2022 roster.
While the young Eagles showed strength, the Spartans absolutely dominated the court from tip-off. Michigan State starters Alyza Winston, Alisia Smith, Matilda Ekh, Moria Joiner and Nia Clouden were playing as a unit on the court and left little room for the Eagles' starters to have any success. 
Clouden and Winston controlled the court as the top point scorers. Winston led yet again with a total of 20 points, while Clouden followed with 15. Both played extremely well and made sure to make themselves the players to watch this season.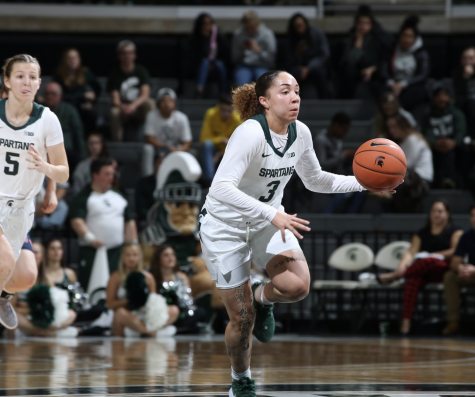 Clouden, who was added to two more watch lists Tuesday, along with her nomination for the Nancy Lieberman watch list, proved her titles out on the court in Tuesday's matchup. She was second in points, putting up 15 behind Winston's 20. She also led the team with seven assists. Clouden had a 75% field-goal and 3-point percentage in the matchup. 
The Spartans ended the first half leading 41-18, and there was no slowing down from there. Merchant took advantage of the team lead to play her whole bench and saw great success from multiple players.
Merchant used these past two games to let underclassmen shine on the court. Due to top-scorers Tory Ozment and Juila Ayrault's season-ending injuries, there is room on the team for the players with fewer minutes to shine. Freshmen Matilda Ekh and DeeDee Hagemann made the most of their playing time Tuesday, both putting up double digits in points. 
Ekh, who already proved her skills during the Northwood exhibition, showed up as well, putting up 11 points, three assists and two rebounds.
Hagemann put up 10 points along with five assists, five rebounds and two steals.
By the start of the fourth quarter, the Spartans led 67-24. The star of the last quarter was without a doubt Laurel Jacqmain, who was able to get three 3-pointers in a row and put up a total of 11 points. 
The Spartans will look to keep this momentum going when they head into their next game against Niagara at 2 p.m. at the Breslin Center on Sunday.