MSU looks to upset No. 24 Miami on Saturday
Liam Jackson, News Editor/ Football Beat Reporter
September 17, 2021
MIAMI, FL –The Michigan State Spartans have hit the road for the second time in three weeks to start the season. This time, MSU will be making the trek down to Miami, Florida, to face off against the 1-1 Miami Hurricanes at noon on Saturday at Hard Rock Stadium.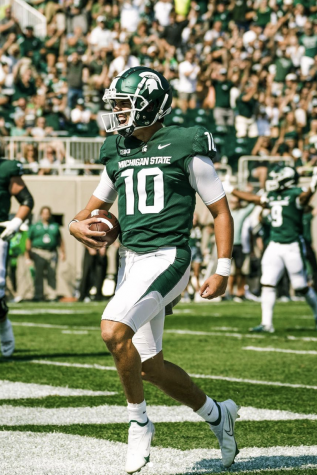 No. 24 Miami started its season by losing to No. 1 Alabama and then came back home to beat Appalachian State by a score of 25-23. 
The Spartans are 2-0 and are looking for an encore after coming off a dominant performance against Youngstown State in which they won 42-14 on Sept.11. 
The Hurricanes will present a variety of challenges for Michigan State that the Spartans have not had to deal with this season. Hurricane quarterback, D'Eriq King, is an electrifying playmaker when he is given time and space on the field (King has compiled over 10,000 all-purpose yards during his time at Houston and Miami).
He is still working back from a torn ACL he suffered in the 2020 Cheez-It Bowl against Oklahoma State last season and has not had the start to this 2021 season that many anticipated en route to throwing one touchdown pass to two interceptions.
Manny Diaz is in his third season as head coach of Miami and was brought in from Mississippi State, where he was a defensive coordinator in 2015 and 2010, as well as the defensive coordinator for Texas from 2011-13. Up to this point in the Diaz tenure, the results have been somewhat underwhelming, and Saturday's game is an important one for this Miami program. Currently, Diaz has a record of 15-11 and a conference record of 11-6.
Junior running back Kenneth Walker III had a limited number of carries last week (7), but will have to continue to be an impact playmaker for MSU on Saturday. The offensive line has been a positive through two games and the running backs, especially Walker, have taken advantage by running hard and confident. Despite only getting seven carries against Youngstown State, Walker ran for 57 yards and a score against the Penguins.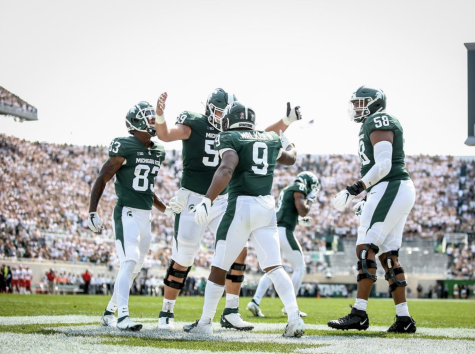 Wide receiver Jayden Reed and quarterback Payton Thorne have shown real chemistry so far this season to the tune of two 75-plus yard touchdowns against Youngstown State. Last Saturday, Reed had four receptions for 181 yards and two scores while Thorne threw for 280 yards and four touchdowns, a career-high.
However, stopping King and the rest of the Hurricane offense will be the most important factor for the Spartans. Senior safety Xavier Henderson has been a major catalyst on that side of the ball and has been one of the best defensive backs in all of college football thus far. He has racked up 17 total tackles, two sacks and had a dazzling one-handed interception against Youngstown State.
PFF has also graded Henderson as the highest-rated safety in the country; linebacker Cal Haladay is currently graded as the No. 9 overall linebacker in the country and Quavaris Crouch has the second-highest pass-rushing grade of any linebacker in Division I. 
For Michigan State, this will be the largest stage the team has played on in the Mel Tucker era. Sure, they racked up a few upset victories in Tucker's first season that created some excitement; but now, the Spartans have to play with some expectations to perform against a good opponent on the road. 
A win over the Hurricanes in South Florida would create a lot of buzz around the Spartans and set the team up very favorably going forward this season in terms of getting inside the Top-25 and continuing to march closer to a potential bowl berth.