The Sci-Files Events
Since many of us are at home, especially children from school, we wanted to give the community the opportunity to meet scientists from The Sci-Files virtually and ask them questions about their research. We had our first session on April 2, 2020 11:00 am EST.  Fill out this interest form if you would like to join our future Q&A sessions.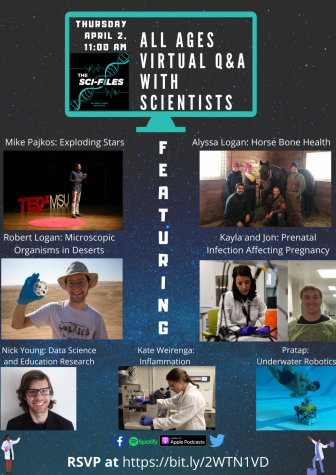 Due to the recent announcement of the pandemic Coronavirus in Michigan, we have decided to cancel the anniversary and beer release. We will eventually have a day at The Grid where proceeds of the beer will go towards the Animal Health Program. We will like to thank you all for your anticipated attendance at this event and your support. As research scientists, we have been looking closely at updates and like to err at caution in such a close-quarter/intimate setting such as The Grid. We believe this is a necessary action to reduce further transmission.
Actions you can do to help reduce:
-Reduce travel to areas with high COVID-19 confirmed cases
-Avoid large gatherings (i.e. beer anniversary)
-Wash your hands with soap frequently(if soap not available, use hand sanitizer).
-Avoid misinformation
-Don't panic, plan it