The Sci-Files – 05/17/2020 – Brittany, Christian and Basma – Youth Opioid Awareness Program
On this week's The Sci-Files, your hosts Chelsie and Danny interview 2nd-year medical students at Michigan State University College of Osteopathic Medicine, Brittany Ladson, Christian Rohl, and Basma Al Masraf.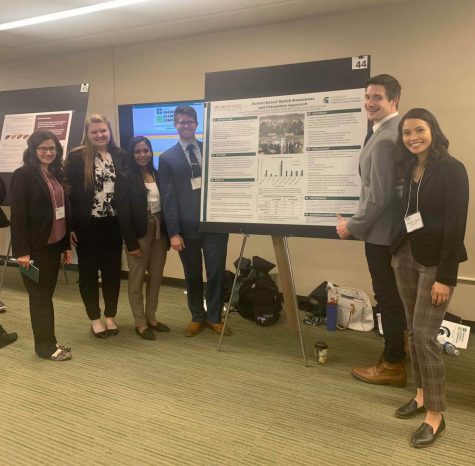 Since 2017, there have been over 70,000 opiate-related deaths, namely in the 18-25 year old group. It has been shown that implementing educational and Naloxone distribution programs can reduce the total number of opioid overdoses up to 55% within those communities. To address the growing opioid epidemic, Brittany, Christian and Basma are currently investigating the efficacy of implementing an opiate awareness educational program for high school students across the state.
The DARE program, a current requirement for high schoolers in the state of Michigan, addresses the dangers of cigarettes and alcohol consumption; however, it fails to acknowledge opiate misuse. To address this gap in education, this team of medical students has held educational programs for over 250 students across the state. If awareness on the seriousness of opiate addiction could be addressed early on in a child's education, could it impact their decisions to misuse opiates?
If you're interested in talking about your MSU research on the radio or nominating a student, please email Chelsie and Danny at [email protected]. You can ask questions about future episodes here. Check The Sci-Files out on Twitter, Facebook, Instagram, and YouTube!