Mutineer Music EP. 6 2020's Hyperpop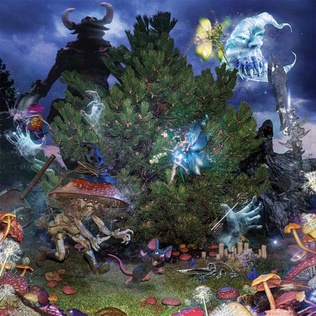 If anti-pop is the cynical mirror reflecting the dark core hidden inside chart-topping pop songs, hyperpop is the bird-flipping, in-your-face parody of its parent genre. Described by The Atlantic as "Noisy, ugly, and addictive," hyperpop is seen as the off-the-rails, bastard child of pop and more importantly, the internet generation.
While it's easy to brush off as nothing more than abrasive noise meant to make anyone over the age of 30 scratch their heads, hyperpop is an artform nonetheless. Its ridiculous excess is completely purposeful; the more distorted 808s, autotune, glitched out lyrics and Minecraft samples the better. These seemingly nonsensical parts form an often energetic and, as said by The Atlantic, addictive whole.
Hyperpop aesthetics are often absolutely bizarre, with artists releasing songs with titles such as "if you make music.. stop it," "IDONTSENDSEX," and "grandma got run over by a lawnmower." The songs are sometimes accompanied by less than stellar microsoft paint art, or seemingly arbitrary images that do not relate to the song in any meaningful way. If you're confused, that may be the point. Hyperpop is a genre rich in youth and discovery, constantly evolving at such a rapid pace that it's dazzling to the senses. 
Diving further into a concrete definition for the genre, "Hyperpop is described as experimental music that pushes pop themes and tropes to parody, with some dance/electronic undertones." The formation of which can be traced back to prominent figures such as SOPHIE, Dorian Electra, 100 gecs, Charli XCX, and A.G. Cook. These artists took what made pop a guilty pleasure for so many and attempted to dial up those features to their ludicrous maximums. This boundary pushing and limit testing created a genre that, despite being a sugar crazed parody of its parent genre, slowly became a sound that could stand defiantly on its own. Hit hyperpop singles such as 100 gecs' "Money Machine" and Charli XCX's "Claws" have each garnered millions of streams following their release, with their popularity only continuing to rise and gain momentum as more and more listeners discover the hyperpop genre for themselves.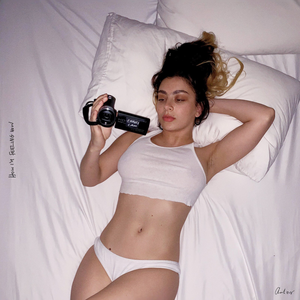 Artists from genres outside of hyperpop have also been dipping their toes into the sound. Rico Nasty, 2019 XXL freshman and prominent member of the hip hop community, experimented with the hyperpop genre on her single "IPHONE" off her album Nightmare Vacation. Punk pop superstars Fall Out Boy also tried their hand at hyperpop by featuring on the 100 gecs "hand crushed by a mallet (remix)." Both songs enjoyed massive success with each single earning more than 10 million streams on Spotify. These mainstream crossovers are just a small part of the tidal wave of support behind the hyperpop genre, with many critics and mainstream artists referring to the genre as "the future of music."
While this is a daunting mantle for hyperpop to take on, especially with its birth being only a few years behind us as of 2021, there isn't a genre more prepared for global domination. The sound is fresh, the artists are hungry, and the world is watching. The future is uncertain, even for the most classic genres in a music world filled with never ending change and expansion. If hyperpop is to truly stay large and in charge, it needs its innovators to stay on the pulse, lest it sink into the pitfalls of the chart topping pop songs the genre has so diligently parodied for years. Above all, hyperpop needs to stay true to its antagonistic, spastic, don't-give-a-fuck attitude in all its glitter-filled, jittery glory. The rest will follow.
I had the honor of interviewing two fresh new faces in the hyperpop genre, Band of Maji and Julien Sword, to ask them about their opinions on the genre, their careers and more. Below you will find the full transcripts of my questions and their responses. I hope you enjoy their interviews and this Mutineer Music series as much as I have. Make sure to keep your eyes and ears open for that next rebel yell, it might just be the next face of the music world.
When did you first begin to have an interest in hyperpop?
Probably around mid-late 2019 was when I started being interested, but it really picked up during 2020.
What artist(s) inspired you to make hyperpop, if any?
100 gecs obv lol, osquinn, ericdoa, the standards lmao.
Why do you enjoy hyperpop as a genre? 
 I enjoy it because it's a bunch of kids my age, some even younger, making really cool stuff.
What is your process for creating your hyperpop songs (production, lyrics, mixing and mastering etc.) ?
My process is pretty freeform. I'll make a cool instrumental and then write lyrics, usually about spirituality, relationships or my mental state. I mix very loud, lol.
Do you have a favorite hyperpop song?
This is difficult considering how broad the limits of the genre are. At this moment, no.
What do you believe is the future of the hyperpop genre? 
Bigger and better. With these kids growing up and getting money, the quality is guaranteed to go up based on better hardware and experience.
Do you have plans to/have you made music outside of the hyperpop genre? If so, why?
I have made music outside the majority's view of the hyperpop genre. My debut album would probably be better categorized as an alternative pop record, or even indie rock. I did this mainly to show off my potential to the best of my ability.
Finally, if people are interested in your music, how would they find you on streaming platforms/social media platforms?  
I am in 2 different groups besides my solo music: kn1ghted and timezones. I am @juliensword.
Julien Sword recently released oxytocin, his debut album available to stream on Spotify.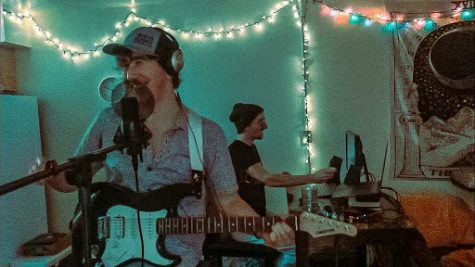 When did you first begin to have an interest in hyperpop?
January, after listening to 1000 gecs on repeat for a week. We decided to start making music together sometime in November, 2018. I (Joe) was making beats on GarageBand, and Marshall was writing songs. We made a few demos that were pretty good, but we didn't really start to grind until this January.
I had a week off during New Year's, so we turned his apartment into a studio space and, well, we call it marinating, but we listened to tons of different music and tried to break down "What do we like about this song, what makes it unique, what production techniques can we spot?" We went down the Spotify rabbit hole until we came across a Song Exploder podcast episode with 100 gecs. We went, "Oh, wow. That's new." So we started looking for more of that sound. At the time, we were going for a more acoustic, singer-songwriter sound, but when we listened to the 1000 gecs album, we felt like we were limiting ourselves. I'd say that's when we got into hyperpop. It was like stepping into a wide open space. It was really freeing. We tried to research what we could, but it's such a new phenomenon. We had this realization. We were trying to find a sound to emulate, but instead we found that the sound we wanted to make didn't really exist yet in the style, so we're carving out our own space. Hyperpop just happens to be a community we connect with.
What artist(s) inspired you to make hyperpop, if any?
Underscores, Glitch Gum, 100 gecs, umru, Caroline Polacheck, glaive, Kurtains, Francis and the Lights, Laura Les, Dylan Brady, ericdoa, Boy in Space, Charli XCX, blackwinterwells, nightly, The Band Camino, A.G. Cook, The 1975, Porter Robinson, and more.
Why do you enjoy hyperpop as a genre?
Hyperpop has a really distinct sound right now. We're talking about the overproduced electronic sound that you can make in your bedroom. We all have access to this crazy technology, like I can autotune vocals on my phone. Why not see what we can do with it? It feels like the next step. We had disco in the '70s and all the dance anthems in the '80s, we want to bring back boogie in a cool new way. If you look at the top pop charts right now, it's a lot of sad stuff. And like we've all been locked inside. It's been a long winter, but it's about to be summer time and people are getting vaccinated. We need some real summer bops. Something that'll make your subwoofer go "Wow, thanks."
What is your process for creating your hyperpop songs (production, lyrics, mixing and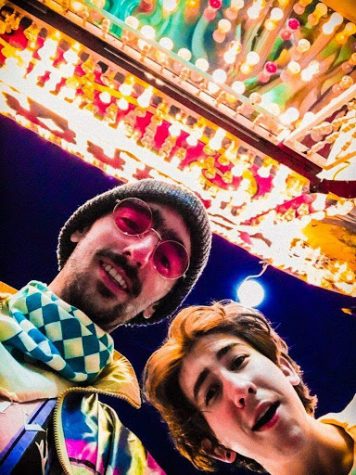 mastering etc.) ?
We mainly work remotely, only getting together to work in person once or twice a month since we live in different parts of the state. So our songs generally start as beats we make on our own in our bedrooms. Then we get together and really flesh them out to create full songs.
The style of hyperpop is all about the sonic experience, lots of ear-candy, bass you can feel in your bones and drums that bang. Each song has a different path it takes from start to finish. Often we'll start with a melody line, which is usually a high-end synth that catches the ear, sometimes guitar loops or samples, really anything that is fun and ear-candy like. From there we'll add drums which range from trap to four-on-the-floor dance to groovy full drum kits. Then comes the bass. The bass must bang.
After that we make the arrangement and build out the beat and percussion so it starts to feel like a full song. Lyrics and melody come in a variety of chaotic ways. Often we'll start with some freestyle singing without real words and then fit lyrics to match the melodies we come up with. The lyrics are generally pretty good vibes and uplifting. That's just what we think the music world needs right now.
Once the vocal lines are recorded and the beats are built we go into production, which is the longest part. The whole style is built on overproduction. We want to add as much texture and variation as we can. We are trying to create sonic experiences and worlds that draw the listener in and beg the song to be played again. We have a whole cookie jar of tricks and techniques that is constantly growing. We use all of them. We love collaboration, getting as many ears on something as possible. This allows us to see what people who aren't us want to hear. Production is never done. There is literally always more we can do. At some point though it becomes nitpicky and fine tuning. We have other people master our tracks, it's just better that way. In the end we are trying to make songs that we'd put on our own personal playlists. The music is stuff that we want to play on repeat. If we want to hear it, I'm sure there are more people out there that want to as well. Boom cha boom boom chak then add arpeggio. And 808s.
Do you have a favorite hyperpop song?
Man it's so hard to pick just one…
"Satellites" by faang
"ringtone" (umru Remix) by 100 gecs, umru.
M: "Fork in the Road" – unlucksi Remix by unlucksi, In The Blue Shirt
"axel ocelot" by kurtains
"Spinning" (with Charli XCX and The 1975) by No Rome, Charli XCX, The 1975
What do you believe is the future of the hyperpop genre?
Hyperpop is going to bleed into all sorts of different genres. Kinda like how hip hop has influenced today's pop music. The style of hyperpop is another evolution. That style of production is going to start being heard in every type of music that uses electronic production. There aren't really any rules. With jazz you need saxophone and live instruments, but hyperpop is more of an approach to production with unique uses of electronic sound design, so you see influences from all over. The genre, if you even want to call it that, is splintered. We have emo hyperpop, which Josiah dubs "grey hyperpop", dance hyperpop, which can blend EDM and dubstep and really make you bounce, experimental stuff and more traditional pop style hyperpop. The sound is just so interesting. Musicians from all across the spectrum are going to be influenced by this sound, and it is going to add texture to the whole music landscape. It's hard to say exactly where the genre will go in the next few years, but we think people are ready for something new. The people who make it are so unique. The possibilities are endless.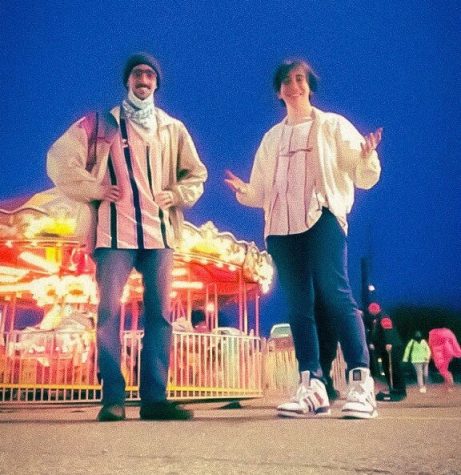 Do you have plans to/have you made music outside of the hyperpop genre? If so, why?
We have spent some time toying around in other genres. We started out trying to make indie rock/pop and have a few earlier songs in that genre. We generally stick to more of a pop sound because that's just what we listen to and what our musical style gears us toward. While I think all of our songs will be in some sense "hyper," we will definitely bridge into plenty of vibes. Some of our music is closer to EDM, some more sadboi, pure dance tracks, some funky, some more hip hop-esque. The beauty of the style is that we can transition it into whatever vibe we are feeling. The possibilities are endless and the way we like to make music means we don't want to box ourselves into anything, lots of experimentation!
Finally, if people are interested in your music, how would they find you on streaming
platforms/social media platforms? (Also, if there's anything else you'd like to be credited for, please let me know!)
We will be on all streaming platforms as Band of Maji and our first single "Level With Me," will be released on May 14. We are also on social media:
Instagram @maji_music
TikTok: @maji_music
Twitter: @majimusicx
Soundcloud: MAJI music
We will be promoting our music and cataloging our musical journey on social media, so make sure to follow to keep up with new releases and see what we are up to. After "Level With Me," we have at least two more singles that are going to drop this summer, maybe even more!.
While it is much too early to create a must-listen playlist for the hyperpop genre, there are still a plethora of artists worth diving into if you are interested in the sound. I've created a playlist featuring some of the founding artists of hyperpop, as well as some enticing new faces to the scene. Julien Sword's personal selections will be featured on the playlist. Make sure to check out these hard working artists! Also, make sure to click the link below to save Band of Maji's debut single.
Sources cited:
https://www.theatlantic.com/magazine/archive/2021/03/hyperpop/617795/
https://www.vice.com/en/article/bvx85v/this-is-hyperpop-a-genre-tag-for-genre-less-music