MSU loses heartbreaker to Rutgers in five sets
EAST LANSING — Michigan State volleyball will want to have tonight's game against Rutgers back.
Despite a gutsy performance from the entire team, the Spartans (3-12) fell to the Scarlet Knights in five sets (5-14) 23-25, 25-18, 25-23, 22-25, 14-16.
"It went down to the wire," MSU coach Cathy George said. "A swing here, a swing there would've made the difference."
Senior outside hitter Alyssa Chronowski led the Spartans' offense, recording 18 kills and three blocks. Just like she did in the first game against Iowa last week, she was flying around the court, sending massive strikes bouncing off Rutgers' defenders.
"Our gameplan was to be aggressors early," Chronowski said.
The Spartans finished with a season-high 62 kills. Junior middle blocker Rebecka Poljan and sophomore outside hitter Cecilee Max-Brown each finished with nine behind Chronowski's outburst.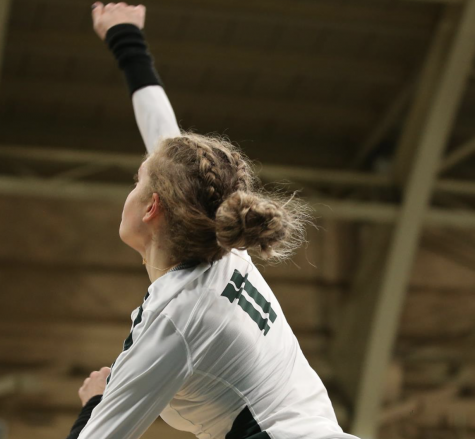 Poljan also recorded seven blocks, a season-high. The Spartans finished with 12 team blocks, matching last week's season-high against Iowa.
"That's a great effort," George said. "We have some physicality at the net…she did a nice job, she anticipated well."
The game was a back-and-forth affair in which neither team had the upper hand consistently. The teams finished with nearly identical stats in kills, assists, blocks, digs, and errors. Rutgers would go on a 3-0 or 4-0 run, usually with a heavy contribution from senior outside hitter Beka Kojadinovic, and the set would appear over. Then, Michigan State would have a huge run of their own to balance it out.
But something seemed to click for Rutgers between the second and third sets. Their defense tightened significantly, giving them the advantage on offense.
"We hit .480 in game two, but then .103 [in game three] and .085 in game four," George said. "That hurt us a bit."
"We thought there were too many times where the ball went off the block a weird way," Poljan said.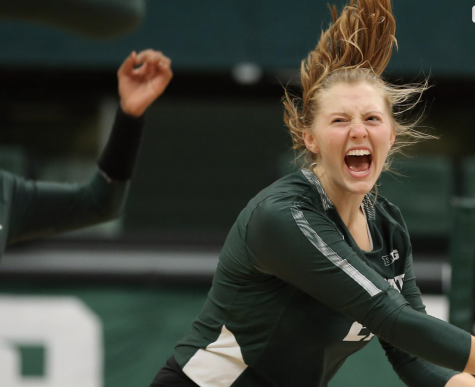 At the end of the game, it just looked like the Spartans were more fatigued. Even then, when they took a 14-13 lead in the fifth set, they had the chance to win on the next point.
The ball just didn't bounce their way.
Poljan described the feeling after the game as an initial frustration that turned into motivation.
"I think the attitude when we were stretching was, 'we're getting this win tomorrow,'" she said.
"I think as long as our minds continue to stay strong and we play with heart, I believe we'll be able to overcome the five sets we played," Chronowski said.
Michigan State closes its season with the second game of its home series against Rutgers at 6 p.m. on Saturday.