Michigan State earns road split with Iowa in a tale of two offenses
IOWA CITY — Michigan State volleyball entered its series with Iowa Friday needing a momentum boost after taking two punishing losses to Penn State last weekend. The Spartans (3-10) played one of their best games of the season in a 3-1 victory against the Hawkeyes (4-14) on Friday, then dropped Saturday's rematch 3-0.
On Friday, Iowa had no answer for Michigan State on offense or defense. Senior outside hitter Alyssa Chronowski scored 13 kills on a blistering .500 hitting percentage, generating offense with full-tilt sprints and hits from the left-side back row. Junior middle blocker Naya Gros added nine kills, punishing the Hawkeyes on the right with hard strikes.
Gros added five blocks on the day. Her partner at middle blocker, Rebecka Poljan, led the team with six and outside hitter Lauren Swartz added four. Michigan State's 11 team blocks Friday were a dominating performance from a unit that has had trouble this year finding its block. Jamye Cox put up 18 digs, frustrating the Hawkeye hitters.
Iowa started fast on Friday, narrowly taking the first set by taking advantage of many MSU errors to start the game. Iowa recorded four of its seven service aces in the first set, with all four being misplayed by Spartan outside hitter Meredith Norris. Norris rebounded nicely to finish with seven kills and a block.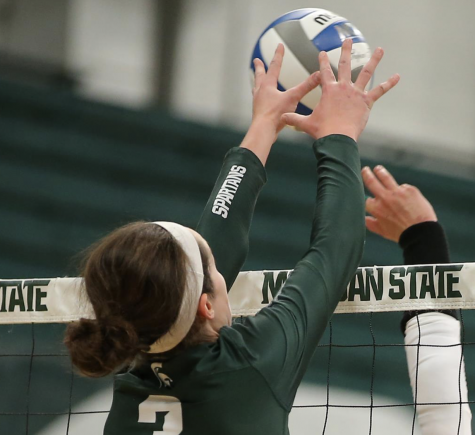 After that setback, there was nothing Iowa could do as Michigan State decisively outplayed them. Junior outside hitter Edina Schmidt's 10 kills were not enough to stop the Spartans, who cruised to an 18-25, 25-22, 25-13, 25-21 win.
On Saturday, Iowa successfully changed its approach on both sides of the ball. Libero Joslyn Boyer played further back compared to Friday's match, and the Hawkeyes adjusted their blocking angles to counteract Michigan State's taller hitters like Swartz and Chronowski. On offense, hitters changed their hitting angles to go around and over the block, including more tip plays.
The results were night and day compared to Friday's match. Michigan State's hitting percentage plummeted to .172 from .211 on Friday, while Iowa's increased from .106 to .202. Schmidt led the Hawkeyes again with 12 kills, while middle blockers Blythe Rients and Hannah Clayton added eight each along with four combined blocks in a 25-22, 25-22, 25-29 victory.
Boyer recorded a season-high 25 digs, scrambling around and diving after loose balls from start to finish. Her effort kept the Hawkeyes afloat at times in the first two sets when the Spartans threatened to break through and take the lead. 
For the Spartans, Norris led the team with eight kills, most of which came during an outburst in the middle of the second set, where she scored five in a row. Three players had five kills, including sophomore outside hitter Biamba Kabengele, who returned to the lineup this weekend for the first time since the Spartans restarted play.
Michigan State blocked even better on Saturday than on Friday, combining for 12 blocks. Gros recorded six, while sophomore middle blocker put up four after relieving Poljan in the third set. 
But without an offensive performance like Friday's, excellent blocking wasn't enough. The Spartans will have to hope that as their season comes to a close, they look like Friday's team going forward and not Saturday's.
Michigan State returns to East Lansing for its season finale series against Rutgers on April 2-3.