FINAL: MSU men's soccer drops contest against Michigan, 2-1
Adam Bakr, Men's Soccer Beat Reporter
March 23, 2021
EAST LANSING — The Michigan State men's soccer team suffered its third-straight 2-1 loss, this time falling at home to rival Michigan. Michigan had won the previous three meetings between the sides, including a 1-0 win when the sides met in Brighton earlier this season. 
Despite Michigan dominating possession in the early stages of the game, it was Michigan State that had the better chances to go ahead. MSU sophomore forward Conner George nearly opened the scoring in the opening stages of the game after getting on the end of junior midfielder Jack Beck's through-ball, but Michigan's Owen Finnerty was quick off his line to meet the effort. Not long after, MSU's Will Perkins tried a curler after cutting in from the right wing, but it was a comfortable save for Finnerty. 
For Michigan, it had a series of near opportunities, but was never able to get the final product right. It consistently made it into the final third, but finished the half with just three shots and none on target. 
MSU would find the opening in the final 10 minutes of the half. Senior midfielder Michael Miller's ball across the six-yard box was deflected out by Michigan's Umar Darouk Osman, but only as far as sophomore defender Nick Stone who found the back of the net from the edge of the box after making a run forward from center back. It was Stone's first goal as a Spartan and MSU's second from a center back this season.

"A little bit before my goal, I made a similar run and didn't get the ball," Stone said. "I saw the same play happening and stayed up this time. It was pretty exciting for my first career goal. 
Coming out of the half, MSU coach Damon Rensing made some adjustments to the lineup. The Spartans started the half in a 4-5-1 instead of the 4-4-2 they started the game with, opting for a third center midfielder over a second striker. 
"We wanted to get a grip of the midfield," Rensing said. "Getting numbers and not getting stretched around the center of the park, It was working great, we just couldn't finish it off."
It was Michigan that came out of the break looking like a new side however. Great link-up play between Marc Ybarra and Moshtaba Al-Hasnawiset set Ybarra up with an open shot in the box, but the finish did not match the build-up play, as he shot wide from close range.
From there, the Spartans were able to take control of the game. After sitting in during the early stages of the half, they started to play more aggressive and looked like the side more likely to score. They began to push extra numbers forward, and it took a series of blocks from Michigan to stop Miller and Vedad Kovac from capitalizing on the pressure. 
With MSU pushing numbers forward, Michigan saw some openings. It looked like it was the team holding a 1-0 lead, as the Wolverines were forced to sit deep and find their opportunities on the counter. It would work out for them, as a two on two saw Derick Broche assist Jackson Ragen for the equalizer with under 10 minutes to play. While it was surprising to see Michigan's center back that far forward, there was little doubt that he would score it, as he had not put a foot wrong all match. It was his fourth goal of the season. 
"We had the chances to go up 2-0 and needed to do so," Rensing said. "You can also win games 1-0, though, and that was a preventable goal."
The game would finish 1-1 and go to overtime. Within two minutes of kickoff, Miller was sent off for a tackle on Austin Swiech. MSU did have two chances to run in behind after going down to 10 men, but neither ended up in a real opportunity. They were made to pay quickly, as Sweich's long throw in bounced through the box and Hunter Morse's attempted punch went straight into Kevin Buca's head to slowly bounce in for the game winner. It was Buca's second goal of the season, with both being game winners against MSU. 
The loss takes the Spartans to 2-6 on the season. They will have a week-long break before taking on Wisconsin at home on March 31.
About the Writer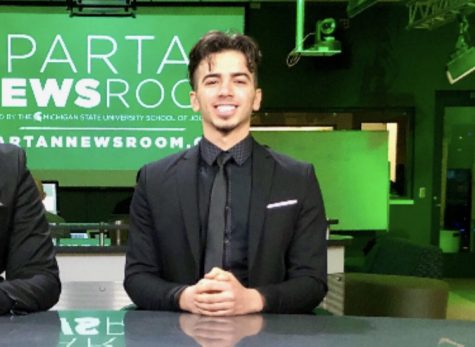 Adam Bakr, Men's Soccer Beat Reporter
Adam is a senior journalism major who covers men's soccer for Impact 89FM. He also covers professional soccer and contributes to Impact's professional sports coverage.