Rocky road to full strength continues for Michigan State in loss to Penn State
EAST LANSING — "Clearly, not what we wanted to see."
Those were the first words Michigan State coach Cathy George spoke in her press conference after a second-straight loss to No. 12 Penn State (9-5) in three sets, 25-13, 25-21 and 25-11.
Though George's words could be perceived as stern, there were areas of improvement for her squad in tonight's match. 
Junior middle blocker Naya Gros had another impressive performance. Though her production was lower on offense compared to Friday's game, she was a strong presence at the net, scoring two solo blocks and assisting in a third.
The team put up a fight in the second set; a start-to-finish thriller in which MSU threatened several times to take the set. Penn State coach Russ Rose was even forced to take a timeout to halt the Spartans' momentum when they cut the Nittany Lions' lead to 20-19. 
"I think the second set went great," said senior libero Jamye Cox. "We competed, we fought. But I would say we drained ourselves."
Out of the timeout, MSU outside hitter Cecilee Max-Brown served straight into the net, and Penn State's Gabby Blossom scored an ace on the next point to create enough of a cushion for the Nittany Lions to survive.
Offense was hard to come by for the Spartans, who had just 25 kills for the match. Senior outside hitter Meredith Norris led with eight, while junior outside hitter Molly Johnson was close behind with seven in one of her best matches of the season.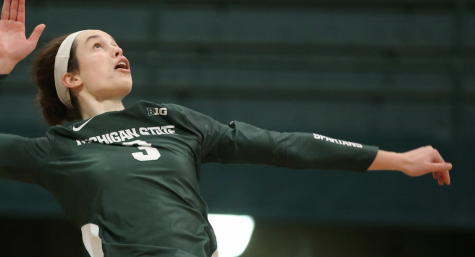 "We needed to kill the ball more," George said. "25 kills isn't going to get it done."
However, the Spartans are still missing players on both sides of the ball, and several players are not fully healthy. Defensive specialist Talia Edmonds did not play this weekend, and outside hitter Sarah Franklin, who ranks fifth in kills per set in the Big Ten, has been out with a hand injury for a month. Max-Brown and redshirt senior outside hitter Lauren Swartz both saw their first action since Feb. 21 after sitting out Friday's match.
"It's not as easy coming back as people might think," George said. "We're trying people in different positions, trying to fill our lineup."
Slightly better health wasn't good enough against the talent that Penn State has assembled. Penn State freshman outside hitter Annie Cate Fitzpatrick led the team with eight kills, followed by junior middle blocker Serena Gray with seven. Both recorded individual hitting percentages above .450, speaking to the efficiency at which they exploited a rough Spartan defense.
Nowhere was that more evident than in the third set, where Penn State jumped out to a 6-1 lead and never looked back. MSU looked tired after the long second set and Penn State's players kept hammering them.
"When we lost our energy, when we got fatigued, that's where it fell apart a little bit," Cox said.
Michigan State travels to Iowa next week for a two-game series on March 26-27.