FINAL: Michigan State shuts out Illinois 11-0 in pod play
ANN ARBOR, Mich. – Michigan State dominated Illinois from start to finish in its first game of the pod play weekend in Ann Arbor. Led by redshirt junior ace Mason Erla, MSU coasted to an 11-0 victory to improve its record on the season to 5-4. 
A hot start for the Spartan bats in the first inning pushed MSU to an early 4-0 lead. A costly error by the Fighting Illini that extended the inning for MSU set the tone for the rest of the game. The Spartans took advantage of every opportunity that was presented to them.
After an RBI single from junior infielder Zach Iverson, sophomore outfielder Zaid Walker ripped a line drive past a diving right fielder that resulted in a two RBI triple. Freshman infielder Trent Farquhar added the fourth RBI of the inning with two outs.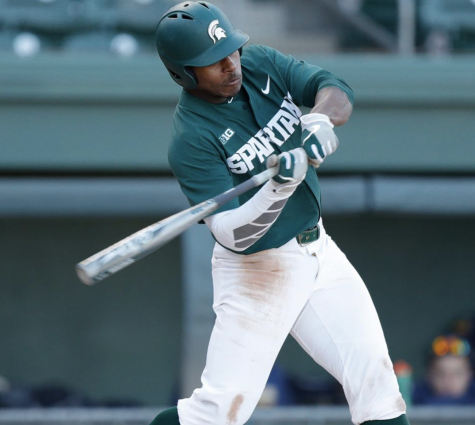 Run support for Erla was a major problem for MSU last season, but the offense went above and beyond for their starter today. Erla exited the game after going seven scoreless innings. He threw 85 pitches, struck out eight, walked two and only surrendered four hits. Most innings, Illinois was only able to send four or five batters to the plate. Erla is now 2-1 on the young season.
Besides the Spartans' first inning eruption, both teams struggled to get anything going at the plate. No runs were scored by either team from the second inning until the bottom of the sixth inning. However, MSU blew the game wide open in the bottom of the sixth.
The floodgates opened for MSU after yet another error was committed by Illinois. A throwing error by Illinois pitcher Ty Rybarczyk allowed Walker to score. Then, freshman infielder Brock Vradenburg hit a hard single through the left side of the infield for a single that scored two more Spartans.
MSU was not done. Some scrappy at bats and a hit batsman led to a bases loaded situation for senior first baseman Joe Stewart. Stewart took full advantage and laced a bases-clearing double into right field. The score ballooned to 10-0 in favor of the Spartans.
Redshirt sophomore Wyatt Rush entered the game in relief in the eighth inning for MSU. Rush went on to pitch two scoreless innings to ice the game. In his four innings this season, Rush has yet to allow a run.
MSU takes the field in Ann Arbor again tomorrow in a doubleheader. The first game will be played against Illinois, followed by a matchup with in-state rival Michigan. The final game of the pod play series will be on Monday evening against Michigan again.