MSU falls to Maryland 2-1
Adam Bakr , Men's Soccer Beat Reporter
March 19, 2021
The Michigan State men's soccer team finished its two game road trip with a 2-1 loss in College Park against Maryland. The loss was the Spartans fifth on the season, giving them a 2-5 record. 
Both sides came into this one with worse records than they would have liked, but both had shown positive signs coming into today's tilt. For Michigan State, it was coming off a close 2-1 loss to conference leading Indiana in a game where they were minutes away from overtime.   For Maryland, back-to-back wins over Wisconsin and Michigan meant that a win today over MSU would give them a .500 record after dropping its first three games of the season. 
Michigan State head coach Damon Rensing was forced into some changes for today's game, with both starting forwards Farai Mutatu and Conner George out with injuries. Gianni Ferri and Grayson Mercer would get the start in their place in the 4-4-2 formation. 
"We've been playing pretty well with the 4-4-2 so you'd hate to change the whole thing," Rensing said. "Taking those two guys out made it more difficult." 
The game would get off to a slow start. Maryland controlled the ball for a majority of the first half, but it was unable to make its possessions count in the form of any clear chances. In Michigan State's lone attacking move of the half, Mercer had a chance to run in behind the Terrapins' defense, but his attempted pass to Ferri was cut out before Ferri had a chance to run into the box. Maryland would finish the half with five shots and none against. 
The second half got off to a quicker pace right from the start. After some nice work in the midfield, Maryland midfielder Ben Bender picked out forward Eric Matzelevich running into the box with a great through ball. Matzelevich tried to find teammate Paul Bin in the six-yard box, and he was fouled by Spartan defender Nick Stone on his attempt.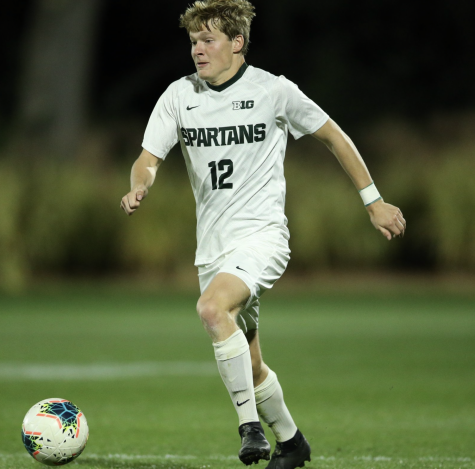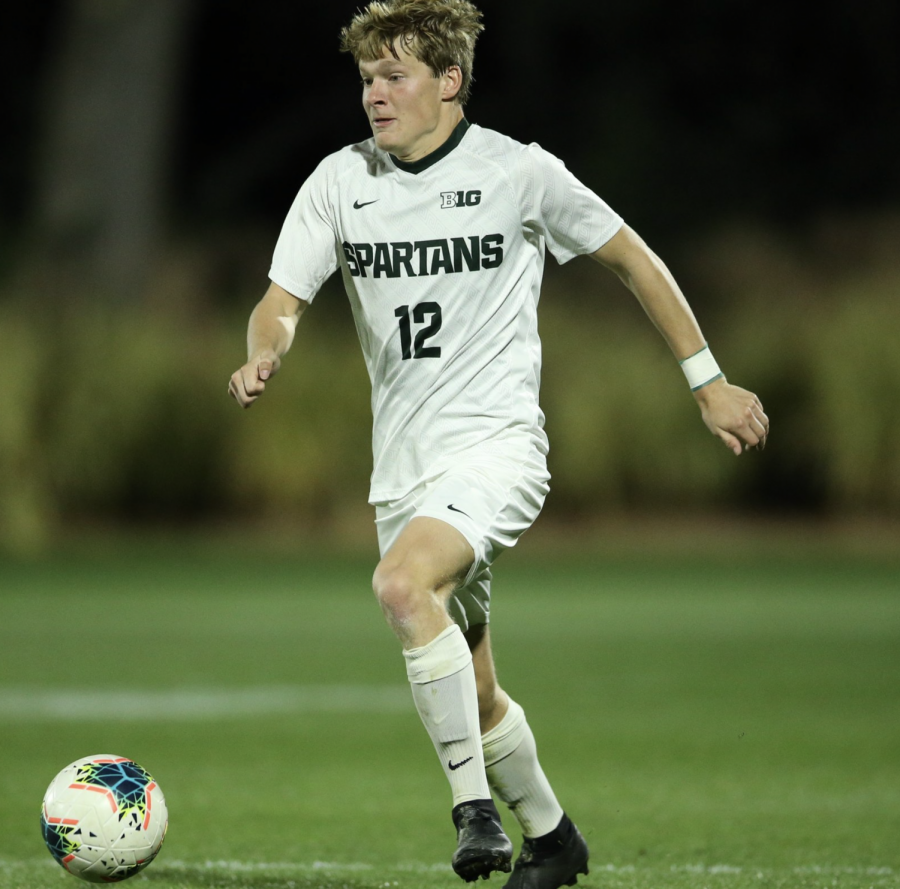 It was a questionable penalty as it looked like Stone got the ball first, but there was also some extra contact. Bin would take the penalty after being denied the shot, and sent Hunter Morse the wrong way to open the scoring on the penalty kick. The goal came before Michigan State had its first touch of the ball in the half. 
"I thought it was a pretty soft penalty," Rensing said."That changes the game."
The Spartans picked up their intensity from there, but struggled to make anything happen offensively. The Terrapins were able to handle everything the Spartans threw at them, and they would soon double their advantage. A long ball from Maryland defender Chris Rindov deep in his own half was flicked by midfielder Justin Harris into the path of Bin, who smashed in his second goal of the game and his third of the season. 
From there on out, the Spartans went on the attack, but again struggled for clear chances. 
Plenty of corners and freekicks gave them opportunities to send numbers into the box, but nothing was doing. MSU would eventually find a breakthrough in the final minute. After Maryland sent numbers forward for a freekick, forward Gianni Ferri had a chance to run in behind off of the clearance. It looked like Terrapin defender Brett St. Martin had slowed down the attack, but Ferri was able to maintain possession before curling in a great effort into the corner with his right foot for his first goal of the season. 
"It was a great goal," Rensing said. "I was happy for him. He's been playing really well, I've been very pleased with his workrate and attitude
There were just under 50 seconds to play following the goal, and Maryland was able to eck out the victory. The Spartans will return home to play Michigan for the second time this season in its next outing. As for Maryland, the win moves their overall season record to 3-3 ahead of hosting Rutgers on March 23.