MSU blows late lead in 2-1 road loss to Indiana
Despite holding a second-half lead, two late goals from the Indiana Hoosiers, including a goal in the 87th minute by Hoosier defender Daniel Munie, resulted in a narrow 2-1 loss for Michigan State.
With the loss, the Spartans are now 2-4 on the season. Indiana, meanwhile, improved to 4-1 as a result of the come-from-behind victory.
MSU was once again missing starting goalie Hunter Morse, starting midfielder Michael Miller, defender Connor Brazil and starting midfielder Alex Shterenberg because of COVID-19 protocols.
The Spartans came out of the gate as the more balanced team, and early on, they seemed to intentionally take the game to Indiana. Forward Conner George caused problems up top with his physicality, and defender Farai Mutatu's breakneck pace was on full display.
The Spartans' relentless attacking attitude paid off in the 25th minute when midfielder Luke Morrell sent a bullet of a header into the back of the net after a corner kick from junior Louis Sala. The goal was Morrell's first of his MSU career since transferring from Oakland in the offseason.
Just minutes later, Mutatu took a shot from outside the box that was deflectedon its way toward the goal, but an impressive save from Indiana goalkeeper Roman Celentano kept the score at 1-0.
The Spartans took a blow early in the second half when Mutatu came off the field for the second time during the game on what looked like an injury. As a result, despite defending well in the early stages of the second half, the Hoosier scoring chances began to mount.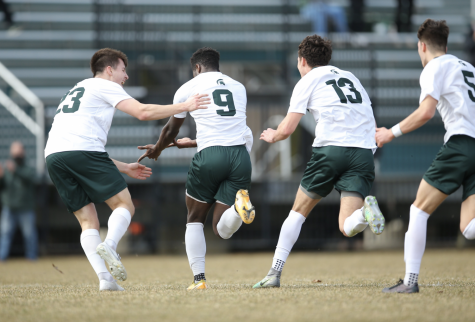 Indiana's breakthrough came in the 62nd minute when forward Victor Bezerra's shot glanced off the leg of Spartan midfielder Luke Morrell and sent backup goaltender Isiah Handspike the wrong way.
The previously stagnant MSU offense began to come to life around the 70th minute; most of their best chances all day came from set pieces, constantly looking for the head of Morrell.
MSU could not hold onto the draw, though. Indiana scored the winning goal with just over two minutes left in the game, when a Spencer Glass set piece made it all the way through the box, flicked slightly off Hoosier defender Daniel Munie's left shin and into the back of the net for the winner, leaving MSU shell-shocked.
The Spartans will look to put today's game behind them when they continue their road trip on Friday to take on the Maryland Terrapins in College Park. Kickoff is set for 2 p.m.