Previewing MSU's season-opening series against Maryland
GREENVILLE, S.C.  – Michigan State will open its 2021 baseball season against the Maryland Terrapins at Fluor Field in Greenville, South Carolina, on Friday afternoon. These two teams will play once on Friday and Sunday, and twice on Saturday.
The Spartans will take the field for the first time since starting last season 9-6 before COVID caused the rest of the year to be cancelled. Only 44 games will be played this year compared to the normal 56, and all of the games will be against Big Ten opponents.
Maryland started the 2020 season with a similar record at 10-5 before the cancellation. The Terps are led by one of the best players in the entire country, junior first baseman Maxwell Costes. Costes was named a preseason All-American by D1Baseball.com, Perfect Game, and the National Collegiate Baseball Writers Association. He is also one of only 55 players in college baseball named to the Golden Spikes Award watch list.
In last year's shortened season, Costes had the second-highest on-base percentage in the nation at .620. He slashed .432/.620/.750 and also had four home runs. In 2019, he was the recipient of the Freshman of the Year award in the Big Ten and was selected to be on the First Team All-Big Ten after hitting 15 home runs and 15 doubles. 
The different baseball coaches of the Big Ten ranked the top six teams in the conference, and Maryland holds the fifth spot in those rankings.
Junior pitcher Mason Erla will be a major key to Michigan State's success this season. Erla was named a preseason All-American by Perfect Game and Collegiate Baseball. He was also listed as one of three Spartans on the Big Ten's list of players to watch, in addition to outfielder Bryce Kelley and infielder Bailey Peterson.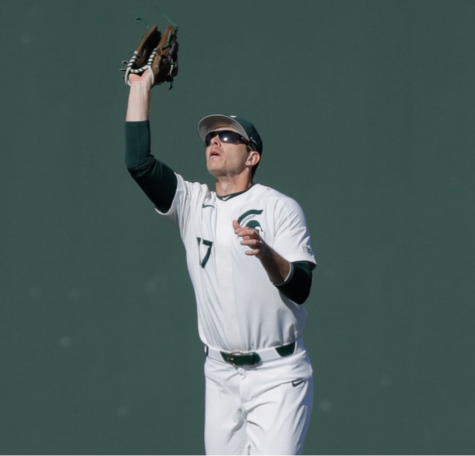 Erla was off to a blazing start in the 15 games that MSU played last year. He had a 2-0 record with a stingy 1.04 ERA in his four starts. Erla's 42 strikeouts over those four games was good for second in the Big Ten and No. 10 in the NCAA. When given any run support, the Spartans should be a tough team to beat when Erla is on the rubber. 
Michigan State was not ranked as a top six team in the conference, but they will return most of their team from a year ago and have an opportunity to prove themselves against the Terps. With no conference tournament and the regular season winner getting the automatic bid into the NCAA tournament, every regular season game matters, and MSU will look to start on the right track this weekend in South Carolina.