Nick Stone: Michigan State's center back of the future
OK, let's get all of the "Stone" puns out of the way right now. Rock in the back, brick wall, immovable object, any others I've forgotten?
Sometimes, they don't even do MSU sophomore defender Nick Stone justice.
"There's certain instincts you just can't teach," said Michigan State coach Damon Rensing. "Nick is a good defender, and you can't always teach that."
Stone has forged his short college career by fire, being thrown into a back line as a freshman that changed with every game due to numerous injuries. A season that should have been spent on the sideline learning from the quality of upperclassmen like Michael Wetungu and Patrick Nielsen was instead spent in place of them at center half. 
"Last year I just came in and played hard," Stone said. "I wasn't even sure I was going to get playing time, but I just worried about myself and how I was playing. I had to step in for [Wetungu and Nielsen] which helped me learn the pace of the game. That helped with all my experience and to become a better player."
Wetungu and Nielsen were the anchors of a back line that led MSU to its first College Cup appearance in 50 years. When Nick Woodruff also left the program to pursue professional opportunities, it left three pairs of big shoes to fill on defense. 
Stone played over 1,200 minutes in 16 games as a freshman, starting 13 of them. It was valuable experience, but he didn't shine on the pitch last season like he is doing during the beginning of this one.
"Nick played almost every game [last season] whether it was right back or center back or left back,"Rensing said. "We moved him around and that gave Nick experience and understanding of what we're looking for from both our center backs and our wing backs, so I think that helps him."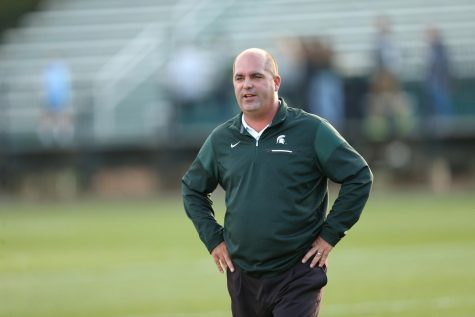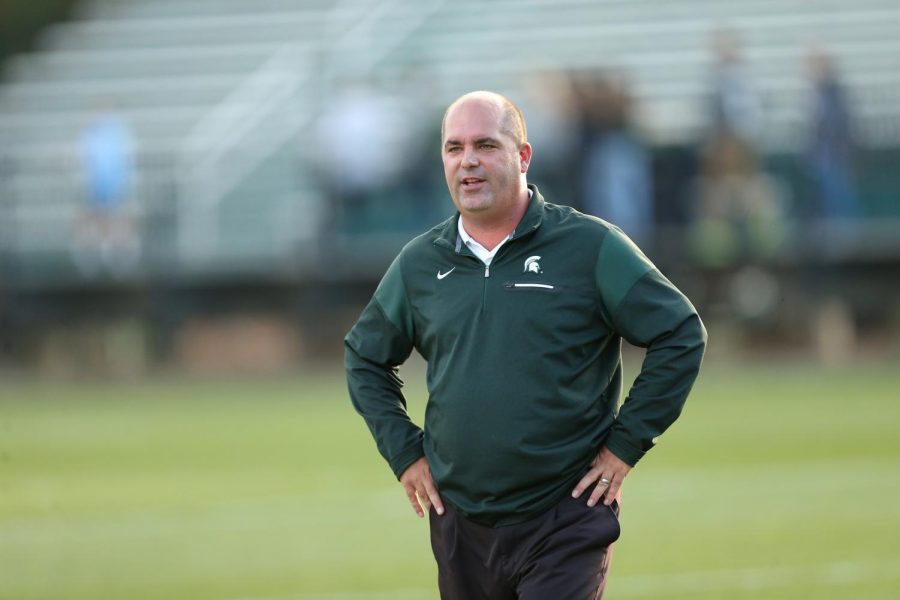 Stone was part of a back line that had countless different combinations because of the injury bug that ravaged the Spartans' squad during the 2019 season.
Stone featured everywhere along the back line. Left back, right back, center back. Wherever Rensing told him he was playing, he went to that spot and gave his best effort. 
"I think playing all the positions helped me because I got to see what all the other players were going through," Stone said. "It helps me as a center back, to see what the others are looking at, what they're seeing on the field and helps me to assist them to the best of my abilities." 
At times, you could tell he was a freshman and one in an ever-changing back line, at that. But there were moments that made you believe in his potential. Maybe not enough to write a column just yet, though. 
Stone entered the 2021 spring season off the back of almost 16 months off. 16 months without playing a competitive game or facing real Big Ten opposition. Yet, from minute one of this season, Stone didn't look rusty.
He's shown already the level of consistency and quality he possesses. In what was a bleak first two games, it was Stone that left me impressed at the end of each.
"This year, I feel like I have more of a leadership role, at least more than I did last year," Stone said. "I struggled with that last season, but I think I've improved with that."
Yes, he made mistakes. Two goals given up against Rutgers and one against rival Michigan (though I'd argue that neither goal against Rutgers nor the one against Michigan was his fault) is not the best way to start the season for MSU. But let's also acknowledge that the defense was not aided by any offensive production in those games either. 
Another very solid performance against Penn State anchored MSU to its first clean sheet of the season and aided them in a late 1-0 victory against the Nittany Lions. 
After being shifted around the back line for all of the previous season and playing with all possible combinations of teammates, Stone has found his permanent home at center back. But the cast and crew around him has continued to rotate. 
He's featured in the center of defense alongside both Dante Morrissette and Luke Morrell. Will Perkins, Alex Shterenberg, Connor Brazil and Michael Miller have all featured in the back line with Stone as well. 
"Your most cohesive group should be your back line, and we're still working that out, but I think we made some strides against Penn State," Rensing said. 
"The players I've been playing with have all done a good job at what they're doing whether it's the outside backs or the center back I'm playing with," Stone said. "We've got good depth within our back line, and we can handle anything that comes our way."
Through it all, Stone has impressed with his tackling and reading of the game, knowledge of his teammates and their tendencies, and with a most marked improvement, his composure on the ball. 
Many a time this season, we have seen Stone intercept a pass, collect the ball at his feet, realize a pass is not on and then stride forward into midfield and start an attacking move. This is a quality not often found in a collegiate center back and is one of the things I have been most impressed with about Stone this year. 
At other times, he WILL see the pass that is on. Maybe a short one into the feet of the deep-lying Jack Beck or a long, searching ball over the top to Farai Mutatu. And more times than not, the pass finds its target. 
You may be asking how is it possible that all these things have popped out to me after just three games this year and not in the 16 that he played last year.
Well, to be frank, I didn't really see them last year.
The important thing, I think, is that they are presenting themselves now. Presenting themselves in such a way that cannot be ignored.
The Big Ten is one of the best conferences in college soccer. And the best way to win games in it, as is the case with many conferences in many sports, is with defense.
Luckily for MSU, it has its center back of the future. His name's Nick Stone.