Spartans swept by top-ranked Badgers
EAST LANSING — Fresh off a four-set loss to Michigan, things didn't get any easier for Michigan State volleyball (2-6) on Saturday as No. 1 Wisconsin (9-0) came to town.
"We lost sight of what we needed to do," MSU coach Cathy George said.
The Badgers rolled over the Spartans in a three-set sweep, 25-20, 25-9 and 25-13.
Michigan State came into the match missing their top offensive player, freshman outside hitter Sarah Franklin, who had an injury to her right arm. Her loss was evident, as the Spartans could not get their offense going against the Big Ten's top-ranked defense.
The Spartans committed 21 offensive errors, tying a season-high for three-set games. Wisconsin's tall middle blockers, led by 6-foot-8 All-American Dana Rettke and 6-foot-4 Danielle Hart, gave their outside hitters fits as they tried to bend shots around them to no avail. Rettke and Hart combined for five blocks in the match.
"Different types of errors that we committed, those are points on their side," George said. "We can't continue to give them points, they're good enough to earn their own."
Michigan State's middle blockers, who were shut down in the Michigan game, led the offense on Saturday. Juniors Naya Gros and Rebecka Poljan led the team with eight and five kills, respectively, and contributed two blocks each.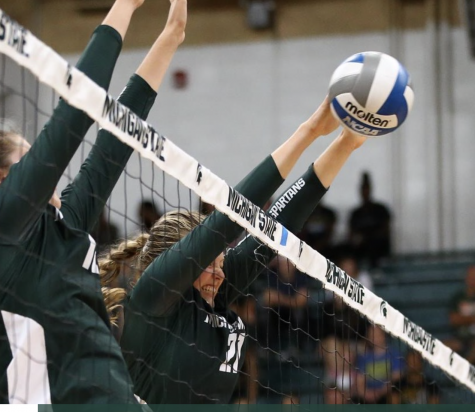 "To be against the No. 1  team in the country, for me, it's not intimidating," Gros said. "When you play against the best, you can be the best."
Wisconsin led a balanced attack against Michigan State's defense. Freshman outside hitter Jade Demps, senior outside hitter Grace Loberg and Rettke all had eight kills, while freshman middle blocker Devyn Robinson added seven. All four players took turns pummeling the Spartans with hard shots, taking advantage of any open space they could find in the defense. Senior libero Jamye Cox finished the game with 12 hard-earned digs.
"Dana Rettke takes your attention," George said. "They have great balance…their offense is a weapon everywhere. They use her a lot to make you pay in other places."
George is focusing on fixing inconsistencies for tomorrow's rematch.
"We weren't finding as much of a rhythm as we needed to offensively," she said. "We'll see about that tomorrow."
"I feel like we had spurs and moments of good play," Gros said. "When we get back tomorrow, we've gotta fight harder."
Michigan State plays Wisconsin again at home on Feb. 21 at 3:30 p.m.