Here to Stay | "Take on Me" by a-ha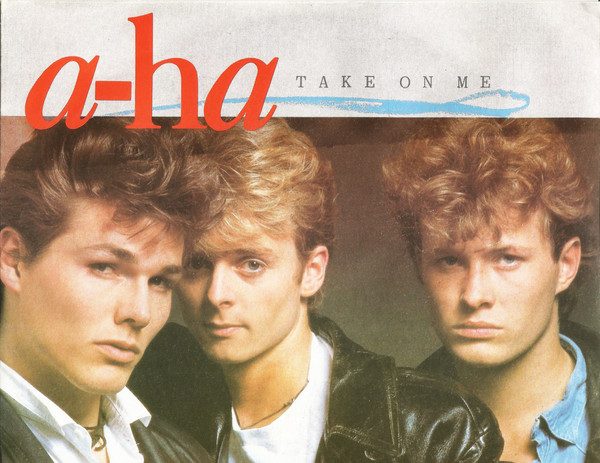 There's a ton of songs that came out of the 1980s that could be considered iconic, but one song by the Norwegian synth-pop band a-ha is still a household tune. 
"Take on Me" is a love song written by band member Paul Waaktaar-Savoy for his now wife, when they first started dating. The song is him asking her to take a chance on him, and how it's better for them to try than to regret never giving the relationship a chance.  Part of the song's success comes from its video, which combines drawing and live action, playing on the fantasy of being able to jump into a comic. 
"Take on Me" was originally released in 1984. However, the single failed, allowing the band to rework the song and release their new version in 1985. This version would become a massive hit, as it hit the Billboard Top 100 and became a staple in dance clubs around the world. 
The band members often talk about the first versions of the song and how lucky they are it finally took off. Lead singer, Morten Harket, once said in an interview: 
"It was released three times and kept flopping. Things weren't well managed in the early days. But Jeff Ayeroff at Warners liked it and put up the team for the video, which was what got things really moving. It was a steady climb, getting to No 2 in the UK and No 1 in America in 1985. It was what we'd been waiting for and expecting to happen. It was meant to be. Since then, the song and video have been played to death around the world. It has its own career. It lives its own life."
And a success it became. In more than 30 years, it has been nominated and won a number awards worldwide, including, Best Music Video in Germany and Switzerland. The song has received BMI's Million-Air Award for having over 4 million broadcasts on radio since its release. In 2010, the band posted a remastered version on YouTube, and it has over a billion views and is the second most watched music video from the 80s. 
It has also been covered by more than 70 artists, including A1, Anni B. Sweet, Posehn and Weezer. Even Jim Carrey once sang it on David Letterman. It has been featured in many movies, including La La Land, Deadpool 2 and even Despicable Me 3.  In 2018, A-ha released a version of them singing the song with a 50-piece orchestra, as well as an MTV Unplugged version which made the pop ballad slow and profound. 
This song is everywhere, and part of that is that it's genuinely just a good and fun song. It's a song you can just listen to and be put into a good mood, and there's no doubt it's here to stay.