Spartans swept by No. 13 Wisconsin
Zac Slowik, General Assignment Reporter
January 30, 2021
EAST LANSING — After a 6-0 loss on Friday night, Michigan State looked to bounce back for game two of its weekend series against Wisconsin. The Spartans, who were missing some key players in Charlie Combs, Jagger Joshua and Cole Kryger, shuffled all lines around in hope to find early intensity. 
However, It was all badgers through the first five minutes of play, as they outshot Michigan State 7-0 to start the game. The Spartans would then answer back with two shots of their own, with only nine shots getting on goal through the first eleven minutes.
Through the second half of the first period, Michigan State picked up the tempo and got three good scoring chances in just three shifts, but could not capitalize. The Spartans would then get a long powerplay opportunity, as the Badgers' Ryder Donovan received a five minute major and game misconduct for checking from behind. At the end of the first period the score remained tied 0-0. 
Michigan State started the second period with two minutes remaining on the powerplay, but the Spartans failed to score on the five minute penalty as Wisconsin blocked and deflected most of the shots they attempted. Wisconsin's goaltender Cameron Rowe had three incredible saves back-to-back-to-back to keep the score even at zero. 
Then on the very next play, Wiconsin caught a break, as they came in 2-on-1 when Cole Caufield found Linus Weissbach back door for the tap in goal. This gave the Badgers a 1-0 lead. Right afterwards, Michigan State defenseman Powell Connor received a roughing penalty that Michigan State was able to kill off. Wisconsin would then take a penalty of their own, as Dominick Mersch was called for tripping, but also able to kill. That brought the end of the second period, with Wisconsin on top 1-0.
Michigan State came out of the locker room swinging, as Mitchell Lewandowski sniped the top right corner and evened things back up at 1-1 early in the third period. The game was then back and forth for the next seven minutes both teams had opportunities.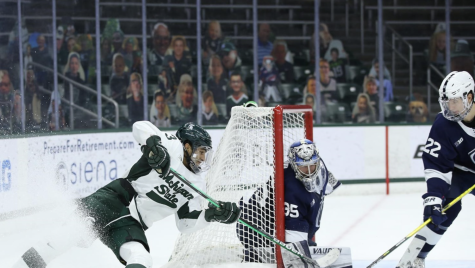 Then with nine minutes to go, Michigan State defenseman Aiden Gallacher received a five minute major and a game misconduct for checking from behind. The Badgers would then score just one minute into the ensuing powerplay, as Ty Pelton-Byce would take advantage of man advantage. 
Just two minutes later another Badger goal would come, as this time it was Cole Caufield, who picked up his third point of the night as he pushed Wisconsin's lead out to 3-1. The three points were not enough for Caufield, as he later put in an empty netter with 45 seconds to go to cap off the final score from Madison, 4-1 Badgers.
Once again Michigan State was badly outshot and was unable to stay in the game late. The poor execution on the powerplay and the inability to get shots on net has proven time and time again to be the main issue for the Spartans. Spartans' goaltender Drew DeRidder came away with 37 saves in the loss, while Michigan State was out shot 41-18. 
Michigan State will have nine days off to prepare as they head to Michigan, where they will face off at Yost Ice Arena Tuesday Feb. 9. It will be the third meeting between the two teams as they are currently split (1-1) in the season series.
Follow Zac Slowik on Twitter @slowik77.