MSU C Matt Allen returning for sixth year
EAST LANSING— Michigan State will return one of its most experienced offensive linemen in 2021.
During a virtual broadcast with athletic director Bill Beekman on Thursday, coach Mel Tucker revealed that center Matt Allen will return for a sixth season. Allen started in the season opener against Rutgers but missed the final six games with an injury.
Allen has played in 31 career games and made 17 starts at center. He, along with sophomore center Nick Samac, will battle for the starting center position next season. Samac started in the six games that Allen was hurt and played quite well; he also started in four games in 2019. 
Allen, who missed four games in 2019 and three games in 2018 due to injury, is the younger brother of current Los Angeles Rams center and former Spartan Brian Allen. The younger Allen also has another older brother who had a brief NFL career in Jack Allen. All three Allen brothers started at center for MSU during their collegiate careers.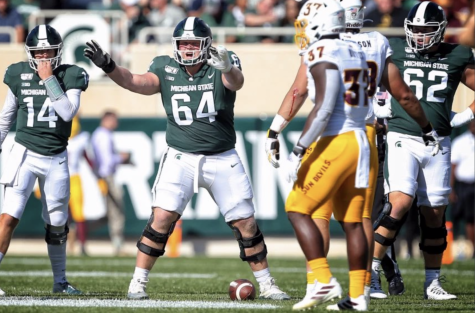 Allen was originally a three-star recruit out of Hinsdale, Illinois. He was rated by 247 Sports as the No. 32 overall player in Illinois as well as the No. 10 overall center prospect in the nation. 
Although the extent of Allen's injury is unknown, Tucker said that spring practice is scheduled to begin on March 23. It is unknown if Allen will be ready to participate in spring activities during that time. Winter conditioning for the team is scheduled to commence on Jan. 25.
Allen is the fourth senior to return for the 2021 season, along with kicker Matt Coghlin and defensive ends Jacub Panasiuk and Drew Beesley. These four players will not count against the team's scholarship limits, in accordance with NCAA COVID-19 regulations.