Preview: Spartans look to right the ship, travel to take on Fighting Illini
Owen Oszust, Women's Basketball Beat Reporter
January 13, 2021
EAST LANSING – The Michigan State Spartans (8-2) will go on the road to the State Farm Center to play Illinois (2-6) at 7 p.m. Thursday. The Spartans will be looking to get back on track after dropping two straight to Maryland and then Nebraska last week. Here are some keys for the Spartans to focus on if they want to get back in the win column:
1. Compete, not just play
The Spartans came into this season with a ton of energy and were tied for first place in the Big Ten Conference up until Thursday night. Then, MSU played Maryland (currently No. 9 in the country), a really good shooting team. Still, the Spartans were down only three points heading into the second quarter. 
Once the second quarter hit, Michigan State seemed to hit the off switch for a while and went into the locker room down by 15 at halftime. The second quarter saw MSU get outscored 26-14 with six turnovers and seven personal fouls. The Spartans shot 38.5% from the field compared to the Terrapins' 57.1%. Just about everything that could've gone wrong for MSU went wrong.
Despite the poor play in the second quarter, Michigan State finished the game with a strong second half resulting in them outscoring Maryland 54-45. They only lost by six, but had the Spartans played all four quarters strongly, they could've beat Maryland. 
For Michigan State's game against Nebraska, it seemed like the Spartans would come into the game highly motivated after a tough loss. In the press conference after the Maryland game, MSU's Julia Ayrault had talked about how the Spartans wanted to play the Terrapins again and would beat them next time. With all of this said, MSU would go into the locker room at halftime down by nine points to a Nebraska team that was 0-4 on the road.
The Spartans went on to fall 68-64 to Nebraska for their second straight loss. 
"We need to start competing and not just playing," coach Suzy Merchant said after the loss.
MSU needs to hit the ground running and have a strong first half against the Fighting Illini, who haven't won a game in over a month. If the Spartans can start playing their entire games with a competitive spirit, they can be one of the best teams in the Big Ten.
2. Stop getting into foul trouble
The Spartans have been shooting themselves in the foot recently by getting into foul trouble early. It was something that Merchant and players like Ayrault and Nia Clouden stressed that Michigan State needed to work on for the game against Nebraska.
Ayrault and Taiyier Parks were the two starters that got into foul trouble in just the early second quarter. After the first quarter, Parks was leading the game with five rebounds, but the fouls kept her out for a good chunk of the game when she fouled out two minutes into the fourth quarter. Ayrault, on the other hand, would go on to hit four 3-pointers in the second half and be one of the main reasons MSU erased the 15-point deficit. If these two players had been able to play the entire Maryland game, the final score could have been much different.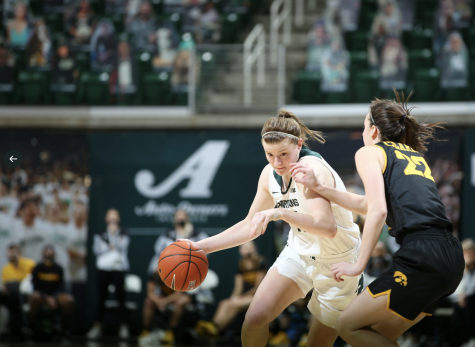 The Nebraska game didn't show much improvement with Tory Ozment, Alyza Winston, Alisia Smith, Parks and Clouden all finishing with three or more personal fouls. Clouden ended up fouling out at a time when her team could've used its star guard in the closing minutes in a tight ball game. 
It will be important to keep the focus on not fouling and having all players available.
3. Get and stay healthy 
Both Ayrault and Parks are currently battling injuries for the Spartans. The severity of the injuries is unclear. Ayrault's came during MSU's game vs. Maryland when she got banged up, but it is unclear exactly what she's dealing with. Parks' was something involving her ankle, which is somewhat a relief with Parks having two past ACL injuries. These two key forwards need to get healthy in order for MSU to succeed.
The Spartans need to play tough and build a big first-half lead. Illinois has Kennedi Myles, Jeanae Terry and Jada Peebles, who all average at least 10 points per game, but that's about it. The Fighting Illni are dead last in the conference in points with 481 and are averaging 60 per game. In comparison, the Spartans are sixth with 803 and are averaging 80 per game. 
To put this into perspective, Illinois has lost four of its conference games by at least 20 points. This includes a 107-68 loss to Iowa, who Michigan State beat 86-82 on Dec. 12.
You never want to look past an opponent, but if the Spartans play even average, they can beat Illinois. This game shouldn't be competitive; Illinois really struggles to score and hasn't won a game since Dec. 6. MSU needs to build a big lead so they can give their starters rest in the third and fourth quarters for the two big upcoming matchups with No. 13 Michigan and No. 19 Indiana.
Prediction: Michigan State 79, Illinois 52 
Owen Oszust is a women's basketball beat reporter for WDBM Sports. Follow him on Twitter at @Owen_Oszust.