FINAL: MSU trounces Rutgers 68-45 behind solid defensive performance
EAST LANSING — After a dismal 0-3 start in Big Ten play this season, the No. 23 Michigan State Spartans continued to right the ship Tuesday with a second-straight win, defeating No. 15 Rutgers at home 68-45. The Spartans never trailed and won wire-to-wire.
The Scarlet Knights have not managed to beat MSU since they joined the Big Ten conference in the 2014-15 season.
"I thought tonight we played Michigan State basketball," MSU coach Tom Izzo said. "We defended, we rebounded, we ran. That was a total team win and we needed it."
The biggest catalyst for the sizable victory was the Spartan defense, as it held Rutgers to just four points in the first four and a half minutes of the game. On the night, the Spartans held the Scarlet Knights to just 30.5% from the field and 25% from 3-point range, also forcing nine turnovers.
"I thought that was one of our better defensive performances in a couple years, personally," Izzo said.
The only problem for the Spartans was the Scarlet Knights came to play on D as well. The contest was full of deflections, loose balls and shot clock violations for both teams, as the Spartans committed 18 turnovers of their own.
The Spartans took a six-point lead into halftime of a low scoring affair, ahead 28-22. MSU's Aaron Henry led all scorers at the break with 11 points.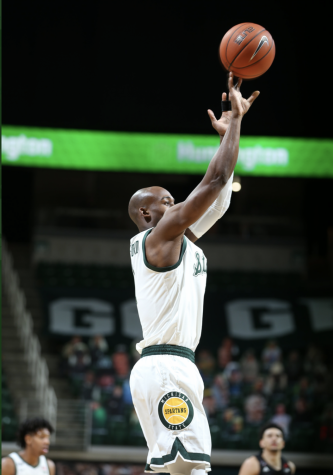 In the second half, the Spartans were able to pad the lead some more and get some breathing room. Henry scored five points in a row with about 13 minutes to play to give the Spartans an 11-point lead. A 3-pointer from Joey Hauser five minutes later stretched the lead to 15.
It was then that the Spartan defense clamped down even tougher, holding Rutgers scoreless for nearly the final seven minutes before a Mamadou Doucoure dunk in the final minute.
MSU's Joshua Langford had perhaps his most impressive offensive game of the season so far, scoring 11 points on 4-of-9 shooting. However, it was Henry's magnificent performance on both ends of the floor that led the Spartans to victory. Henry finished with 20 points— his second consecutive 20-point game— on 8-of-13 field goals, along with eight rebounds, four blocks and two steals.
"(Henry) got into some people tonight," Izzo said. "His whole demeanor right now… he's even more coachable, just doing the things he needs to do to become a great player."
Freshman guard A.J. Hoggard (three points, six assists) got the start for a second consecutive game, with Rocket Watts coming off the bench to provide 11 points.
As for the Scarlet Knights, Ron Harper Jr. impressed with 13 points, with Jacob Young also pitching in 11. Outside of that duo, not much went right for Rutgers on the offensive end.
MSU moves to 8-3 (2-3 in conference), while Rutgers moves to 7-3 (3-3) on the season. The Spartans will look to get a third-straight victory as they welcome the Purdue Boilermakers (7-5, 2-3) into the Breslin Center Friday at 7 p.m. Follow @WDBMSports on Twitter for all game coverage.
Trent Balley is Sports Editor for WDBM Sports. Follow him on Twitter at @TrentBalley.