Joshua's two goals lead Spartans past Nittany Lions
EAST LANSING – Michigan State hosted Penn State to close out the series on Monday afternoon in East Lansing. The Spartans took the second game of the series with a 5-1 win over the Nittany Lions and earned the series split thanks to standout performances from forward Jagger Joshua and goaltender Drew DeRidder.
"Sometimes nothing goes in like last night and sometimes lots of things go in like tonight," Spartan head coach Danton Cole said. "It's the consistency of effort that you need and the belief that if you do it right and do it over a long enough period of time, it'll work."
 It didn't take long for the Spartans to find the back of the net, and they did so twice in the first period. After being shutout during Sunday's matinee, Michigan State scored twice in the first 5:03 of the opening period. Forward Jagger Joshua scored his first goal of the season on a tough angle shot that went short side high. 
Less than four minutes later, forward Gianluca Esteves added his first score of the season after a stretch pass from Dennis Cesana set him up for an open slap shot that went right past Penn State goalie Liam Souliere's glove.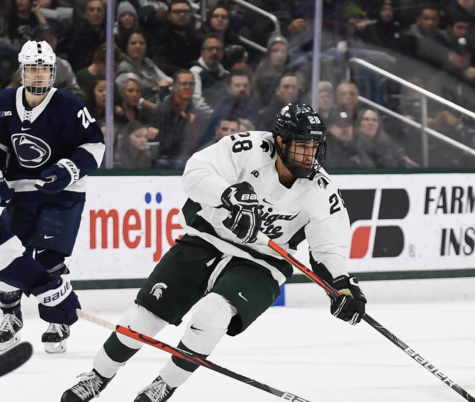 The Spartans took that two-goal lead into the first intermission. Michigan State has not lost this season when they have led after one period.
 "I definitely feel like we were a little faster today," Joshua said. "Some games you're not going to get rewarded for it, and you just have to trust the process, and we did, and we got rewarded big time today for it."
 The second period was filled with action. Just over six minutes into the period, Spartan senior Jake Smith got called for a hook that sent Penn State to the power play.
Less than 10 seconds into that power play, Penn State's leading scorer Alex Limoges scored his sixth goal of the year. If you missed that goal, you can watch it here.
Less than a minute after the Nittany Lions pulled within one, Penn State defenseman and Pittsburgh draft pick Clayton Phillips got a game misconduct for a hit to the head. 
The Spartans received a five-minute power play when Joshua tipped in a shot from defenseman Nash Nienhuis for his second goal of the night to make it 3-1 Spartans.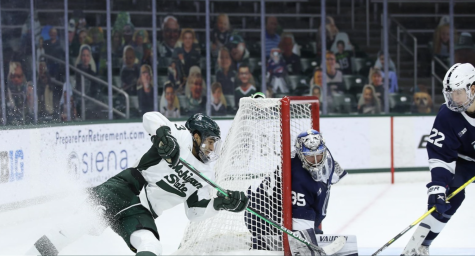 Later in the period, Penn State challenged a play and MSU graduate transfer Charlie Combs was ejected for a hit to the head, putting both teams down a player for the rest of the night. That was the third player ejected in the last four games, and the Spartans killed all three major penalties.
 The third period was all MSU Spartan forward Nicolas Müller set up Brody Stevens, who scored his first goal of the year to make it 4-1 Spartans; forward Mitchell Lewandowski added an empty-net goal late in the game to make it 5-1.
Penn State generated quality scoring chances but could not convert on any of those opportunities.
 "Lots of adversity, this is the type of game coaches like," Cole said. "You find out about your guys, and you find out about your battle and a lot about belief, and there's a decent hockey team in there."
 The Spartans had a lot of help from their goaltender, Drew DeRidder. Penn State logged 37 shots in game two, and DeRidder turned away 36 of them. DeRidder saw 66 shots this series and only allowed two in 120 minutes of play.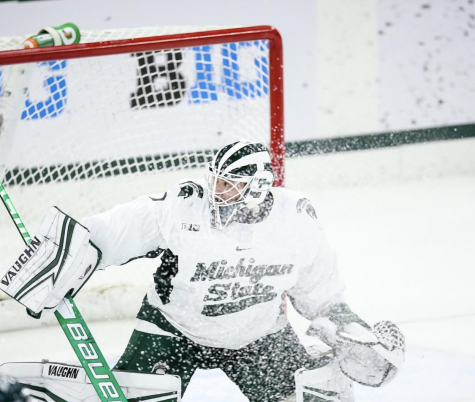 He came into game two with a save percentage that ranks him within the top ten in the nation, and this performance could move him up the list.
Michigan State's win snaps Penn State's four-game win.
Up next:
Michigan State (4-4-2) gets a couple of days off before a home-and-home series against No. 9 Michigan on Friday and Saturday.
Penn State (4-6) continues their road trip and will travel to Columbus to take on Ohio State in a series that begins on Friday.