MSU holds off Iowa 86-82 for their fourth win of the year
EAST LANSING – The Michigan State's women's basketball team has been looking to reestablish themselves as a Big Ten contender after a forgettable season last year that saw the Spartans manage a 16-16 record.
They look like they are set to do just that after beating the Iowa Hawkeyes 86-82 in their Big Ten home opener.  With the win, the Spartans improved to 4-0 on the season and 2-0 in Big Ten play.
The Spartans were led in scoring by Alyza Winston, who scored 25 points on six made 3-pointers. Nia Clouden chipped in with 21 points and six assists, and Julia Ayrault had a strong game as well, as she scored 19 points to go along with nine rebounds.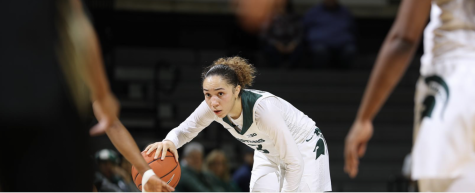 For the Spartans, they got off to a hot shooting start, making four threes in the opening minutes of the first quarter to stake an early 12-2 lead.
Sophomores Alyza Winston and Julia Ayrault led that charge as they both made two of those threes and ended up combining for 44 points in the game.
"Alyza is such a good player," head coach Suzy Merchant said. "We need a guard that can create her own shot like Clouden can, and Alyza showed how she can do that today."
"The first two felt good," said Ayrault. "I had been in a little slump, so it felt good to get out to a good start in the game."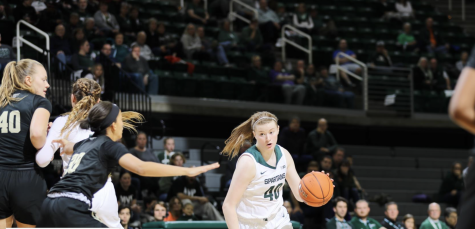 As a result of the fast start, the Spartans led Iowa 44-28 at halftime.
Ayrault, Winston and the rest of the Spartans were able to take advantage of a sloppy first half by the Hawkeyes that saw them turn the ball over 13 times, with the Spartans getting 15 points off of those turnovers.
That defensive effort also helped in making Iowa star freshman Caitlin Clark shoot several contested shots. She scored 35 points, but it required 25 field goal attempts for Clark to reach the 30-point threshold.
Monika Czinano added 24 points and six rebounds. No other Iowa player had more than nine points.
"I thought we did a pretty good job overall in making her work for her shots," Merchant said of her team's effort defending Clark.
It was having more of a scoring balance that ended being a big key for the Spartans, as star junior guard Nia Clouden would score 16 of her 21 points in the second half, as well as making some clutch free throws to seal the game late.
The Spartans will have some time to rest before they host Central Michigan next Friday. The Spartans will play three games in five days before having a week off. Conference play is set to resume on Dec. 31 when MSU travels to Columbus to take on No. 18 Ohio State.