Surdenik: Four key observations in MSU's gutsy 86-82 win over Iowa
EAST LANSING — The Michigan State Spartans earned their fourth victory of the season with an 86-82 win over Iowa Saturday at the Breslin Center. They are now 2-0 in Big Ten play and head into their second stretch of non-conference play undefeated. Here are some takeaways from the victory.
1. Alyza Winston is a legitimate scoring threat for the Spartans
The sophomore guard from Muskegon put together her second straight game with a new career-high in scoring as she dropped 25 points with six 3-pointers. She only averaged 2.9 points per game off the bench as a freshman but has taken her game to another level this season. Winston has been much more of a scorer over the last few games, and coach Suzy Merchant attributed that to a focus in practice on her scoring rather than being a pass-first guard. 
"It's definitely nice to score the ball," Winston said. "I think that my biggest problem in the past was just not looking to score and not really having the same confidence as I had in high school. So I think that's the biggest difference for me, just having that confidence that I am going to make the shot."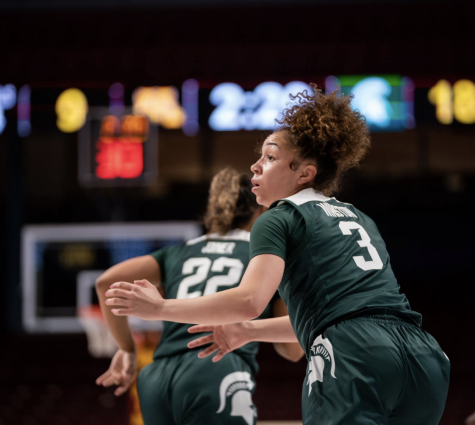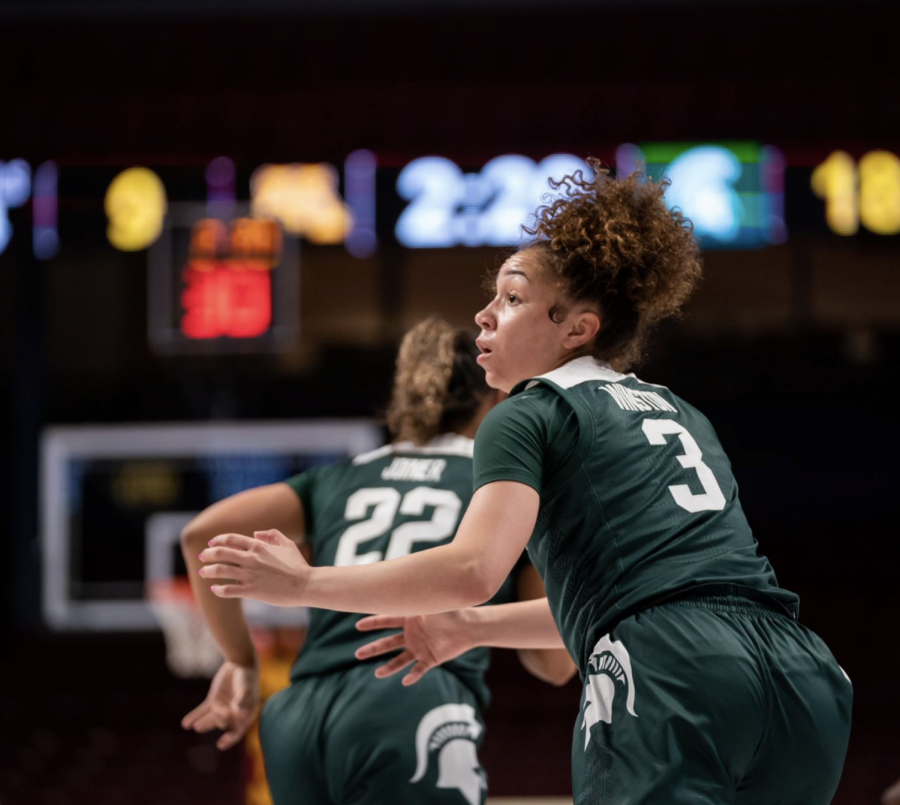 Winston is averaging 18.6 points per game on the season and 22.5 in Big Ten play. She also has knocked down threes with ease, with four on Wednesday against Minnesota in addition to the six against the Hawkeyes. 
2. This MSU team has plenty of depth
Most teams would have struggled in a big-time conference game without two starters, but the Spartans took control of the game from the start. MSU was without Moira Joiner, who is in concussion protocol after the game against Minnesota, and Taiyier Parks, who had a few minutes late in the game but was also limited with an injury. 
However, the Spartans were able to take control early as Winston and Julia Ayrault stepped into the starting lineup and led the MSU offense to an early lead that they would never relinquish. Ayrault had a career-high 19 points in the game as well as grabbing nine rebounds. Tory Ozment had a bit of an off-game scoring the ball, but was still able to contribute with seven assists and key rebounds late in the game. Kendall Bostic also had eight points and nine rebounds.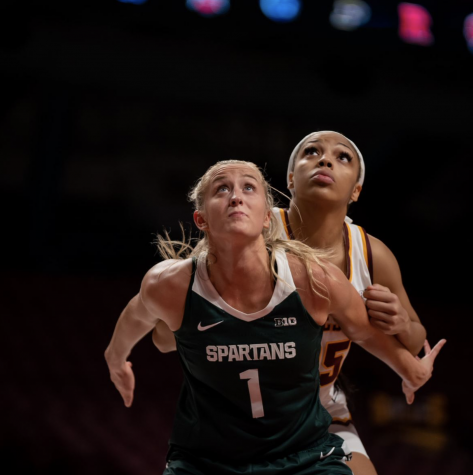 The Spartans have plenty of players that can score and contribute, which can make a big difference in a season with so much uncertainty. 
3. Caitlin Clark looks like she might make a case for Big Ten Player of the Year
The freshman for the Hawkeyes entered the game averaging 28.5 points, seven assists, and nearly six rebounds and she continued that stretch in East Lansing. The Spartans did a very good job defending the five-star guard even though she had 35 points. Clark was 11-for-25 from the field and 4-for-10 from deep. MSU played her very tightly off-the-ball and made sure that she had to work to get everything she got. 
Even on an off-night for Clark, she finished with 35 points, seven rebounds and four assists. She has all of the tools to be a force in this league over the next four years. 
4. The Spartans look like they can compete with anyone in the Big Ten
Everything that the Spartans have shown so far this season has led to the conclusion that they will be able to compete in the Big Ten. Coming off a season where they finished 9-9 in conference play, the Spartans have started this season with two wins in Big Ten play, dominating early and holding leads in both victories. The team has a ton of depth behind preseason All-Big Ten guard Nia Clouden and has forced opposing teams to turn the ball over 23.25 times per game. If the Spartans can continue to keep up the pressure defensively and share the ball, they will be tough to beat down the stretch.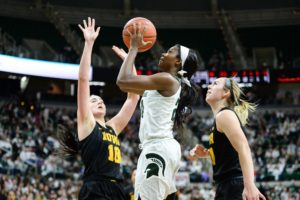 The Spartans have trailed just once this season (down 2-0 early against Minnesota) and have benefitted from playing with the lead throughout the season. With three wire-to-wire wins, the Spartans have taken advantage of fast starts to jolt them to a fast start to the season. This will be important coming into what will be their toughest test of the non-conference season on Friday when they host Central Michigan.