Keys to an MSU victory over Detroit Mercy
EAST LANSING — The Michigan State women's basketball team is back in action against the Detroit Mercy Titans (0-2) on Wednesday night at the Breslin Center. The Spartans defeated St. Francis (Pa.), 77-44 in their last game, while Detriot Mercy lost to Xavier 81-73 and Indiana State 84-79. Here are some things to watch for in tonight's game: 
1. Can the Spartans' defense continue to dominate?
MSU's on-ball and perimeter defense against the Red Flash was very strong, allowing just 22 points in each half. They also held St. Francis to 35% (17-for-48) from the field and 19% (3-for-16) from beyond the arc. If the Spartans can continue the defensive dominance into this one, the Titans will have some trouble.  The titan tandem of Kaela Webb and Markyia McCormick have combined to average over 35 points in the last two games, so MSU will need to restrict that duo from going off from long-range.
2. What does Kendall Bostic do for an encore?
The freshman forward put on an outstanding debut performance in the season-opening win, scoring 15 points and making 6-of-7 shots from the floor. She also grabbed a team-high six rebounds. She is no stranger to the hype, however, as she was a finalist for Miss Basketball in the talent-heavy state of Indiana. How she responds after the big game could be telling about how much of a role she will play for MSU this season. 
3. How much can MSU's offense score?
The last time that these two teams faced off was in Nov. of 2019, with the Spartans picking up the win, 110-52. It was the last time that MSU scored over 100 points in a game. The Titans have allowed 82.5 points-per-game through their first two games, and MSU will look to take advantage of that defense.  Detroit is coming off of a 3-27 record last season, so Nia Clouden, Moira Joiner and the rest of the MSU supporting cast should be able to score early and often.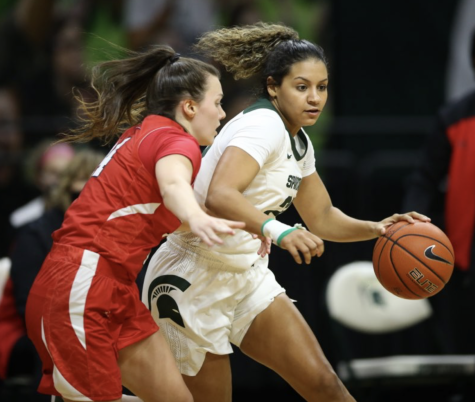 4. The battle on the boards
Lastly, UDM has been outrebounded by an average of 12.5 rebounds in their two losses to Xavier and Indiana State. However, in the season-opening win, MSU was outrebounded 32-31 by St. Francis. If the Spartans can control the glass, it will go a long way in helping to push MSU to a victory. Michigan State center Taiyier Parks and Bostic will be imperative in ensuring success on the glass for the Spartans.
Prediction: Michigan State 88, Detroit Mercy, 50
MSU will look to roll through the Titans and will come close to reaching the century mark in this game. While they won't quite reach it, big games from Nia Clouden and Mardrekia Cook will push the Spartans to a comfortable victory at home.  
Detroit Mercy is going through a transitionary period as they fired former coach Bernard Scott in the offseason and hired AnnMarie Gilbert, a former MSU assistant coach who has also served as the head coach at Eastern Michigan and Virginia Union, a Division II school. The titans also graduated their top two scorers from a year ago, so they are simply too young and inexperienced to give MSU a run for their money.