No. 8 Spartans gear up for clash with No. 6 Duke
EAST LANSING — As the No. 8 Michigan State Spartans come off a solid win against Notre Dame, their tough non-conference schedule continues Tuesday with a trip to Cameron Indoor Stadium to face the No. 6 Duke Blue Devils.
These two teams have become familiar with each other over the last decade as they have faced off nine times. The Spartans are just 1-8 against the Blue Devils, the one win being the 2019 matchup in the Elite Eight as MSU knocked off the No. 1 overall-seeded Duke to advance to the Final Four.
Duke traveled to East Lansing last season to exact revenge on the Spartans and did so in impressive fashion. The Blue Devils won by a score of 87-75 and shot the ball very well during the game. They finished at 56.1% from the floor and 46.7% from 3-point range. 
The matchup this season, which is one of two matchups in the Champions Classic, is going to look different than the last two. Each team is led by new players who, although talented, still have yet to prove themselves as some of the best in college basketball. MSU coach Tom Izzo is not worried about matching up with the Blue Devils. 
"I do like the matchup, I think we match up just about at every position," Izzo said. "Maybe we have a few more bigs and they have a couple more guards… but I think we're athletic enough to deal with that."
Izzo has shown that he is never afraid to tinker with his lineup and give different looks for his opponents and he expects to stay consistent with that against Duke. 
"I do expect to play nine and ten, even eleven guys," Izzo said. "I think our depth is an advantage for us."
With the uncertainty of every aspect of this season, Izzo is grateful that he has a deep roster that he can lean on if things go south. 
"In this COVID season that we're in, unfortunately, you've got to prepare for the worst at times," Izzo said, " and having some depth is going to be critical to a lot of teams." 
One player that Izzo can always lean on is sophomore forward Malik Hall, who finished with four and six points against Eastern Michigan and Notre Dame, respectively. He has also totaled eight rebounds and eight assists in the two contests thus far. Hall has joined Gabe Brown and Rocket Watts as a trio of players that get back in the gym to work on their shot immediately after games.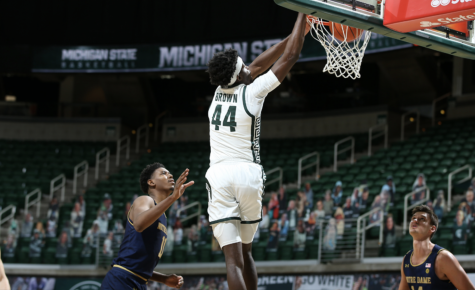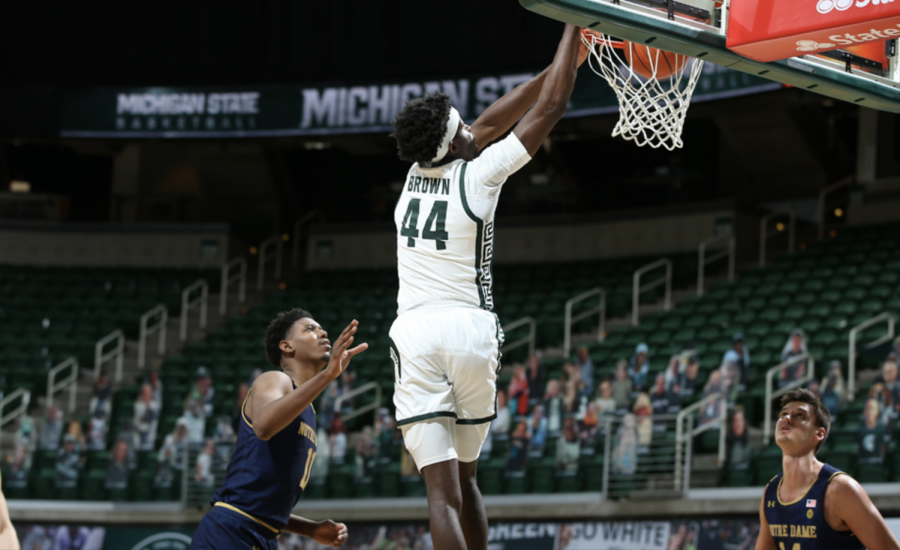 "I saw someone post about Gabe getting shots up after the first game and said 'well if Gabe is out there then I should be too,'" Hall said. "You could always shoot better, so I just wanted to follow his lead and try to do as much as I can to be a better player." 
For Duke coach Mike Krzyzewski and the Blue Devils, they lost a lot of key players to the 2020 NBA Draft including Vernon Carey, Tre Jones and Cassius Stanley. However, Krzyzewski is no stranger to shuffling his players to the NBA and bringing in new freshmen who are just as talented. 
He's done so again this season with Jalen Johnson and DJ Steward. Johnson, the No. 13 recruit out of high school according to 247Sports composite, had a double-double in Duke's first game against Coppin State with 19 points and 19 rebounds. Steward showed out as well with 24 points and 9 rebounds off the bench.
The Spartans will travel to Durham as 3.5-point underdogs. The game is set to tip-off at 7:30 p.m. You can listen to the game live on Impact 88.9 FM in the greater Lansing area or tune into our website for our live stream broadcast. Be sure to follow @WDBMsports on Twitter for all updates and coverage.
Brendan Schabath is a men's basketball beat reporter for WDBM Sports. Follow him on Twitter at @Bschabath3.