No. 13 Spartans look for back-to-back wins, welcome in Fighting Irish
EAST LANSING — The Notre Dame Fighting Irish will travel to the Breslin Center to take on the No. 13 Michigan State Spartans Saturday night. Tip-off is set for 8 p.m. This will be the first game of the season for both teams against a Power Five opponent and it's Notre Dame's first game of the season. 
MSU comes into the game after a convincing 83-67 win over Eastern Michigan. Junior guard Foster Loyer torched the Eagles with 20 points on 6-for-10 shooting from 3-point-range. Joey Hauser, Joshua Langford and Gabe Brown all reached double figures against the Eagles as well. Aaron Henry had a solid outing as the emerging new leader of this Spartan team. He finished with six points, seven assists, four rebounds, two steals and a block. Henry was all over the floor for the Spartans and made a huge contribution on just three shot attempts. 
MSU coach Tom Izzo said he was impressed with Henry's performance, but definitely wants to get him more shots in the future. "Henry did a lot of great things," Izzo said, "now we've got to figure out how him and Josh (Langford) get more shots."
It was a good first win for the Spartans over Eastern Michigan, but it wasn't a great game for Izzo and his coaching staff to scout their own team. EMU typically operates a 2-3 zone defense and sometimes expands it into a 1-3-1. MSU is not used to facing a zone offensively and will likely not face many zones the rest of the year, so Izzo is going to have to use this game against the Fighting Irish to see how some of his offensive sets work against a man-to-man defense.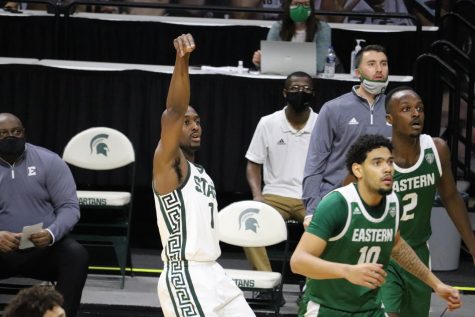 For Notre Dame, this game marks the first of what will likely be a rebuilding season. Coach Mike Brey has certainly had success in his 21-year tenure as coach of the Irish, but they have struggled in recent years. Notre Dame finished last year at 20-12, good enough for seventh in the ACC. They have not made the NCAA Tournament since the 2016-17 season and things only get worse from there. Although they finished with a winning record a year ago, the Irish lost three starters that totaled a combined 34.7 points-per-game in scoring last season. Their only returning starters, juniors Prentiss Hubb and Dane Goodwin, will have to carry a much larger scoring load than they are accustomed to. 
MSU will look to take advantage of an inexperienced and undersized Irish team and try to test out some offensive sets, view different rotations of players and experiment with new defensive schemes. 
You can listen live to Luke Sloan and Brendan Schabath on the call in the greater Lansing area on 88.9 FM or on the live steam at impact89fm.org. Also, be sure to follow @WDBMsports and @TrentBalley on Twitter for live updates and all game coverage.
Brendan Schabath is a men's basketball beat reporter for WDBM Sports. Follow him on Twitter at @Bschabath3.