Spartans travel to Columbus to begin conference play
EAST LANSING- Michigan State (1-0-1) begins conference play in Columbus this weekend as they take on No. 10 Ohio State (0-2-0). Ohio State swept the Spartans last season, winning all four games and allowing only three goals against the Spartans in those four games.
This year won't get much easier for the Spartans. Ohio State brings back a lot of production from last season, but their real issue will be beating Buckeye senior goaltender Tommy Nappier, who is arguably the best goalie Michigan State will play all season. Nappier is the only returning Big Ten goalie who finished last season ranked in the top three in the conference in Goals Against Average, Save Percentage, and Winning Percentage.
Ohio State also brings back a plethora of weapons on offense that gave the Spartans issues last season. Quinn Preston and Gustaf Westlund, two of the Buckeyes' best offensive talents, must be contained by the Spartans if they want to remain undefeated.
The Buckeyes are not in an ideal situation coming into the weekend. Michigan State has been recovering since beating Arizona State on Nov. 20, meaning that the Spartans got a week off in between games to rest their legs. 
Ohio State is coming off getting swept on the road against Minnesota in a series that ended Tuesday night where the Buckeyes only found the net once in two games. Ohio State will need to recharge and reset, or their tired legs and challenges in the offensive zone could cost them two more games.
Michigan State is in an ideal position heading into this weekend. The odds line up nicely for the Spartans to take a win or two on the road against the No. 10 team in the country. Michigan State was able to get rested while their confidence rides high after beating and tying Arizona State, while the Buckeyes will be on short rest.
On Wednesday morning, the Spartans announced via Twitter that their junior goaltender Drew DeRidder took home the Big Ten's second star of the week after allowing just one goal in 125 minutes of play against Arizona State. DeRidder will likely get the start in the net on Saturday night.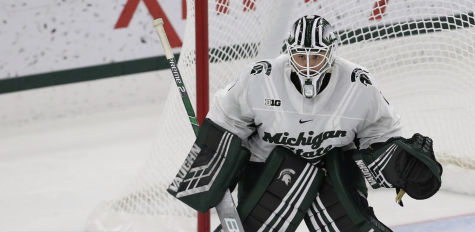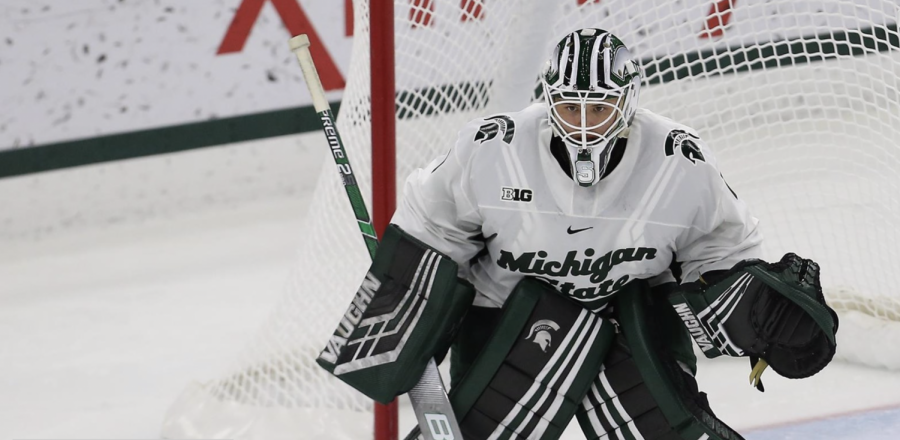 Ohio State will win if…
they force neutral zone turnovers. Ohio State likes to run and gun and play aggressive, and the Spartan defensemen push the puck up a lot in the neutral zone. If Ohio State is able to cause a turnover or two in the neutral zone and use their aggressiveness to their advantage, they will put themselves in a good spot.
Michigan State will win if…
they score first. Michigan State needs to do all they can to avoid getting behind on the scoreboard and having to complete a comeback against Tommy Nappier.