MSU knocks off Arizona State for first win of season
EAST LANSING – Michigan State (0-0-1) and Arizona State (0-2-1) met for the second night in a row in East Lansing to finish off their two-game series. Last night, Arizona State tied the game up late to send it to a 3-on-3 five minute, sudden death overtime. However, nobody was able to score in the extra period and the game ended in a 1-1 tie with goals coming from Christian Krygier (Michigan State) and Chris Grando (Arizona State).
Tonight, Michigan State was able to knock around Arizona State all game; the Spartans rode a Drew DeRidder shoutout performance to a 2-0 win over Arizona State. Mitchell Matson and Mitchell Lewandowski both scored for MSU.
"I saw a lot of good things," said head coach Danton Cole. "We talked about getting better at things overnight, thought a lot of things were, talked about cleaning up the neutral zone and I thought we did a lot better there. Just energy throughout the end of the game was better as well."
 The Sun Devils came into tonight's game having never led in a game yet this season, partly due to their slow starts that continually put them in an early hole. They also completed the series without arguably their best forward, senior Johnny Walker; he sustained an injury last Sunday in Ann Arbor that kept him out against the Spartans. Walker, who scored 38 points last season for Arizona State, may be out for a lengthy period of time. 
 For the first time this season, the Sun Devils got off to a hot start. They were able to get the puck in the Spartans' zone and maintain possession and started to make Michigan State chase. This led to the Spartans taking penalties; Arizona State had a 5-on-3 power play for over a minute and a half. 
The Spartans eventually got their footing and started to test Arizona State goalie Evan DeBrouwer, who was playing for the first time since he got pulled in the Sun Devils 8-1 loss to Michigan in their season opener.
Freshman forward Kyle Haskins' singular effort to get the puck in the offensive zone set up a loose puck in front of the Arizona State net and Calgary draft pick, Mitchell Mattson, broke the scoreless tie with his first goal as a Spartan on the rebound.
 "They didn't have any defense out there, so I got it and went five-hole," Mattson said. "It was a good one to get out of the way, it felt really good.'
For the second night in a row, Michigan State opened the scoring with one of their underrated players scoring his first career goal.  MSU junior defenseman Christian Krygier scored his first career goal last night in the 1-1 tie with Arizona State.
Mattson's goal gave the Spartans a 1-0 lead that they would carry into the first intermission.
The second period was a complete turnaround for both teams. Arizona State had one shot on net in the first 15 minutes of the second and finished the period with five total shots in the second period. Tommy Apap played like one of the best, if not the best defensive center in the Big Ten, breaking up numerous chances for the Sun Devils all over the ice. 
Arizona State was also unable to get any offense generated because of their struggles in the faceoff dot. The Spartans won the faceoff battle 32-17, with especially good nights from Tommy Apap (14/21) and Josh Nodler (11/15) in the faceoff circle.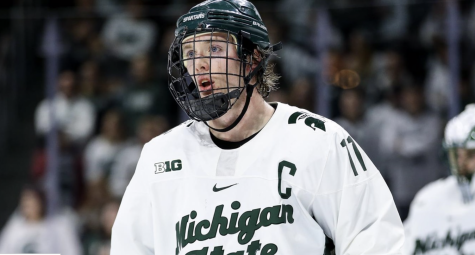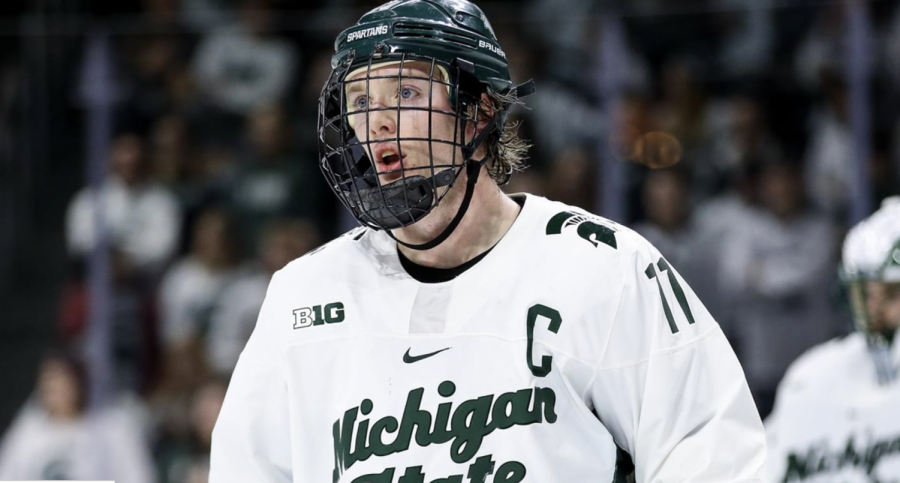 "Nodler was hot and Apap is always good," said Cole, talking about faceoffs. "I thought the one thing we did much better tonight is we had all five guys jumping right off the way. The end of the game I always say, the wingers and D men can win 10-12 draws for you and that can be the difference in a game."
 The start of the final period looked very similar to how it did last night with the Sun Devils down 1-0 and struggling to get anything going on offense.
As the third period went on, Arizona State continued to struggle generating anything on offense and the Spartans sealed the deal with 7:32 to go in the period when freshman Kristof Papp launched a shot toward the net that Mitchell Lewandowski gathered and tucked in past DeBrouwer.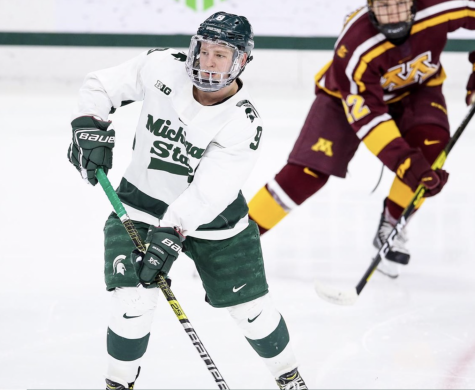 During the final minutes, the Spartans clamped down defensively to give junior goaltender Drew DeRidder his first win of the season as well as his first career shutout. The Spartan netminder turned away all 30 shots he faced.
 "He was outstanding," said Cole, when asked about DeRidder. "He gave up one goal all weekend, that should be enough. He's a battler, he was pretty ticked off about giving the one up late last night and was pretty determined to not do that tonight."
Arizona State, who started the season ranked No. 15 in the USCHO poll, has now gone 245 consecutive minutes without holding a lead in a game.
Michigan State (1-0-1) will have an opportunity to rest before they travel to Columbus to begin conference play and take on Ohio State next weekend.
Arizona State (0-3-1) will travel to Madison to take on Cole Caufield and the Wisconsin Badgers on Nov. 28.