Despite losing record, Mel Tucker is placing an emphasis on effort and attitude
EAST LANSING — Michigan State head coach Mel Tucker isn't overly concerned with the Spartans 1-3 record halfway through the season.
He isn't even overly worried that Michigan State has scored a grand total of seven points over the last two games.
For Tucker, these factors take a back seat to effort and player demeanor. 
"If guys don't give effort, then they are going to be excused," Tucker said Tuesday. "We don't have time for that. This is Big Ten football, if you aren't out there to get better and compete and be the best, then we are wasting time. Why waste time, just cut bait."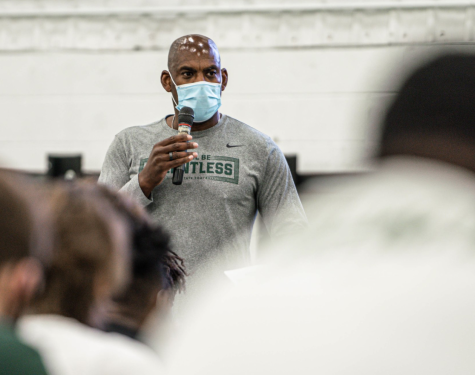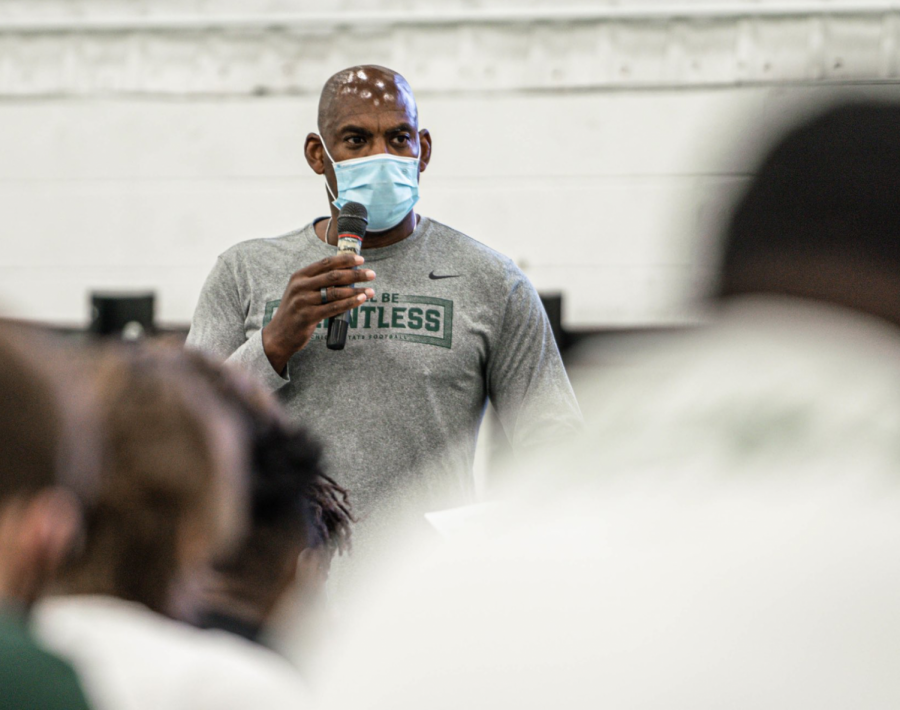 Tucker's direct tone has matched his goals for year one so far. He took the job in February knowing that a quick fix wasn't going to happen. Issues of recruiting and subpar performances have plagued the football program since the Spartans were walloped in the Cotton Bowl in 2015 by Alabama.  
Rather than obsess over wins and losses, Tucker is seeking to weed out the players who do not have the right mentality for the rebuilding effort going forward. Before a team can compete for a conference championship, there needs to be a locker room full of players who are willing to lay it all on the line for the guy next to them.
"You step in here, you come in here ready to work and get better," Tucker said. "If you are not ready to do that, then this is not for you. This is not easy, if it was easy, everyone would be doing it." 
Guarding against complacency
One concise message that Tucker has shared with his players throughout the course of the season is that no player's position is ever safe. Regardless of past achievements and starting opportunities, a string of bad performances can doom even the most talented of football players on the team.
"There is nothing set in stone on this team," Tucker said. "Every position is in evaluation every day, we are going to go with who we believe gives us the best chance to win."
Tucker's message of performance expectations, and the consequences for failing to meet said expectations, have resonated with his players. They understand that being attentive, respectful, having the ability to take tough coaching and improve on areas of weakness are non-negotiable pillars of the new program.
"He talks a lot about the process," wide receiver Jayden Reed said. "It's a day-to-day process, it doesn't happen next week, it happens now. He really harps on that. You can't play the game next week today."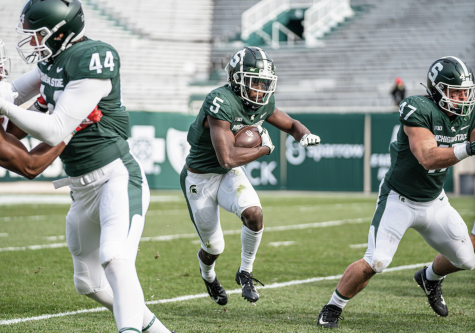 Conveying a new message to recruits
In order to retool the MSU roster with young players who want to compete and be challenged, Tucker has made it a priority to cast a wide net in recruiting.
"We turn over every stone, we cast a broader net," Tucker said. "It's a lot more work to do it that way, but we cast a broader net. If you want to sign 25 guys, it's typically an 8-to-1 ratio on offers. We are always well over 300 offers per class."
Tucker also said that he and his staff are trying to make headway in areas where MSU has traditionally struggled to land big-name guys including out west, the eastern seaboard and the deep south. 
Tucker has already managed to get multiple commitments in the 2021 class from players in New Jersey and Florida, two states where the Spartans have had a minimal impact previously.
"We are fighting for the hearts and the minds of our in-state prospects as well, just to show them what the difference is now and how they do things compared to the best," Tucker said.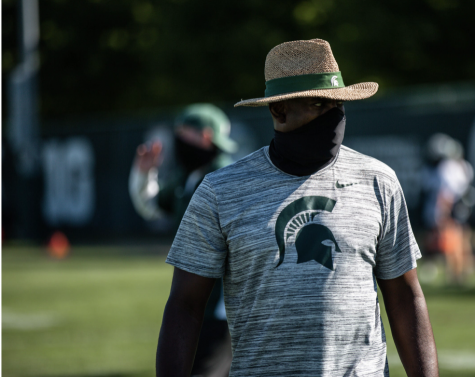 Tucker's recruiting prowess has resulted in 19 commitments for 2021, which is more than Iowa, Penn State, Maryland, Northwestern, Illinois, Purdue and Indiana.
Michigan State has also nabbed two four-star recruits, or three if you count Audric Estime's rating on Rivals, which supersedes Rutgers, Illinois and Purdue.
The 2021 Spartan recruiting class is ranked as the No. 44 overall class in the nation, according to 247Sports. This matches the 2020 recruiting class under Dantonio. Not bad for a man who didn't get hired until February and wasn't given the chance to conduct spring practice because of the COVID-19 pandemic. 
The immediate future will yield some unpleasant results on the field for Michigan State, however, the real work of creating a roster filled with eager and diligent players is well underway.