Three takeaways from MSU's 24-0 loss to No. 10 Indiana
1. Indiana is a Big Ten title contender this year
Indiana is 4-0 for the first time since 1967 and looks like one of the best teams in the country so far at this point in the season. It all begins at the top with head coach Tom Allen, who has instilled a culture of toughness and grit that has been lacking in the Indiana football program for decades. 
Today in East Lansing, they beat up a hungry Michigan State football team and forced Mel Tucker and the Spartans into another mistake-prone offensive game. 
The success of Indiana began with their stingy defense that forced three turnovers in the first quarter and made Mel Tucker put Rocky Lombardi on the bench early. Michigan State could not run the ball well all game, except for the 38-yard run from Payton Thorne and was forced to throw the ball against an Indiana secondary that was feasting all afternoon.
The defense played aggressively, as the Spartans were shut out for the first time at home since 1985. Indiana forced Lombardi to commit two ill-advised interceptions; they also managed four sacks in the game. 
On offense, Indiana did not play a perfect game, but they were able to capitalize on excellent field position all game and dictate the pace of the game. Quarterback Michael Penix Jr. showed once again why he is one of the best passers in the country as he threw for 320 yards and two touchdowns.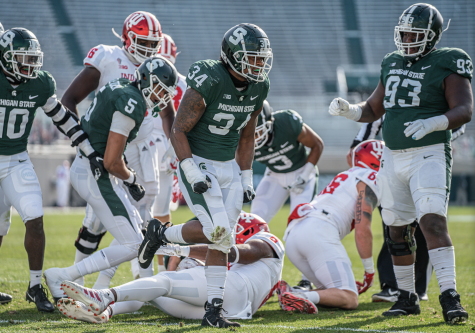 Ty Fryfogle was Penix's primary target, as he reeled in 11 catches for 200 yards and two touchdowns. Penix was able to take advantage of Michigan State's depleted secondary, which was down starting corners  Chris Jackson and Kalon Gervin as well as safety Tre Person. 
2. Michigan State officially has a quarterback controversy
Rocky Lombardi's performance from two weeks ago seems like a distant memory, as Lombardi was pulled in the first half after throwing two interceptions on terrible decisions; he was replaced by redshirt freshman Payton Thorne. Lombardi went 3-7 for 21 yards and two interceptions a week after throwing three interceptions against Iowa. Through four games, Lombardi has seven turnovers and has struggled mightily outside of the Michigan game. 
Thorne looked better than Lombardi today in his time against Indiana's defense, throwing for 110 yards on 10-18 passing and had one interception late in the 4th quarter. Thorne showed exceptional pocket presence, escaped pressure consistently and didn't force passes while under duress. 
He also added another element to Michigan State's offense— showing the ability to tuck the ball away and run himself. Thorne broke a 38-yard run on his first play of the game, and was able to use his feet to extend multiple plays throughout the game, due to the constant pressure from Indiana's various blitzes. 
Going forward, it is tough to tell who Mel Tucker and Jay Johnson will start at quarterback. Lombardi has shown that he is more of the quarterback that played against Iowa, Rutgers, and Indiana rather than the quarterback he was against Michigan. On the other hand, Thorne looks like he can provide a different and dynamic spark to Michigan State's offense, but he struggled to make throws that you expect from a starting quarterback in the Big Ten. 
This probably won't be the last time that we see both Lombardi and Thorne in a game for Michigan State, as Tucker and Johnson still look for the answers to MSU's offensive woes. 
3. The Michigan game was an anomaly
Following the first two weeks of the season, we had no clue whether or not Michigan State would be able to hold their own in the Big Ten after struggling against Rutgers in week one and upsetting Michigan in week two. After two more games, it is clear that Michigan State is not like the team that showed up in Ann Arbor two weeks ago. 
Following the loss this week, Michigan State ranks 121st out of 123 FBS teams in turnover margin this season. They have only rushed for 100 yards once this season (against Michigan) and cannot get consistent movement off the ball to create lanes for the running backs or give the quarterbacks time to go through their progressions.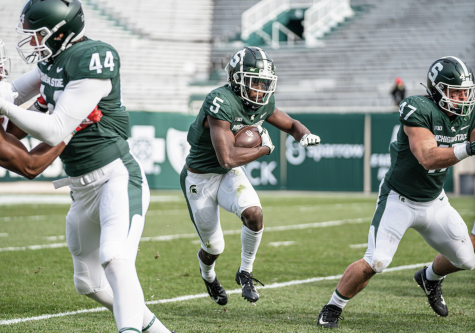 Michigan State is once again relying heavily on their defense to keep them in games, a theme that has been present in MSU football for the last three years. They do not have the offensive firepower to score with teams in the Big Ten, and the severe disadvantage in field position throughout their three losses has made it virtually impossible for Michigan State to keep games close and competitive. 
Mel Tucker and the coaching staff have to revisit the drawing board once again and reconsider their personnel and in-game decisions after Michigan State was largely uncompetitive for the second week in a row. The status for the Maryland game next week is still up in the air due to a COVID-19 outbreak, and a bye week feels necessary for a Spartan team that was completely outclassed for the third time in the first four games of the season.