A closer look into the Spartans season-opening series against Arizona State
EAST LANSING- Michigan State begins the 2020-21 season on Thursday, Nov. 19, at home against Arizona State.  The series will conclude the next night in East Lansing. This will be Michigan State's first series of the season and Arizona State's second—the Sun Devils will play at Michigan on Nov. 14-15.
Arizona State (22-11-3 last season) went 1-0-1 against the Spartans last season in their only series of the season. The Sun Devils won the first game of the series 4-3, while the Spartans won 1-0 in overtime in game 2.
The Sun Devils lost 10 players from last season's roster after five players graduated; Max Balinson transferred to Long Island University during the offseason and both Pasichnuk brothers, as well as Josh Maniscalco, went to the AHL. Mario Lemieux's son, Austin, also retired from hockey to pursue golf. 
Arizona State brings back the remainder of last season's roster, as well as adding six freshmen and several transfers, including Wisconsin forward  Sean Dhooghe, Boston College forward  Christopher Grando and defenseman Tanner Hickey, who transferred from Alabama-Huntsville.
The Sun Devils roster will look very different from the last time they visited East Lansing, but they bring back three strong players that will play a key role in the series.
The first key player is senior forward James Sanchez, who led the team with 40 points in 36 games last year; the second impact player is senior forward Johnny Walker, who put up 38 points in 36 games.
Both players scored in the 4-3 win over Michigan State last season
The Sun Devils also bring back their workhorse goaltender from last season, Evan Debrouwer. Debrouwer notched a 19-11-3 record last season and finished the year with a .919 save percentage. He played every minute of the series last season against the Spartans and will likely do so again.
Michigan State (15-19-2 last season) will also have a very different roster than they took the ice with last season. The Spartans lost four of their top six scorers from last season to graduation, including first-line center and leading scorer, Patrick Khodorenko.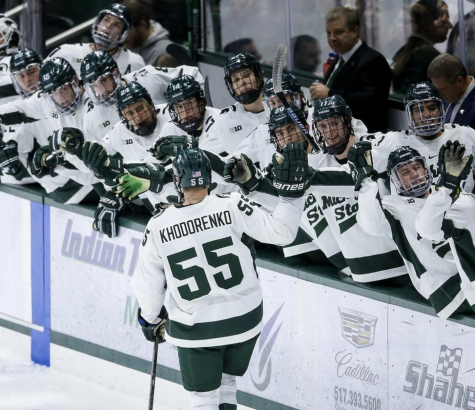 MSU will welcome in 10 new players this year; 9 freshmen and Charlie Combs, a Bemidji State transfer.
The biggest change for the Spartans will be in net. Heading into last season, many assumed senior John Lethemon and sophomore Drew DeRidder would split starts. That changed early on in the season when Lethemon emerged as a top-tier goaltender and stole the net from DeRidder for the majority of the year.
This year will be DeRidder's turn between the pipes. He started four games last season and went 0-0-4, so he held his team in every game; this will be his first year at Michigan State where he will be given the opportunity to fill Lethemon's shoes.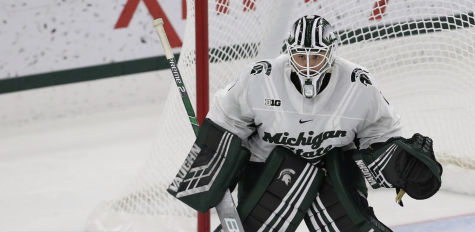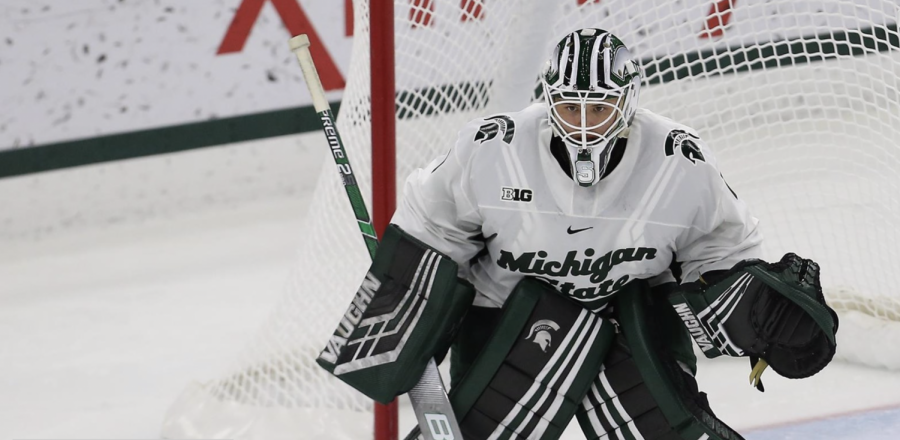 Arizona State will win if… 
they establish their physicality early and often. Michigan State is a team that likes to be physical, but the Spartans are a young team in their first series of the year. If Arizona State can establish physicality and put the Spartans on their heels, that will allow a lot of guys in front of the Spartans' net and help the Sun Devils win loose puck battles.
Michigan State will win if…
they capitalize on special teams and block shots. Arizona State had a top-10 offense last season in goals per game and Michigan State lost too much on offense to keep up with the Sun Devils offensively. If Michigan State wants to win, they will need to stay out of the box and capitalize on every power play that they can. If the Spartans don't stay out of the box or block shots to limit the number of pucks that DeRidder sees, they could be in for a long series.