Spartans focused on communication and attitude going forward
Chase Goff, General Assigment Reporter
November 2, 2020
EAST LANSING— After a lackluster week one performance, Rocky Lombardi and the Michigan State Spartans never doubted their chances to bounce back against Michigan.
"We went in there expecting to win the game obviously," said Lombardi. "If you go in there not expecting to win the game, then you have no chance, first of all. Obviously,  we thought we had a good chance, and if you go back and look at the tape from week 1, I know people gave us a lot of crap for how we played, but offensively I felt very good about the way we played if you take away those turnovers."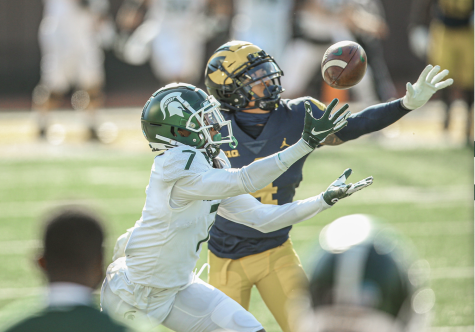 With a new regime in place this season, Lombardi says that Mel Tucker and the staff have placed a lot of emphasis on attitude and mental health.
"I feel like I've grown a lot as a human being, and I've taken a lot of consideration into mental health and what to think about," said Lombardi. "How to get over a loss, or get over something you thought you could've done better, and I know coach Tucker does a good job of getting guys like that to help us."
In the first game of the season, Michigan State suffered a 38-27 loss to Rutgers while turning the ball over seven times. In recent years the Spartans have had their fair share of offensive woes, but under new head coach Mel Tucker, things may be starting to turn around. In their second game of the season, Michigan State shocked the Wolverines and managed 449 yards of offense while completing three passes of 40 yards or more.
In just two games Michigan State has already completed four passes of at least 40 yards, compared to last year's season total of just five. This type of production has led to not only more scoring but has helped the defense as well.
"In the past couple years, we've had trouble with offensive production, and that's hard on the defense," said Lombardi. "If you're on the defensive side of the ball, and you hold a team to less than 20 points and you don't win the game, that's very frustrating. I just wanted to give them some confidence in us, and let them know that we're gonna put up points." 
Lombardi also credited offensive coordinator Jay Johnson for the team's success against Michigan, stating that Johnson did a great job of designing the game plan for the offense.
"A lot of credit to coach Johnson, who set up the game plan for both weeks," said Lombardi. "He really does a good job of understanding where to attack the defense, where we feel like their weaknesses are, and where we feel like we might have a mismatch, so it's a credit to him for being able to see that."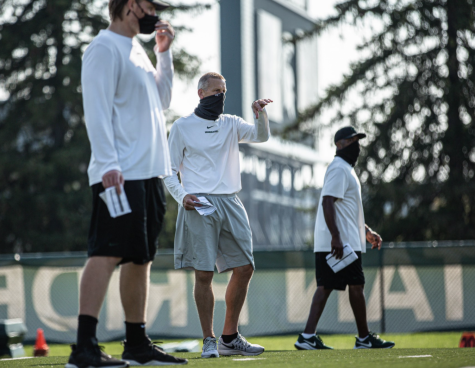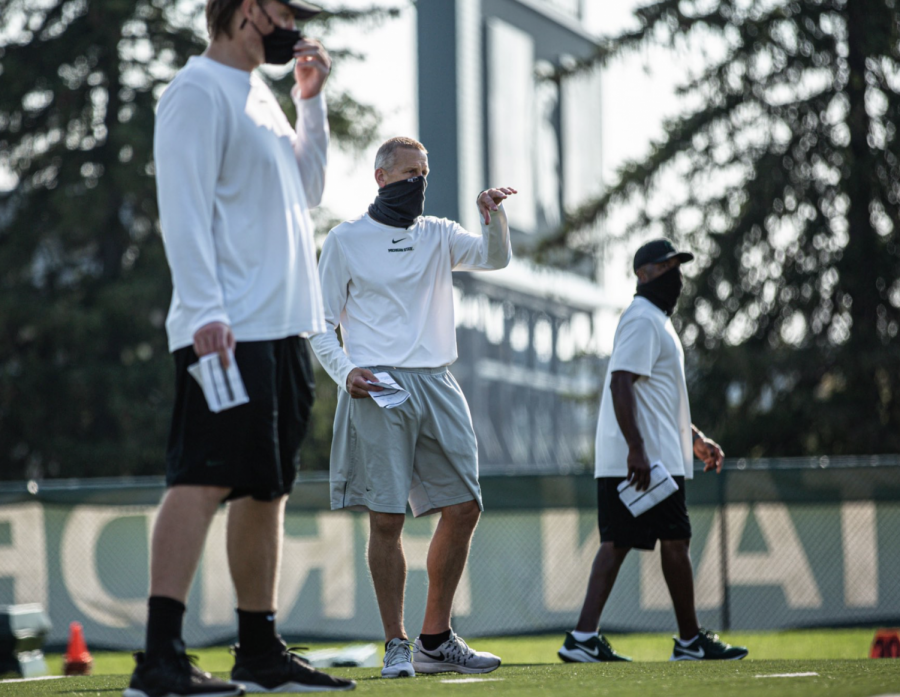 With the Spartans improving just about every facet of their offense this past weekend, Lombardi believes as long as they can keep up with communication and blocking, they will be hard to beat this season.
"All it comes down to is communication, it doesn't matter what protection we call, as long as all five of us, or all six of us know what we're doing, and know who to block, we should be alright," said Lombardi. "It just comes down to communicating and getting comfortable with each other, and I think they're doing a better job and they're continuing to improve on that. If we can protect, then I think we're gonna be pretty good. We'll be hard to beat."