After redemption game, Connor Heyward is looking for more
EAST LANSING- A year ago, Michigan State running back Connor Heyward was entering the transfer portal looking for a fresh start. A year later, he has found that fresh start by returning to Michigan State; he is now trying to lead the Spartans' running back room by example.
"My journey was very unique," Heyward said in a remote press conference earlier today.  "Not a lot of kids get the opportunity to leave and then have the opportunity to come back like I did…I'm just trying to earn respect from everyone on the team, not just the running back room." 
Heyward had two touchdown receptions in the shocking victory over the No. 13 ranked Michigan Wolverines in Ann Arbor last Saturday. Those touchdown receptions were his first two touchdowns of the season and eighth and ninth, respectively, for his career at MSU.
Early on, the Spartans have seemed to be taking a running back by committee approach. Heyward, along with freshman Jordon Simmons and sophomore Elijah Collins, have been handling the rushing duties early on.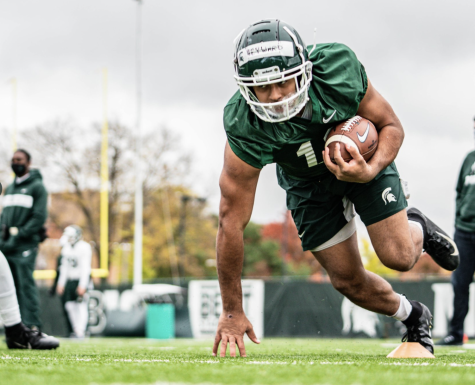 Heyward feels he still needs to earn his way to more carries. "I don't feel like I've earned anything yet, nothing is promised…but I don't let the starting thing get to me; you can be productive without the starting spot…what's important to me is winning."
After the victory against the rival Wolverines, Heyward still said the team has a lot to improve on.  "I feel that none of us are happy with where we are," Heyward said. "Obviously, it's a great win, but I feel like it's just starting, and we need to keep building up from here."
As for what he personally wants to improve on, Heyward said he wants to provide what the game plan calls for. "As running backs, we all want to hit the big ones (runs), but we have to be okay with the two, three, four, five-yard runs, and the big ones will eventually come," Heyward said. 
The Spartans will head out to Iowa City this weekend for a showdown with the 0-2 Iowa Hawkeyes. Heyward knows it will be a challenging road game for the team. "Iowa is a great football team," Heyward said. "They're a team that is very disciplined and so we have to be sharp on all sides of the ball…they're gonna be where they need to be, and we have to be where we need to be."
Needless to say, the Spartans will be in for a battle on Saturday with a noon kickoff against the Hawkeyes.