Izzo provides schedule update as Spartans await 2020 opponents
EAST LANSING – Michigan State head coach Tom Izzo gave an update on potential opponents for the Spartans' 2020 schedule and hinted at a schedule release prior to the Nov. 25 start date for college basketball. 
Izzo's remarks come three days after ESPN Events cancelled most of its Orlando-based multi-team events, including the Orlando Classic, which the Spartans were slated to play in.
"Things are changing every day, we hope in the next few days we'll have it pretty much locked down," Izzo said on the 2020 schedule. "But it could be one of those schedules that's changing as we go. We just want to do everything we can do to get a full season in. If we've learned anything over the past eight months, we have to stay flexible."
Following the loss of the Orlando Classic, Izzo mentioned Notre Dame, along with in-state foes Eastern Michigan, Central Michigan, Western Michigan and Oakland as potential teams to fill out the Spartans' 2020 schedule.
"We're trying to get more games in December or early January," Izzo said. "Sometimes cases spike, we want to have more flexibility in February. It's hard to do that around Christmas and final exams. The big question is if the kids will be able to go home for Christmas. Maybe keeping the kids here safe is something that we've talked about with both the players and parents." 
Izzo said the Spartans' Championship Classic game against Duke is still likely to happen, but a date and location are still up in the air. 
He also hinted at Virgina being Michigan State's opponent in the ACC/Big Ten challenge, which would give Spartans forward Joey Hauser the opportunity to play against his brother, Sam.
The Big Ten is considering expanding its league schedule from 20 to 22 games, Izzo said, leaving room for five to seven non-conference games. 
"They talked about having more conference games like football," Izzo said. "But that is totally speculation."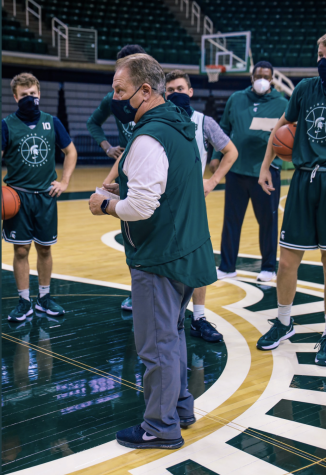 Izzo did point out that the basketball schedule does have the potential for more flexibility compared to the Big Ten's abbreviated football schedule.
"We have a little more margin for error," Izzo said. "In basketball, if you had to play three games in three nights, that could be done. It couldn't be done for football. They have no off week, we're going to have some. There's some things in basketball that could make it easier."
Discussions did take place to have teams play in a bubble setting, according to Izzo, but those discussions never advanced. Izzo did not rule out the potential of extending the season into April or May, though.
"We talked about the bubble," Izzo said. "We're the same sport as the NBA, but you can't look at us like the NBA. These players still have girlfriends, friends, parents, brothers and sisters. There's so many different issues.
"There has been talk," Izzo said about the possibility of extending the season. "The NCAA tournament is big enough that we feel like we can go against anybody. There has been talk, but not in any significant way."
Izzo mentioned a possible schedule release for mid-next week, but emphasized patience as the Spartans continue to await their 2020 opponents. 
"I'm hoping by the middle of next week," Izzo said on having a schedule out. "But patience is going to be a great virtue in this.
"It's been frustrating. We're practicing, but we can't even say 'we're opening with someone' or 'we're doing this' the first week. It's been challenging, to say the least. And no exhibition games."