Spartans getting creative to stay engaged amidst pandemic
EAST LANSING – As Michigan State patiently awaits the release of its 2020 schedule, the Spartans are getting creative to stay engaged while awaiting a season complicated by the COVID-19 pandemic. 
"It's still been strange," Michigan State head coach Tom Izzo said. "I went to the football game this past weekend and tried to get an idea of what it's going to be like for us. I look at our practices, I think they've been pretty good."
"We're really working on bringing our own emotion and enthusiasm. I'm showing videos of the NBA and how those millionaires are still cheering on the sideline."
Izzo mentioned a number of strategies the Spartans are breaking out to keep players active when not on the practice court.  
"We're trying to bring in a ping pong table, or get a pool table," Izzo said. "My biggest worry is that they're just laying in an apartment. We've had a meeting every week with former players. We even have a book club going; I should get into that because I don't read enough.
"We're just asking our guys to continue being diligent in what they're doing. We have spent a little more time on what we can do to help keep these guys mentally upbeat."
Izzo provides update on Spartans' rotation
Junior Aaron Henry and redshirt junior Joey Hauser were the first two names Izzo mentioned when asked about his team's potential starting lineup to kick off the season. 
At the guard spots, Izzo brought up Rocket Watts and Foster Loyer, presumably for the point guard position, along with Joshua Langford and Gabe Brown, who will likely play off the ball.
Marcus Bingham and Julius Marble appear to be the frontrunners for minutes at center, but freshman Mady Sissoko is "coming," said Izzo.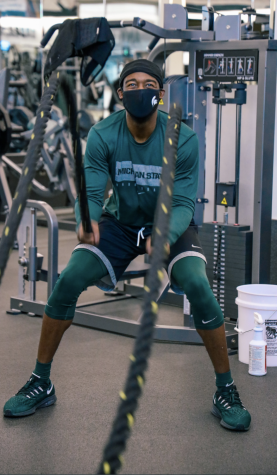 "Aaron Henry, Joey Hauser for sure," Izzo said when asked about his starters. "Depending on where Josh Langford is at, Gabe Brown has had a great camp so far; those guys are in the mix. Rocket Watts and Foster Loyer, they're in the mix.
"At center, the two guys would be Marcus Bingham or Julius Marble. I've switched the lineup every two days. Malik Hall is also a guy who's in that group. (Thomas) Kithier has been the most solid, he's been one of the surprise guys."
Henry is the Spartans' leading returning scorer at 10 points per game, followed by Watts at nine. Before transferring to Michigan State, Hauser averaged 9.7 points per game while knocking down 42.5% of his 3-pointers at Marquette.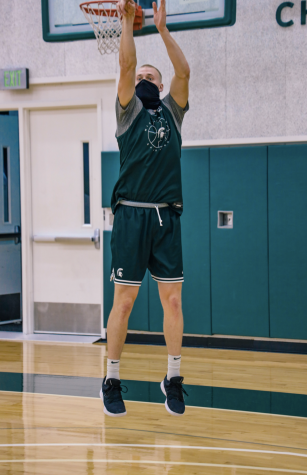 Izzo and the Spartans have until Nov. 25, the official start date for college basketball, to clarify their rotation ahead of the season. 
"I think I have a lot of players, but the problem is no one has separated themself yet," Izzo said. "We have time on our side. Hopefully we play injury-free and sickness free, and we let the players decide who starts and who plays."