Magee: Five takeaways from MSU's season-opening loss to Rutgers
EAST LANSING-Michigan State's defeat to Rutgers was not the ideal start of the Mel Tucker era, but there are many fixes that could get them on the right track for the season. Here are my five main takeaways from MSU's 38-27 loss to Rutgers. 
1. Turnovers need to be limited
I know this is a blatantly obvious one, but Michigan State had seven turnovers in the game, and it cost them in the long run. The Spartans lost five fumbles, and Michigan State starting quarterback Rocky Lombardi threw two interceptions. The interceptions might not have been all his fault, however, because it seemed like many times he was not on the same page as his receivers. The Spartans were still somehow in the game late, but a muffed punt by Jalen Nailor was the straw that broke the camel's back. Protecting the ball is vital, and Michigan State was unable to do that today.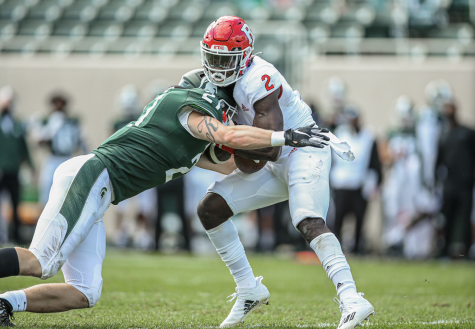 2. Lombardi needs time to develop chemistry with his receivers
For as bad as the score turned out for the Spartans, I do not believe that Lombardi deserves all the blame. Yes, he made a few odd decisions here and there, but he was forced into quick decisions by the offensive line and very occasional separation by the receivers made it tough to fit in in tight windows. This is one of the main issues with a shortened fall camp due to the COVID-19 pandemic, and it showed out on the field today. There were several instances where Jalen Nailor ran a go route, and the ball was placed in a completely different spot like he was expecting him to run out toward the sideline. Chemistry is something that is developed through time, so look for it in the coming weeks as the Spartans get more practice time under their belt.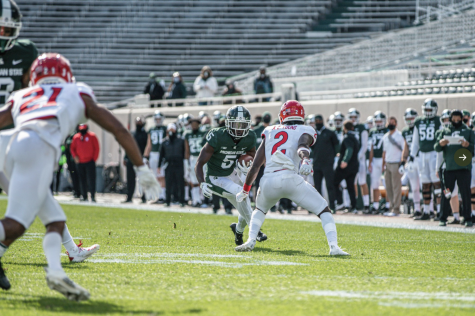 3. Jordon Simmons was a bright spot for the offense, but finding holes proved to be tough
With Elijah Collins and Connor Heyward struggling today, freshman Jordon Simmons took the brunt of the load. While 14 carries for 43 yards may not seem like a lot, it gave a spark to the Spartan offense and helped move the chains early in the game. Collins, the leading rusher for the Spartans with 988 yards last season, was held to nine carries for three yards. Heyward was also held to 18 yards on seven carries. The offensive line was moving around a lot, and it seems like Mel Tucker hasn't found an exact lineup that he likes yet. Simmons, a freshman, found his legs, and this game should give him some confidence that he can play and produce at this level. One of the few knocks on his game today was his vision. Seeing holes and exploding through them can be tough for young players, and Simmons wasn't able to find a few holes, especially on fourth down. 
4. Matt Coghlin and the special teams came through today
Senior kicker Matt Coghlin hit several tough kicks today and seemed to be one of the few bright spots of this Michigan State team. He went 2/2 on field goals, including a long of 48 yards. He was also 3/3 on extra points. Coach Tucker made a late decision to go for it on fourth down instead of making it a one-score game with Coghlin, who seemed to be automatic today. Being aggressive can be a good thing, but making it a one-score game could have proven critical. Also, punter Bryce Baringer hit several nice punts today that helped put Rutgers in a few tough situations. After getting transfer Mitchell Crawford from UTEP over the offseason, there seemed to be a punter battle, and it seems as if Baringer has come out on top. 
5. Running back blocking needs to improve, especially with better defensive lines looming 
Last season the Spartans had the luxury of having tight end Matt Seybert line up in the backfield, but with him graduating, the Spartans struggled to protect quarterback Rocky Lombardi. On a specific play in the second half, Collins missed a block that led to Lombardi being pressured. The Scarlet Knight defensive line played better than expected and got into the backfield often; blocking is one thing that will need to be improved in the upcoming weeks.