Five players to watch for as the 2020 season looms
EAST LANSING- For Michigan State football, players like Antjuan Simmons, Elijah Collins, Naquan Jones and Jacob Panasiuk are household names. They are tenured Spartans with game experience and confidence in their abilities. They are also pillars of a program that new Spartan head coach Mel Tucker is trying to revitalize. 
To have a successful football season, however, Michigan State needs to have some under-the-radar guys outperform their projections. The team needs players to chop through the door and make their presence known, as if they were Jack Nicholson in the famous 1980 film "The Shining." 
If no one takes on the task, this season for the Spartans might be as scary as the aforementioned movie. Here's five under-the-radar players for the Spartans that will determine how the season goes: 
1. WR Laress Nelson- Being a senior, Nelson has been in the Spartan program for a few years now, but MSU fans got a glimpse of what he could do when he lit up the Penn State secondary in 2018.  Nelson also caught several crucial first downs during a game-ending drive that ultimately led to a game-winning touchdown connection between Brian Lewerke and Felton Davis III in that Penn State contest. Michigan State is a program that is built on longevity and earning your playing time, and Nelson has definitely put in the time. As a senior this year, if he can refine his route-running and blocking ability, he will be a great asset. Newcomer Jayden Reed and speedster Jalen Nailor are going to be the focal points, but if Nelson can aid when defenses key on them, it will make the Spartan offense that much more lethal.
2. TE Trenton Gillison- Gillison, a redshirt sophomore this season, will need to produce with quality blocking if the Spartans want to have a successful running attack. Elijah Collins broke onto the scene last year, but  a rash of injuries led to a falter in offensive line play. An Achilles injury to Matt Dotson also put the team in a precarious position. Dotson is back this season, and him being more of a pass catcher means that run blocking should be Gillison's primary objective. His size and attitude toward buying in will be an underlying factor in the MSU offense moving the chains this season. 
3. DE Drew Beesley- Former walk-on Drew Beesley is looking to make a name for himself this season. With maulers Jacob Panasuik and Naquan Jones drawing most of the attention, the opportunity is there for him. Walk-ons have always been given a chance at Michigan State (i.e., Kenny Willekes). The defensive line, coached by Ron Burton, has been a constant in a world of irregularities for the Spartan football team over the past couple of years. MSU has been near the top of the FBS in rushing yards allowed, so look for the development of Beesley if the Spartans want to be successful here again. Teams such as Michigan have several 300-pound linemen, so the Spartans need Beesley to step up in a big way.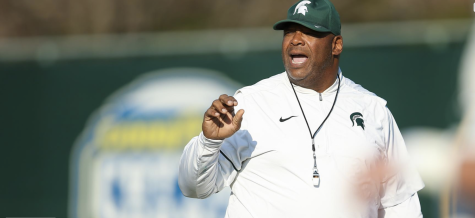 4. LB Noah Harvey- Harvey was given his shot to play at linebacker last season after a suspension to Joe Bachie, and he played well. Harvey might be the biggest name on this list, and for good reason. He made several plays last year that left fans excited for what he could contribute to the team. Most fans know of Antjuan Simmons, the unquestioned leader and spokesperson for the team, but Harvey could become the Robin to Simmons' Batman. Harvey gives off the vibe of a vintage Spartan linebacker, one that is hard-nosed and tough as nails. Linebackers are usually the ones directing the defense, so look at Harvey to assist Simmons this season with the organization of others. 
5. FS Michael Dowell- Dowell, a household name here at MSU, could be an important part of the secondary this year for the Spartans. Having multiple family members is a big part of the Michigan State program, whether that be the Panasuik, Allen or Dowell brothers. In the latest installment of the Dowell clan, Michael could be a special defensive back just like his older brothers Andrew and David. Strong safety Xavier Henderson is a household name and outstanding player, but if Michigan State wants to bring back the "no-fly zone," Dowell will need to step up. While he may not have the same amount of snaps as someone like Shakur Brown or Tre Person, he could be a valuable asset going forward for the Spartan' secondary. 
6. BONUS!!- The Michigan State football team needs the offensive line to step up big this year. The fate of the team rests on them. Injuries cost the team at this position last year, so staying healthy is vital. This group seems to have a lot of experience, one positive with all the injuries in the past. Matt Allen, another Spartan legacy, will be super important because of the inexperience at quarterback. Rocky Lombardi looks like the best option, and if the line can hold blocks, it will make him look exceptional. In the Big Ten, the trenches are where the game is won, so good offensive line play will steer this team either into or away from the storm.